Study Menswear in Fashion Institute of Technology
Create the looks men will wear tomorrow
To succeed in menswear—one of fashion's fastest-growing fields - you need to understand every phase, from concept and design to production and delivery. FIT's Menswear program immerses you in the industry, in a way that's possible only in New York City.
In courses taught by successful menswear professionals, you'll learn everything from basic sewing to advanced tailoring. Students master a wide range of design techniques, from pencil sketching to a variety of computer formats, and the pattern making skills essential to producing high-quality men's apparel. You'll discover that the real challenge is not designing a great outfit, but creating a balanced clothing line, with the right number of pieces at the right cost, that suits your market and the season. And you'll learn to create wearable clothes that sell, leading to an array of opportunities in this fast-changing, highly competitive field.
Highlights
- FIT offers the only menswear degree program in the country.
- Opportunities for multiple internships, at such companies as Calvin Klein, DKNY, Marc Jacobs, and Helmut Lang, give students a competitive edge, and contribute to the programs high job placement rate.
- The Menswear Club sponsors trips to such leading companies as Nike in Portland, OR, Levi Strauss in San Francisco, Patagonia in Los Angeles, and Lands End in Madison, WI, where students meet with executives and designers.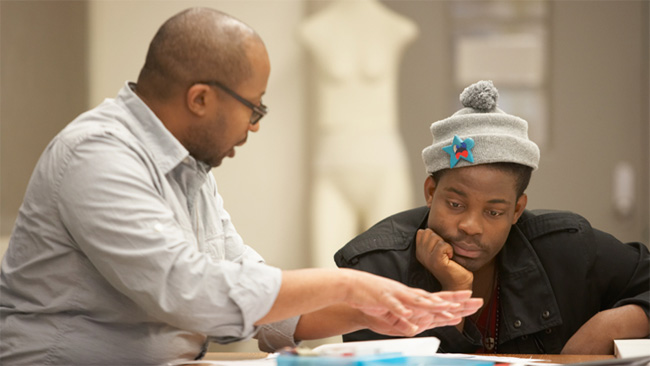 In this program, you'll:
- network with industry professionals, who serve as teachers, mentors, and guest lecturers.
- visit designer showrooms and attend major fashion shows in New York City, your extended campus.
- have the opportunity to study abroad in Paris and Milan.
- create a collection before you graduate. The best designs are displayed in The Museum at FIT, in an - exhibition attended by representatives of every major designer menswear label.

About FIT:
One of New York City's premier public institutions, FIT is an internationally recognized college for design, fashion, art, communications, and business. They're known for their rigorous, unique, and adaptable academic programming, experiential learning opportunities, academic and industry partnerships, and commitment to research, innovation, and entrepreneurship.

While their pedagogical mission is to prepare the students for professional excellence in design and business, their broader ethos is to foster creativity, inspire leadership, impart a global perspective, and educate students to embrace inclusiveness, commit to sustainability, and engage with community. They encourage students, scholars, teachers, and industry colleagues to cross traditional boundaries of both geography and disciplines. Together they strive to develop innovative design and strategic business solutions that will upend the status quo, create personal and professional opportunity, and have a lasting and sustainable global impact.

For more information, visit the FIT's official website.


Hits: 3806 | Leave a comment