Australian label Farage sees leading AFL players from the Sydney Swans running through Sydney's CBD dressed to impress
Since its humble beginnings in 1998, Australian tailor Farage has gained a reputation for its cutting-edge tailoring and use of exquisite textiles, along with its fine service, quality and craftsmanship.
Achieving an enviable balance between minimalism and sophistication, across the years Farage has become synonymous for classic tailoring with a modern twist. Global cultures, architecture and design are the key inspirations behind the brand whilst remaining respectful to the provenance, authenticity and heritage of fine tailoring.
The Australian-owned label is the latest to join Woolmark's licensing program, gaining Woolmark certification across its range of men's suits.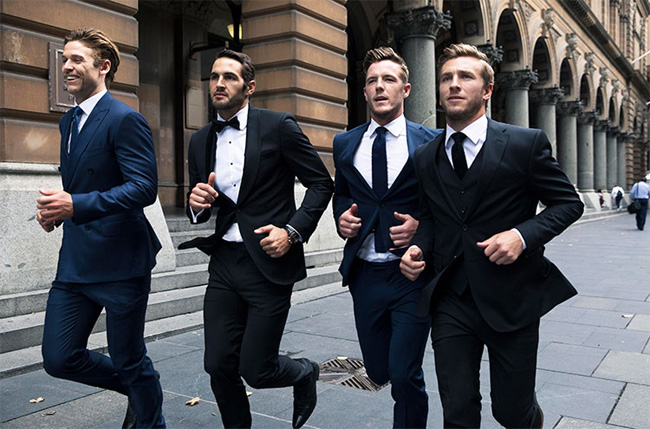 "For us, Woolmark is all about heritage, provenance, authenticity and is the most significant like-minded Australian brand with global reach," says owner/designer Joe Farage. "The Woolmark Company's focus on quality aligns to us and what I love most is its rich history and provenance."

Farage caters for the modern man and woman, but it's their impeccable attention to detail and craftsmanship in suiting that they are most known for and is what caught the eye of Australian Football League (AFL) team the Sydney Swans.

"Eight years ago we were approached to design suits for the Sydney Swans teams and players," says Joe. "We then became their official sponsor four years ago, and now all Swans staff and players are dressed in Farage. The Swans are so proudly Sydney and with Farage being so intrinsically Australian, it's so important for us to align with other like-minded, iconic Australian brands.

"AFL players are also the perfect fit for Farage suits, with their athletic build they epitomise the modern-day man."

Farage's latest Sydney Swans campaign sees Swans captain Josh Kennedy and team-mates Dane Rampe, Luke Parker and Kieran Jack suit-up to promote the latest range of Farage's Micro Weight collection, highlighting similarities between the performance abilities of these star players with the technical attributes of Merino wool.

"The campaign is very focused on the performance of wool. The Micro Weight suits are lightweight in construction – about half the weight of a traditional suit - resistant to wrinkles and water are perfectly suited to the man on the run."

Photo and information: woolmark.com


Hits: 5564 | Leave a comment