Popular custom tailors in Oregon
We continue our series of articles about the custom tailors from the separate states in USA. It is time to show you the custom tailors in Oregon. These tailors are with a rich experience in custom made suits and accessories. Some of them provide the tailoring service in more states but also have a workshops in Oregon.
Hall Madden - In 2007, founders Richard Hall and McGregor Madden worked with "fast fashion" retailers and legacy brands that focused on speed and cost cutting - business principles that Hall and Madden understood, but didn't personally agree with for building a modern company. With both experience in manufacturing and a love for menswear, Hall and Madden wanted to build a menswear brand focused around the customer - an experience that was simple and informative with high-quality products. Mastering the suit was the first Hall Madden goal, a process that took 7 years to fully complete. The suit is a difficult product to manufacture and the United States is notorious for people wearing bad suits. Hall and Madden's immediate goal became introducing the U.S. customer to a "Proper Suit" - one that was made and fitted the right way.
European Master Tailor -European Master Tailor is a tailor shop located in downtown's Morgan's Alley. The shop is owned and operated by Silvian Nita, a Romanian-born master tailor who settled in Portland in 1985. The shop has a 20-year history of top-quality craftsmanship and satisfied customers. The services offered include custom-made suits, sports jackets and trousers, and the full gamut of alterations. The shop includes a store front stocked with high-quality Italian garments including suits, trousers, ties, and jackets.
Marla Kazell - Marla Kazell has been sewing professionally for 30 years and creates beautiful couture garments in her custom clothing studio in Tigard, Oregon.
Andre Lani Bespoke - For the last 40 years, Andre Lani has lent his expert craftsmanship as a bespoke clothier to discerning gentlemen around the world, merging timeless style and modern fashion to help them look their best. Long before he began honing his craft alongside some of Hong Kong's most renowned tailors, Andre's sartorial passion was born when he was just a child in his father's humble tailor shop. Growing up, Andre discovered he had a natural talent for art, creativity and design. Having been surrounded by the world of sartorial detail from a young age, he quickly learned to put his penchant for the aesthetic to work in tailoring. Since then, Andre Lani has worked with some of the most talented minds in the world of fashion, design and menswear, assembling a team of Custom Clothiers who who have the talent and experience to produce garments of unrivaled fit and quality for men around the world.
Wildwood Bespoke - They are Wildwood Bespoke, part of and located behind Wildwood & Company, downtown Portland, Oregon. They make suits and shirts by hand in their on-site workshop, based on a unique pattern they draft for each individual. They are keeping the traditional craft of hand tailoring alive, while making the most stylish and high-quality clothing to be found anywhere in the Pacific Northwest.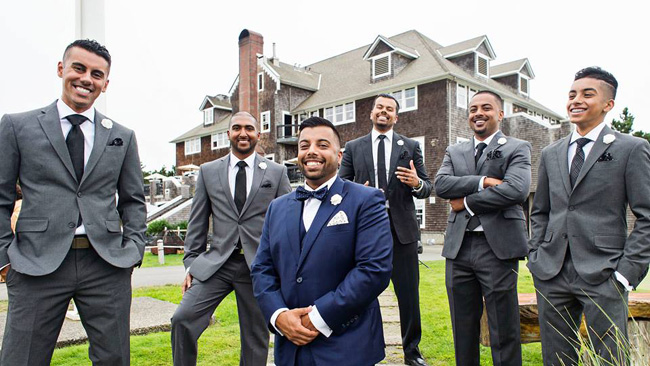 Duchess Clothier - Duchess, Clothier is a tiny enterprise seated in the small urban paradise of Portland, Oregon. Founded as a one-lady operation in 2005, Duchess has grown into business that provides all its employees fulfilling work-lives and its customers the thrill of high quality suits and other garments, both custom and off-the-rack, as well as excellent, impassioned, and insightful service. Suit-wear is a seemingly lost art. Duchess, Clothier finds the concept of people in suits rather exciting and is here to help people of all styles find and exemplify the best looks in suits for them. In an era where anything and everything is acceptable and all rules governing dress have been hopelessly dashed aside, Duchess strives to provide the stylish human with whatever suit styles they fancy, from whatever eras they fancy. Suits have remained virtually unchanged for two hundred years, and for good reason. A good suit is comfortable, attractive, and commanding.

Michael Allens Clothier - They are the ultimate luxury clothing destination in the Pacific Northwest. They feature men's clothing from exclusive designers around the world and specialize in custom clothing for both men and women. Their focus is on exquisite quality and old world craftmanship.

Este's Mens Clothing - A full service men's clothing store specializing in custom suits, custom shirts and "the best selection of sweaters in town". They are also THE place to rent suits and tuxedos.

Kash Ross -Kash Ross Hong Kong Custom Tailors is family owned and has been in business in the same location in downtown Portland Oregon for decades. Family tradition builds generations of skill and experience. And when looking for tailor made attire, skill is paramount. Kash Ross is the only master tailor in Portland Oregon still successfully operating a storefront after over 40 years. Trained by his father, a well known and respected clothing maker in Bombay, Kash Ross learned the art of a custom tailor. In any visit to the store you may be privy to one of Kash's many rich stories from traveling through America and Europe fitting successful men. All of this world experience, skill, and creativity are present in Kash Ross Hong Kong Tailors creations.

Tom James - Tom James Company is the world's largest manufacturer of custom clothing. They make high quality custom suits and custom dress shirts for busy professionals in Portland and the surrounding areas. They also provide all of the furnishings needed to complete your custom look. their highly-trained bespoke tailors at Tom James of Portland come directly to your home or office, saving you valuable time.

Fit Wel Custom Clothes - Possessing a great taste of elegance himself, Mr W Nick established FitWel Custom Clothes in the year 1971. Starting with humble beginnings, FitWel has transformed itself into a brand that has over 10,000 repeat customers today, besides many new ones getting added every year. Expert custom - tailoring has made FitWel as a preferred brand from over four decades, and has been providing fine custom-tailoring at affordable prices to those with taste of elegance.


Hits: 5185 | Leave a comment