Joseph H. Clissold - a company with traditions
Worsted cloth has been manufactured in and around the valleys of Bradford and Huddersfield, Yorkshire for hundreds of years. Weavers and finishers were attracted to the area by the abundant supply of soft water from the Pennine hills for power and to use as part of the finishing process of cloth.
In 1910, in the small town of Cleckheaton, Joseph H. Clissold established his cloth manufacturing business at Brookhouse Mills. The business expanded and Joseph H. Clissold relocated to Bradford, one of the centres of Britain's fine worsted industry.
Joseph H. Clissold developed the company and built a reputation on traditional craft skills and leading technology. In 1976 the company was bought by a management team who owned and ran the business until 2007. In April 2007 the business became part of the prestigious Holland & Sherry Group, part of the Tom James group of companies.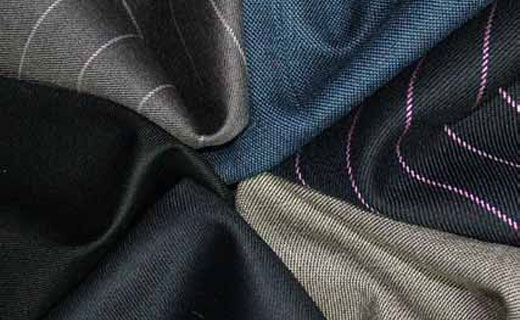 Today the craft, skill and expertise in cloth making have been developed further by new generations and today's fabrics are finer and more technically advanced than ever. The company has its own in house design team, where 6 designers have the use of the Scotweave CAD system and can produce samples in single and full width through either Hattersley, Data Weave or Dobcross looms.

The business is truly worldwide with major customers in the UK, Europe, the Middle East, South East Asia, China, Japan, United States of America, Canada and Latin America.

British cloth is recognised around the world as the finest available. Proud to be part of Yorkshire's wool textile industry since 1910, Joseph H. Clissold design and weave the most outstanding Made In England cloth. This selvedge and the company's seal ensure the buyer is receiving the genuine article.

The Clissold collection is designed with the finest Australian and New Zealand Merino wool ranging up to Super 180's, Super 220's and pure cashmere and other noble fibres and features a variety of cloths from tailoring fabrics with clean cut, milled and flannel finishes, country style two colour twist suiting and jacketing, soft brushed checked jacketing and bold striping blazers, coatings in light and heavy weights, these are just a cross section of fabrics available from our extensive collection.

Photo and information: clissold.co.uk


Hits: 4471 | Leave a comment