Franklin Eugene Peerless - Men's Fall/Winter 2015/2016
The Franklin Eugene Fall/Winter 2015/2016 Men's Wear Line, entitled FRANKLIN EUGENE PEERLESS, features a multitude of different silhouettes ranging from dressy casual, corporate and formal.
The PEERLESS COLLECTION was inspired by people who made the impossible possible by the sheer force of their ambition and talent. The color palette transitions from slate grey, to blazing red, and finally, jet black. The silhouettes progress from an eight button double breasted waist coat with coordinating trousers (The Arthur) to a trench coat inspired tuxedo (The Rit Johnson). In between the two, there is something to suit every man's taste, including a sub range of blazing red tuxedo jackets.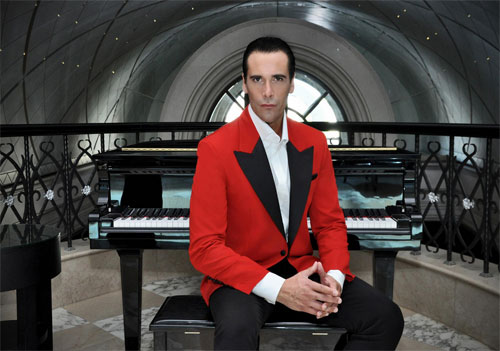 The line offers every man a selection that echoes his personal passion, strength, and style. Each design is a manifestation of the best part of a man's inner spirit and is made with exceptional fabrics of high quality: super 100's wool, silk, and cotton. The FRANKLIN EUGENE PEERLESS COLLECTION is available in bespoke couture and ready to wear and customers purchasing bespoke couture have the option of upgrading their fabric selection. For discerning gentlemen with particularly PEERLESS taste, each installation in the range is available in TWENTY FOUR KARAT (24K) GOLD FABRIC (200's superfine, 100% worsted wool, with 24K gold thread woven in to the fabric).

The collection has varied silhouettes including the fashion showpieces in the "Trench Suit" (suit design inspired by the trench coat detailed with Swarovski diamond cut button arm cuffs) sub-range-the Rit Johnson (full length trench coat inspired tuxedo), the Taylor Re' (car coat length trench suit), and the Willie S. (swing trench coat suit). The collection is available for wholesale and ready to wear pre-order. The collection will be available for viewing by appointment at the Franklin Eugene Milan, Italy showroom during Milan Men's Fashion Week Men's Fall/Winter 2015/16.

Information: image.net


Hits: 5198 | Leave a comment