Marlane Fall/Winter 2015-2016 fabrics - classic patterns, micro-textures, jacquard, woollen and over-dyed effects
Marlane is a dynamic firm from Biella, which produces fabrics for elegant and upper casual wear. The company is situated near the river, because in the past the river meant very nice finishing - "Better is the water, nicer is the quality, because the finishing gets better", told me Gianfranco Fiori, the Export Manager of Marlane, whom I met at the Richmart factory in Bulgaria.
We also discussed with him the trends in men's suits. "In the past it was a must, now you don't have to wear a suit all the time, but once in a while it is nice. It makes a different approach, makes you look more professional", told me Gianfranco Fiori.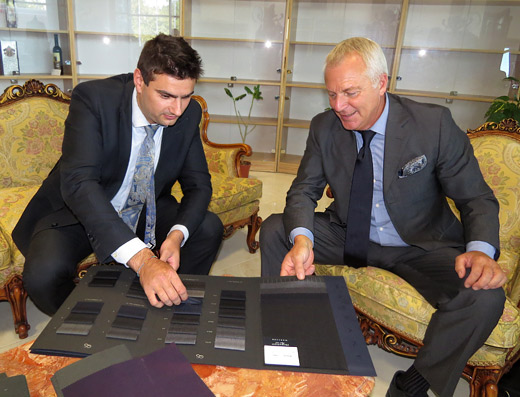 He presented the new fabrics collection to me and to the Sales Director of the Men's Fashion Cluster Dean Manev.
According to Gianfranco Fiori, the most popular colors at the moment are navy blue and green. But he advices designers and resellers to offer more colors in order to increase sales. They also need to bet on fabrics with small weaves and soft checks for a trendy look.
For the next Fall/Winter 2015-2016 season, the Marlane collection offers different definitions of style: classic patterns, micro-textures, jacquard effects, woollen effects, over-dyed effects, jaspe, and tweed.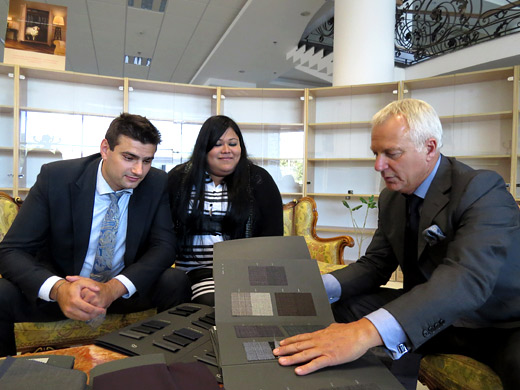 These textile characteristics are applied on worsted fabrics for suit made of Extra-fine Merino wool, Super 100'S and Super 120'S, and also applied on jackets and overcoats that are worsted or carded, in Pure Wool or Nylon Wool.
Other blends that complete the range of fabrics are: Silk Wool, Cotton Wool, and Viscose Wool. Among the different trends, the collection offers archival-style suits, raincoats, three-dimensional blazers, denim-like jackets, and Saxony. This broad range of items involves natural stretch, comfort, water-repellent, crease-proof and machine-washable pure wool.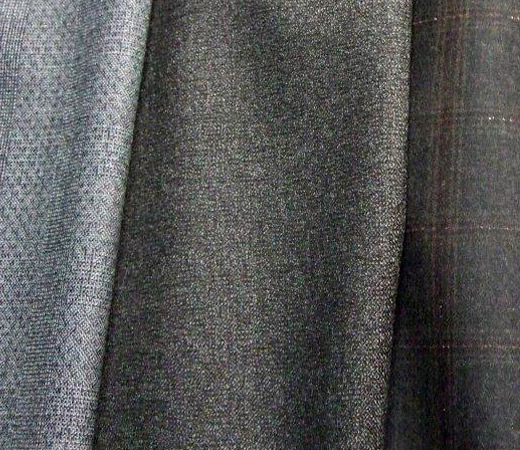 The high level of service and the right quality-price combination are the distinctive factors that make Marlane a reliable partner for its numerous Customers spread over all continents - from the most famous Designers through to the most popular Brands and major Retailers.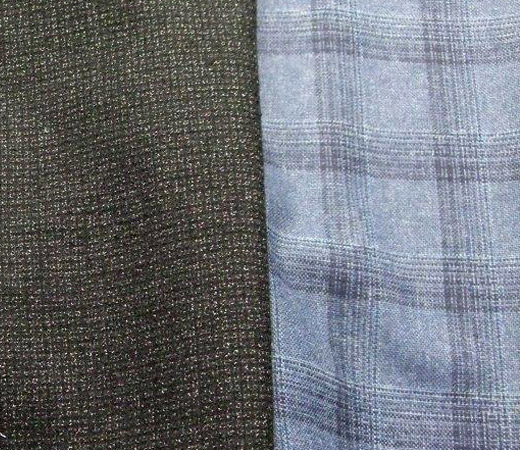 Photos:

1. The Sales Director of the Men's Fashion Cluster Dean Manev and Gianfranco Fiori, the Export Manager of Marlane
2. The Sales Director of the Men's Fashion Cluster Dean Manev, the Mexican Fashion Designer Francis Yoshua Maitrella Aguilar Sanchez and Gianfranco Fiori, the Export Manager of Marlane
3. - 4. Marlane Fall/Winter 2015-2016 fabrics


Hits: 9693 | Leave a comment