Alexanders of Scotland fabrics for Autumn/Winter 2015/2016
Alexanders is recognized as one of Scotland's premier manufacturer of quality woolen fabrics, supplied mainly to leading fashion houses and interior brands throughout Europe and the rest of the world.
I had a chance to see their fabrics for Autumn/Winter 2015/2016 and to speak with the designer of the brand Laura Ukstina, while I visited the company booth at Premiere Vision Paris in September.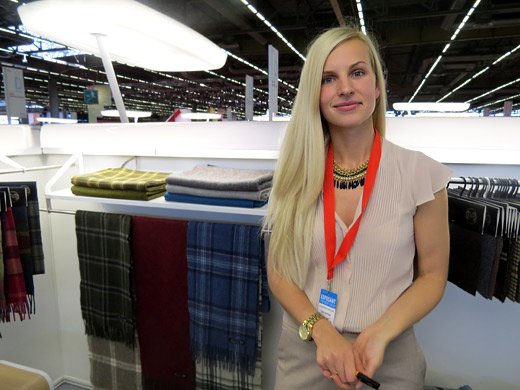 The fabrics made by Alexanders of Scotland are of the finest Shetland and Lambswool qualities. There are over 1000 lambswool and Shetland cloth designs available from 280-680 gms.
The most popular colors for the next winter season are dark blues like navy blue, black mix of navy and dark green. The fabrics are never plain, they have depth because of the mix of different colors within one color. Big checks are very popular, there are 3-4 colors in a check usually.
Although Alexanders of Scotland continually strives for new design innovations and market opportunities, the core of the business remains in quality woolen yarns, many of which are exclusive for the company's cloth.
At present renewed energy has been placed on focusing in these key strengths: colour, design, quality and character.
Alexanders of Scotland has a reputation for processing the best quality Shetland yarns, not just in Scotland, but in the world. No other Shetland yarn can match the natural softness, colour, three-dimensional character and quality of the product.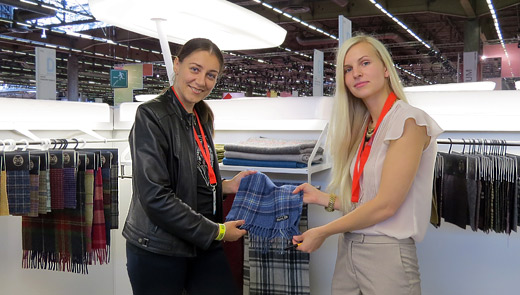 The mill is noted world-wide for its colour interpretation and justifiably recognized as "The Colours of Scotland".

Moreover, having both cloth and yarn made by the same company ensures their fabrics remain exclusive and distinctive in quality, colour and character.

The mill has the capacity to produce some 10-14 tons of yarn (depending on count) and 10,000 meters of woven cloth a week.

Photos:
1. The designer of Alexanders of Scotland Laura Ukstina
2. Laura Ukstina and the editor-in-chief of Be Global Fashion Network Silvia Kabaivanova
Photo © Be Global Fashion Network


Hits: 5219 | Leave a comment