Lanificio Ermenegildo Zegna Autumn/Winter 2015/2016 fabrics collection
The new fabrics of Lanificio Ermenegildo Zegna for the Autumn/Winter 2015/2016 were presented at Milano Unica, 9th - 11th September 2014.
The materials convey an immediate sense of warmth, which seems to be due to the weight of the cloth at first glance, but in fact the fabrics are incredibly light. The patterns have a three-dimensional effect, with different diameter yarns being worked together in order to create new structures such as in the gross fine wool/silk suit or the combed wool/cashmere/silk jacket. The blazers are made of embossed or knit-like fabrics.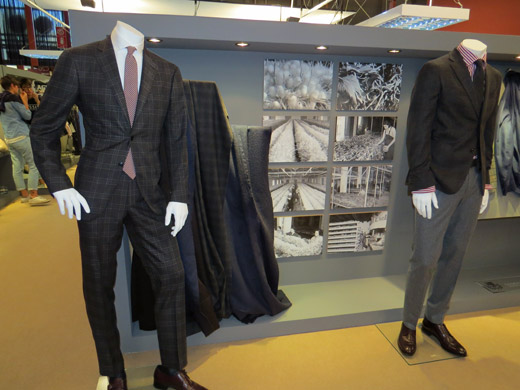 The hot colours include dark shades of tobacco (brown, red and orange) interwoven with blue or grey.
The 2015/2016 season is marked by one novelty and three major returns. The new fabric is "winter mohair", in which this elastic and most lustrous of fibers is woven with wool and cashmere to create an elegant herringbone suit. The other fabrics for the season are Cashco (cashmere and cotton for informal blazers), Trofeo, 14 Micron wools and pure cashmere (for overcoats) - extra-fine, openable, double woven materials with one side dyed plain and the other fancy in order to give the garments refined details and linings.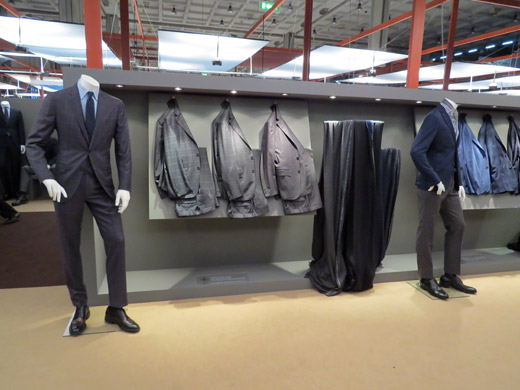 Some of the extraordinary contemporary styles come from the archives of Lanerie Agnona, ladies' fabrics since 1953. The often soft knit-like fabrics of the 1950s and 1960s made of irregular wool, alpaca and silk yarns provide inspiration for new collections. The Lanerie Agnona collections are characterised by the use of baby alpaca, a fibre destined for the most luxurious overcoats. This exclusive wool is obtained by selecting animals with fleeces of the same colour in order to produce totally natural, undyed and untreated yarns, and make fabrics that have no more than four shades (ranging from white to camel and classic vicuna) and are only available in limited quantities.
Agnona produces different variants of plain and patterned, cashmere and stretch flannel jerseys for men in cashmere/silk, wool/cashmere and wool/alpaca, and offers the refined touch of extremely fined, worked or patterned, cashmere or silk scarves.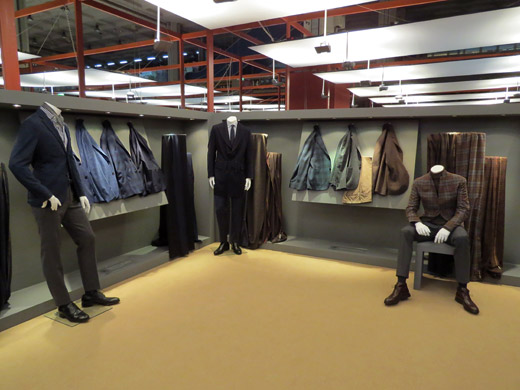 The carded silk of the Codesilk line of the Tessitura di Novara collection is an innovative fabric ideal for double-woven and spazzolino overcoats.
The windbreakers are personalised by original microdesigns and a new melange mix of technical silks, suitable for dustcoats and raincoats.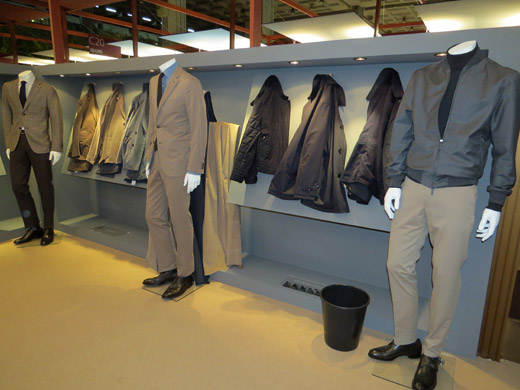 Ermenegildo Zegna is the name of a men's clothing manufacturing company from Italy. The establishment of this family company dates all the way back to the latter half of the nineteenth century. Angelo Zegna, a watchmaker by profession, decided to open a fabric laboratory. Of his ten children, it was the youngest - Ermenegildo Zegna - that took charge of what was set to become one of the most renowned and dynamic examples of Italian family entrepreneurship. The Zegna Wool Mill was founded in Trivero in 1910. Ermenegildo Zegna's objective is to produce top-quality fabrics for men's clothing.


Hits: 8918 | Leave a comment