Fabric trends from the British Mills for Autumn - Winter 2015/2016
British Mills and fabric designers continue to develop amazing textiles, fusing cutting edge designs and smart finishes with passion and know-how.

The UK Fashion and Textile Association is at Premiere Vision to promote British fabric designers and theirs skills. The industry is very strong in UK and some of them are very famous and successful. For example, the fabrics of Samuel Tweed were used by Chanel in their collections. Dormeuil is the world's brand for finest fabrics since 1842. Harris Tweed Hebrides is a manufacturer of luxury cloth, hand-woven in Scotland.

Coating fabrics become a major story from British mills, and are used also for dresses, jackets and skirts. Incorporating pronounced surface patterns, novelty tweeds or milled flannels, these are sometimes offered with two or three different finishes which can transform the appearance of the original offer. Fantasy designs are coming through in both jacketings and dress weights. Suitings show a more confident colour palette in both worsted and woollen qualities.

Inspiration for the season looks to UK's natural history, landscapes and elements. Natural influence is less rustic than in previous seasons, although wool, silk, linen and cashmere continue to be the key fibres.

Gravity

- polished surfaces
- indigo developments
- micro or macro
- new pinstripes
- weighty gabardines
- subdued checks
- high performance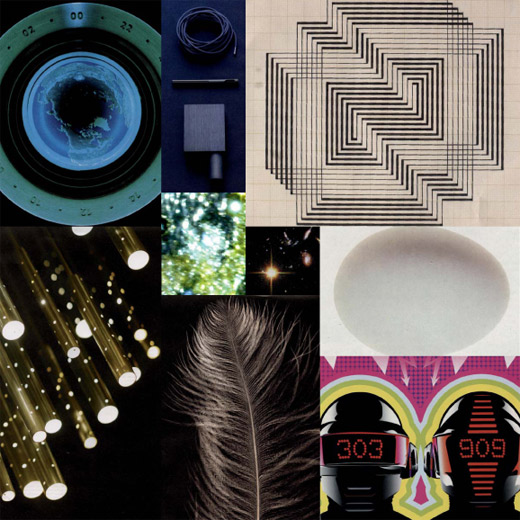 Designers are developing ideas forged from a free feel for sartorial, sensual expressions,mashed up with well-judged design details. Much care and research focuses on multi-blended yarn innovation, structuring and finishing - which is undertaken with skill and precision. Shades are inky and include mid-level darks with deep rich brights and earthy tones: some are melange whilst others are solid shades.
The types of fabrics are various - micro-reliefs; strong geometrics; interlacing double cloths; double face with different yarns and weaves each side; polished fine micron wool suitings; tonal embellished patterns; oversized herringbones; dandy pinstripes; new dark wool/cotton denims; brushed or napped surfaces; meltons, moleskins, napped mohair; colour and weave small geometrics; neat and calculated grids and stripes; disrupted and distorted Prince of Wales – Houndstooth – birds eye; corded and ottoman horizontal stripes; raised diagonal and diamond shape weaves; weighted and draped crepes; performance windproof and waterproofs; exaggerated patterns and textures; textural tweeds; pinwale corduroy; gabardines.

Aurora borealis

- tweed mixes
- cellular patterns
- shadow checks
- cosy coatings
- double plains
- brushed finishes
- colourful twills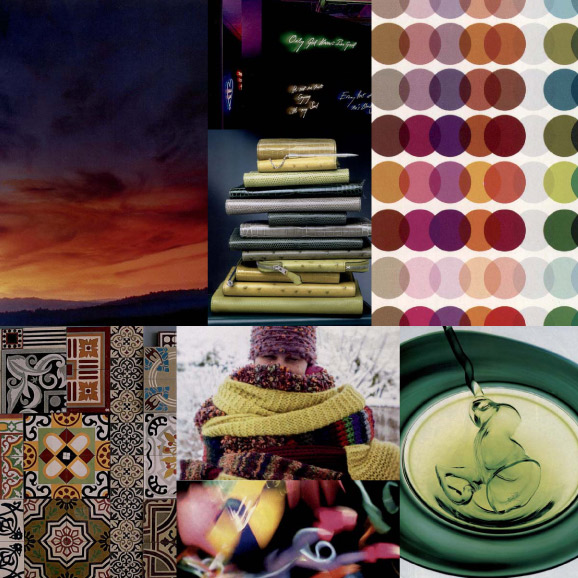 An aurora is a natural phenomenon of streaming coloured lights displayed in the sky and particularly in the high northern latitude regions, caused by the collision of energetic charged particles with atoms in high altitude atmosphere. The sky is no longer the limit for fabric ideas as we see a trend for exploring boundaries and investigating new possibilities and technologies created through this exponential phase of science, technology and textile creativity. This story is about adding colour to our daily experiences and being joyful and playful with fabric pattern in an exuberant and exaggerated way. Fabrics balance boldness and proportion with surprising effects.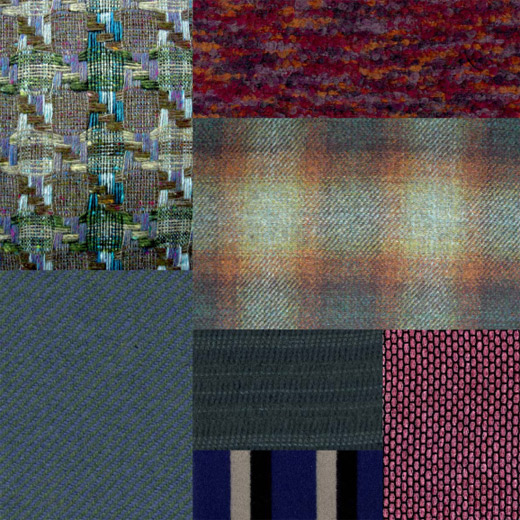 The fabrics for this trend are Multi-coloured twists; tartans with vibrant base colour; brushed mohair plaids; fantasy tweeds using novelty handknit yarns; changeant effects in stripes; dramatic block checks; space dye or printed yarns; Donegal yarns with bright knops; shiny and matt yarns for self-coloured checks; bespoke pinstripe colours; backed cloths; barathea; embossed velvets; waffle cloth; moire; matelasse; chintzed wools; lustre and mother-of-pearl effects; elaborate silk jacquard brocades; random colour dyeing; colourful Donegal tweeds; contrast colour herringbones; twist suitings; silk/wool; vertical bordered patterns; engineered placement designs.

Strata

- broken tapestry
- rustic & delicate
- country checks
- rugged surfaces
- tonal patterns
- grainy chambray
- multi-textures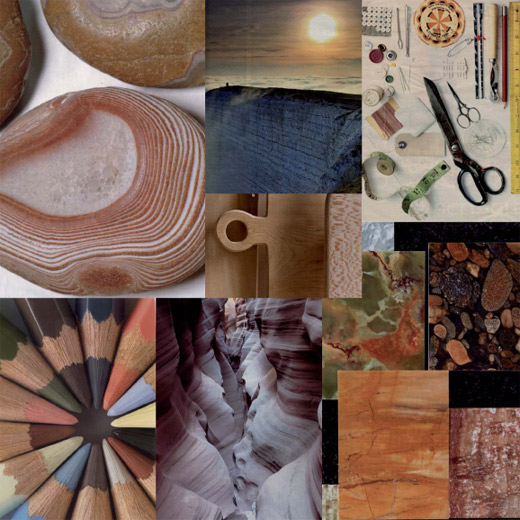 The beauty of raw ingredients 'untouched by machine' offer us an intriguing insight into a pre-digital age, and as we explore how Strata forms and visually looks,we notice many transferable characteristics that are perfectly suited for textiles, such as the grainy melange shades; the often irregular and wavy layers of different coloured deposits; crystalline and coloured specks of embedded minerals; the gentle beauty of natural tonal and variegated shades; the dry and compact handle; a handcrafted textural feel and mixed compositions.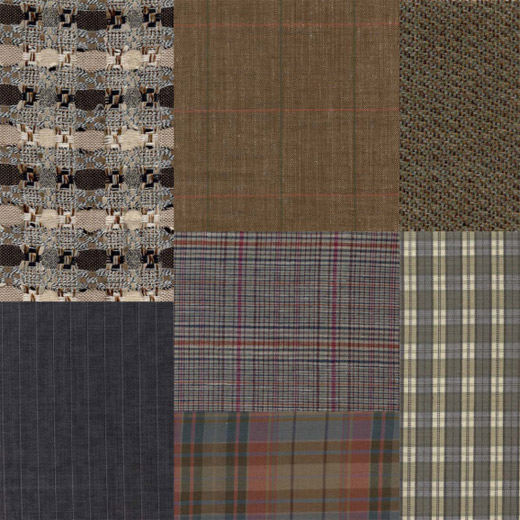 Fabrics: Ombre and shaded stripes and checks; variegated or melange colourings; soft distortions in patterns or finishing; grainy and granular effects; bas-relief patterns; open effects contrast with compact areas; transparent layers; worn,weathered and destroyed effects; wild and 'raw' luxury cashmeres or alpacas; movement in pattern; two or three levels of surface texture in a single fabric; reveal and conceal textiles; chunky slub effects; soft Shetland checks; British wool blends; homespun and crafted feel; canvas and hopsacks; felted or over-milled woollens; raised whipcords in cheviot wool; broken and irregular patterns; country tweeds; lofty 4 ply Donegals with lambswool.

The menswear fabrics trends are coming back to vintage. New palettes, brown and beige are evolving. Blue with navy blue and green with navy blue are new trendy combinations. Texts can be written on the fabric. This is the speciality of Tailor and Lodge. British designers produce luxury fabrics for Savile Row too.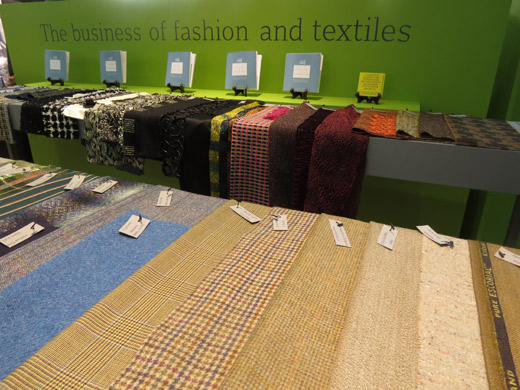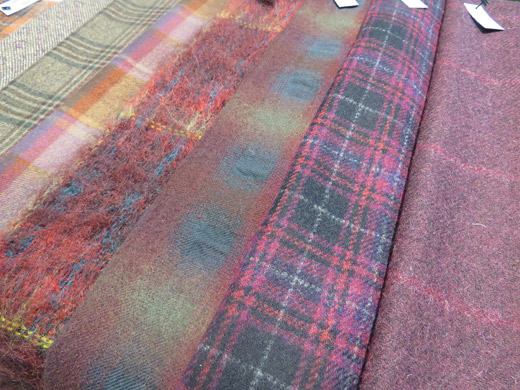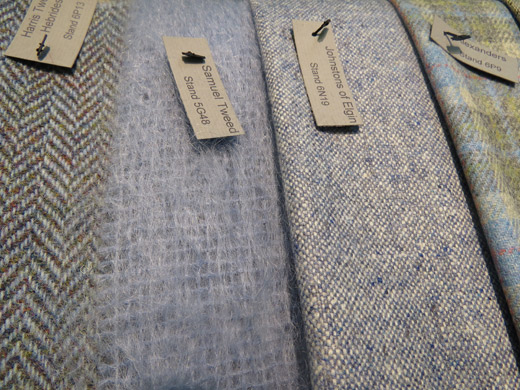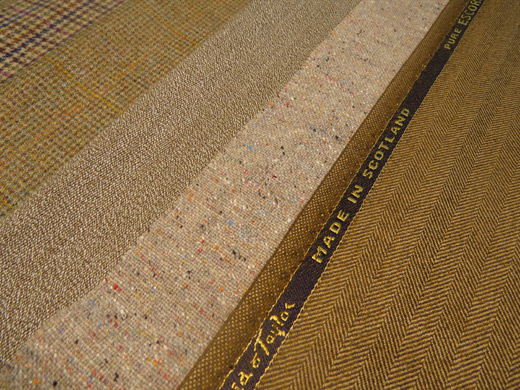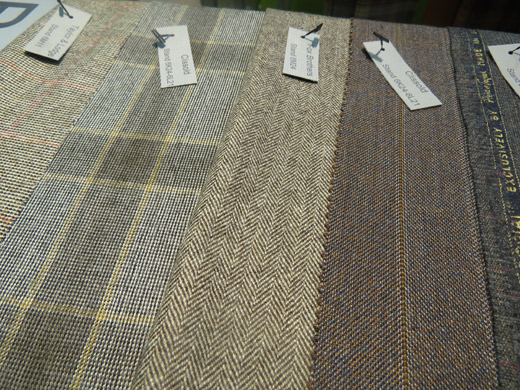 Photos:
1. - 5. Fabric trends from the British Mills for Autumn - Winter 2015/2016 © UKFT
6. - 10. Fabrics from the British mills and designers at Premiere Vision Paris © BGFN


Hits: 16478 | Leave a comment