Yarns for flat knitting Spring/Summer 2024 Collection
Dopamine is the neurotransmitter associated with happiness. Thanks to its ability to trigger a feeling of wellbeing, it pushes people to be courageous, to do things that are out of the ordinary and to push creative boundaries. But still the easiest way to produce dopamine is to treat yourself and get yourself some sweets! The stunning designs by Thorsten Martens, a young and talented designer from Berlin, created with Spring-Summer 2024 yarns are new source of "dopamine ready-to-wear" to light up and brighten up the days.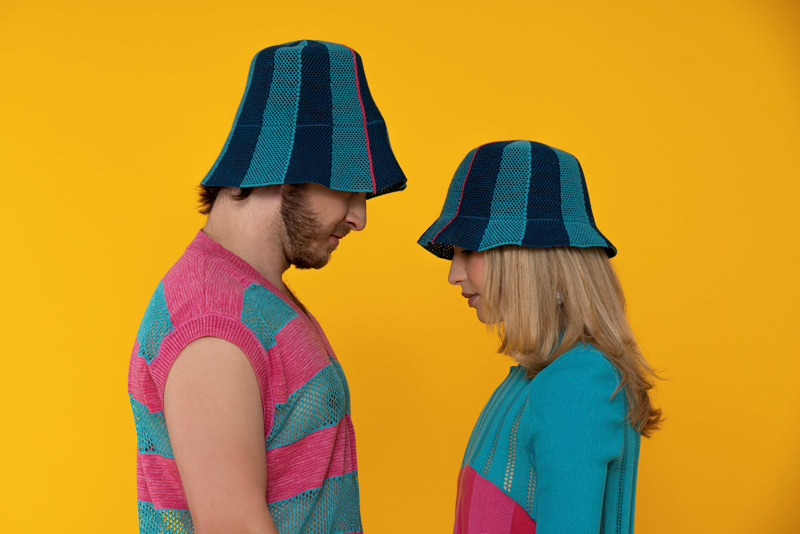 Lollipops and candy canes, as well as the bright colours became the main inspiration for his sparkling knitting designs. The silhouettes of dresses and sleeves are a tribute to the round and hypnotic shapes of lollipops, to their bright shades and their imaginative decorative patterns.
The combination of very fine yarns like Brisbane Nm 2/60 (100% Merino wool Superfine, 17.5 mic, antishrinkage) or Runda Nm 2/60 (70% Merino wool Superfine, 17.5 mic, anti-shrinkage, 20% linen, 10% silk) and modern knitting technologies allowed to create light garments with powerful and contrasting colours that are easy and comfortable to wear. The fine, delicate and light weight of pure wool yarn as well as the blend of wool/linen/silk with the crisp and fresh hand feel gave the garments the desired summer look.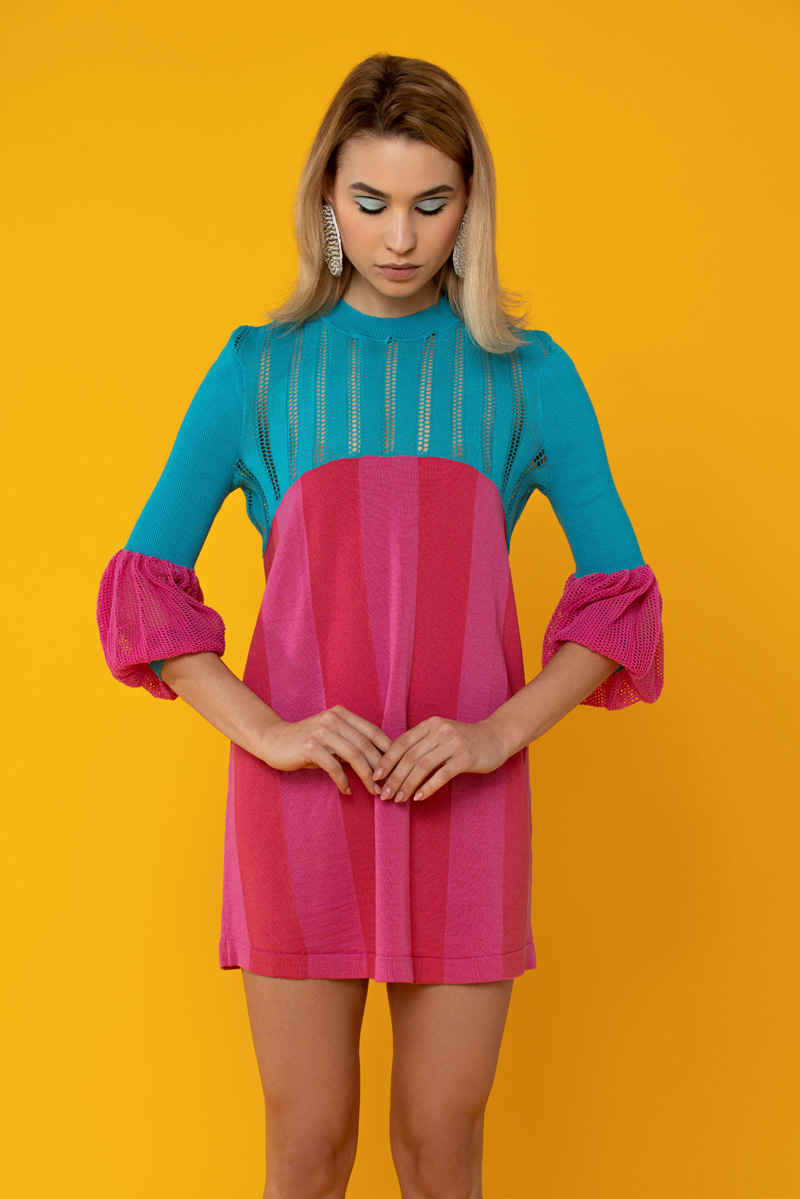 The challenge of turning this creative vision into knitted garments has been entrusted to KNITWEAR LAB, a Dutch Design and Development Centre, based in Amsterdam. The designs implied a variety of textures that were realized by the combination of knitting techniques like multi stepping as a special way to create the volume for the balloon sleeves, the plating technique implemented in most parts of the garment as well as
STOLL-weave-in knitting that imitate a woven effect in the fabric. The SS24 collection contains wider range of yarns, among others blends with cotton like Marion Nm 2/48 and blends with Lenzing™ Lyocell, as Godwin Nm 2/30 and Nm 2/48, that with the fine and cool hand feel are suitable for the summer garments.
The range of OTW® line of yarns employing Omega Twist® technology, developed and patented by the Suedwolle Group, remains extremely popular also in this season. Ideal for elegant knitwear and refined taste, it ensures that yarns offer outstanding performance in terms of reduced pilling, clean, bright surfaces, a soft feel, elasticity and greater durability. New additions to the line include OTW® Agate (100% Merino wool
Extrafine, 19.5 mic, Total Easy Care) and OTW® Lambert Nm 2/30 and Nm 2/48 (75% Merino wool Extrafine, 19.5 mic, anti-shrinkage, 25% Lenzing™ Lyocell) .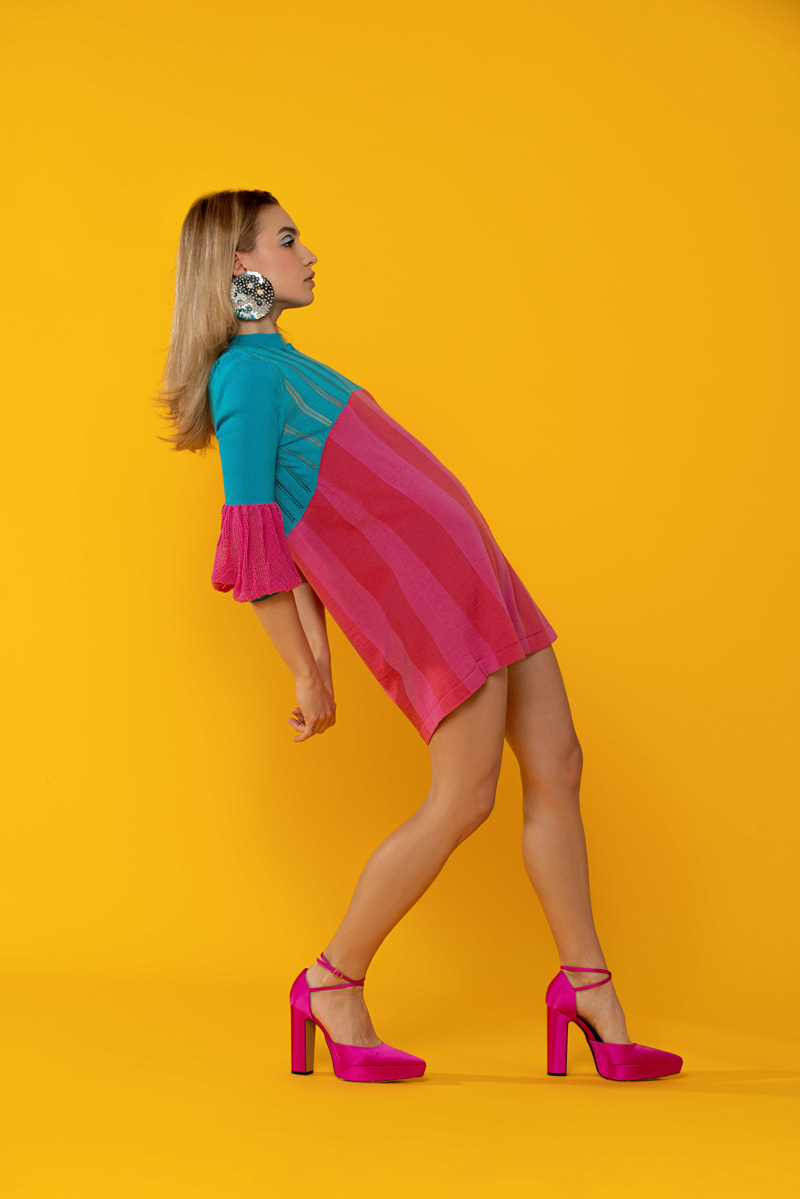 About Südwolle Group
Südwolle Group is a global producer of worsted yarn in pure wool and wool blends for weaving, circular, flat knitting and technical applications. The company's collections Südwolle, Biella Yarn, Yarn in Motion, Richter, Stöhr and Soey are focused on different segments of the global textile market. Located in the Nuremberg metropolitan area of Germany, Südwolle Group employs more than 3000 people globally with production facilities in Germany, Italy, Poland, Romania, Bulgaria, China and Vietnam. Sustainable excellence in all its dimensions is a philosophy that drives the organization's operations, planning and investment actions.
www.suedwollegroup.com


Hits: 6241 | Leave a comment