How to Choose a Suit for Your Wedding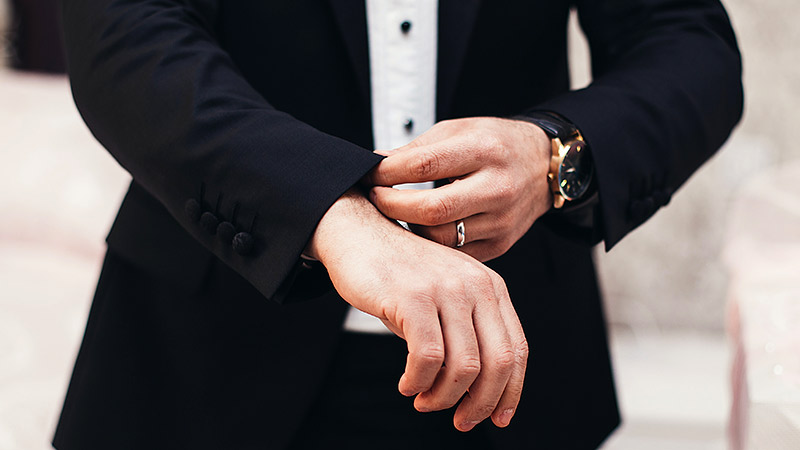 Photo by Alvin Mahmudov on Unsplash
Plan on getting hitched? You'll need a good suit if you want to dress to impress. From casino style icons to emulate, to fashionable beachwear, there are many options to choose from. For example, are you going to choose a tuxedo or a suit? Will it be a two-button or three-button outfit? Are you wearing cufflinks as well? What about a pocket square?
If some of these questions are lost on you, fret not. We've put together a few style tips below, perfect for helping you pick the suit you want. Along with recommendations for the type of weddings these suits will match, our aim is to provide you with varied options for as wide a range of wedding themes as possible. Regardless of whether you're having a small ceremony or a bombastic affair, take a look at the tips featured below, and, who knows, you may find the information you're looking for.
Black-tie
Any black-tie event is a formal affair and will typically require that you wear a tuxedo. If you're having a formal wedding, a tuxedo is your safest bet by far. The bow tie might not be everyone's favorite accessory, but it's an integral addition to any tuxedo. As is the case with any outfit in general, wearing a full tuxedo with confidence works wonders for your image.
Creative black-tie and optional black-tie events are slightly different from a full black-tie event. They are slightly less formal than the latter, meaning a regular suit is usually perfectly acceptable. Formal clothing is still a requirement, but you could get away with a black suit and a black tie, for example.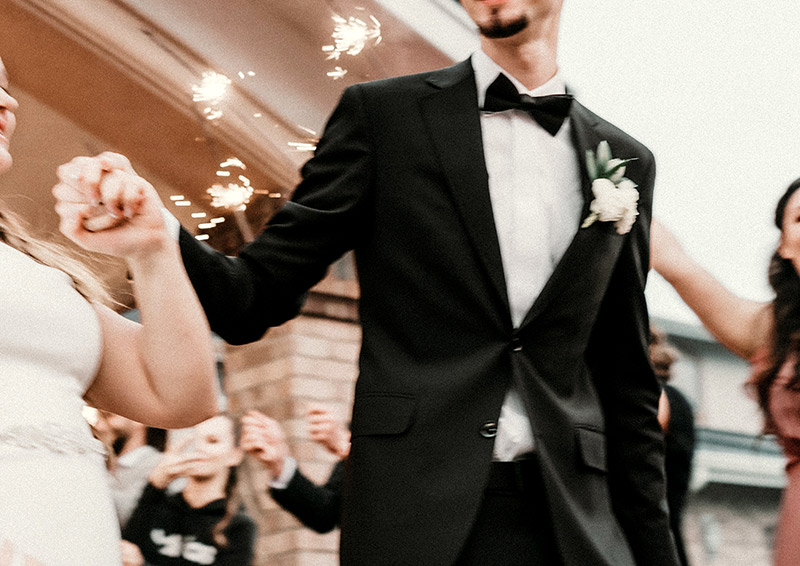 Photo by Alex Kramarevsky on Unsplash
Seasonal suits
Suit styles follow seasonal trends like any other fashion. There are specific colors that match every season of the year. White and beige suits are ideal for summer, for example, while a burgundy or maroon suit will wrap you in warm tones that contrast well with the weather in colder months of the year. All that being said, no one is stopping you from picking any color you prefer, irrespective of the season; if you want to wear a sparkling white tuxedo in the middle of winter, more power to you.
There's also the number of clothing items in your ensemble to consider. A two-piece suit gives you a suit jacket and suit pants, while a three-piece suit adds a waistcoat to the equation. The waistcoat adds a bit of insulation if it gets a bit chilly on your wedding day, but it can be stifling to wear if the weather is hot or humid. Then you get the choice between single-breasted or double-breasted. Double-breasted suits have more buttons and an extra pocket but are far harder to alter when compared to a single-breasted suit. For this reason, most readymade suits you find will be of the single-breasted variety.
Color choices
We've already mentioned color choice with regards to seasonal styling. Aside from formal themes and suits decided by seasons, there are many other reasons for choosing a specific color. Why not pick your favorite color? Or better yet, surprise your partner-to-be by wearing their favorite color (though you may want to run this idea past your significant other to avoid any unwanted reactions).
As a general rule of thumb, the lighter the suit, the less formal the wedding party. Although there are exceptions to this rule, sticking to it means that you'll never stand out too much. However, it's worth repeating that you have absolute freedom to be a bit selfish on your wedding day. You can be whoever you want to be, wear whatever you please, and forget about fashion conventions entirely if you deem it necessary.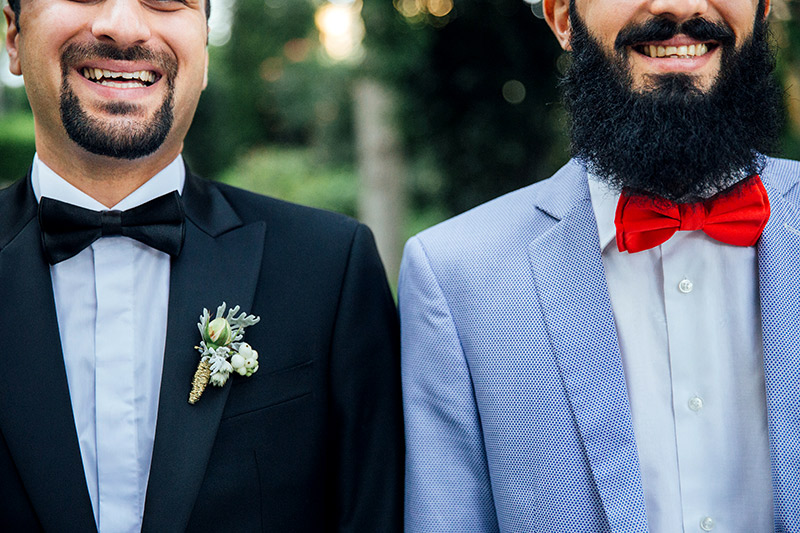 Photo by Alvin Mahmudov on Unsplash
Buying vs renting
Perhaps the biggest question of all is whether you should buy a suit, or rent one? Right off the bat, there are three cuts of suits to choose from, namely the classic fit, slim fit, and modern fit. Your choice between these three cuts will largely depend on personal preference, so don't be afraid to explore all three options.
Classic suits are relatively loose compared to the other cuts, but they aren't meant to look baggy either. Slim fit suits tend to hug your figure a lot more than classic suits, with narrow shoulders, a slimmer chest fit, and tighter pants. Modern suits fill the gap between classic suits and slim suits. They offer more fabric area than a slim suit but more of a fitted style compared to classic suits.
Dress shirt, shoes, and accessories
The final aspect of your suit you will have to consider is the finishing touches. Your dress shirt, socks, shoes, and other accessories should all complement the look you're going for. For example, a white dress shirt will enhance almost any suit color, but if you're going for a white suit, then it may not be the best option. In that case, you may be better off with a shirt that matches your shoes.

At the end of the day, you want to find a style that you feel comfortable wearing, a look that sends the message you want it to. Put your happiness and that of your partner first and foremost. Wear something that brings you joy and helps you feel confident, and the rest will fall into place.


Hits: 10737 | Leave a comment