PR professional Atanas Lazarov talks about scuba diving in the Red Sea
Atanas "Nasko" Lazarov, the founder and owner of Profile International, chatted with Digital Journal's Markos Papadatos about his latest endeavors, which include scuba diving in the Red Sea.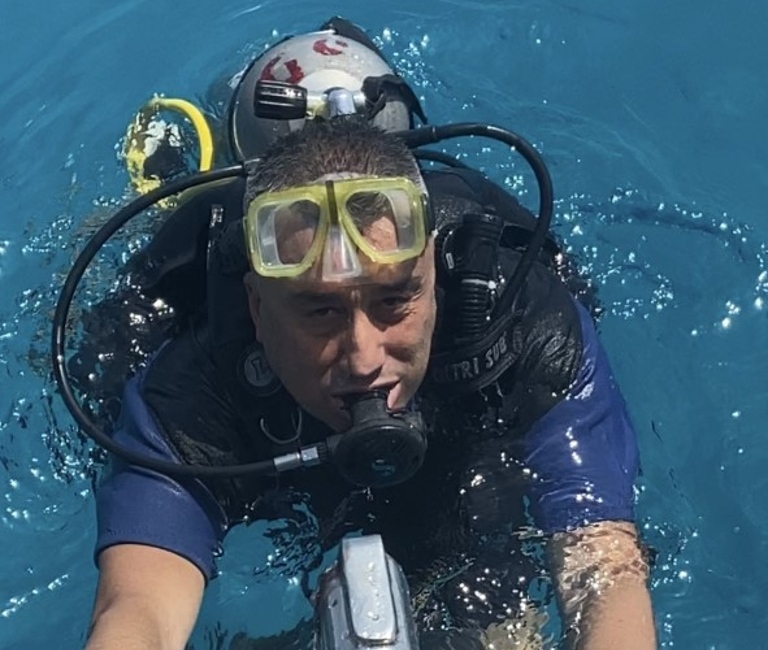 Atanas "Nasko" Lazarov scuba diving. Photo Courtesy of Atanas "Nasko" Lazarov
On his inspiration to start scuba diving, he said, "This year I finally realized one of my childhood dreams. I finally overcame my fear and plunged into the depths of the Red Sea. It's the top.  Divine! Every year I try to add something useful to my habits. I am a supporter of a healthy lifestyle."
"For 10 years I have been swimming at least twice a week, and my goal was to prepare myself for the underwater world. Three years ago in Cuba, while visiting Cavo Beach, I only managed to dip my head under the yacht, and seeing the vast expanse of sea I got scared and came back," he said. 

"I intended to take a diving course to overcome my fear of the deep, but I never found the time. But here in Hurghada, when I saw that there was diving in my program, I signed up and said to myself that this time to challenge myself. I dedicated this touch to the beauties of the sea in the name of my late father," he said.
He shared that he surpassed himself thanks to the perfect guide, instructor @diverislam. "The professional diver first gave me confidence and peace of mind, and then we spent half an hour instructing – signing declarations, etc. I am proud of myself because this experience gave me freedom, gave me inspiration and energy to move forward boldly. I am extremely happy that I had the opportunity to touch this insanely beautiful world – rocks, colorful fish, and a lot of beauty in one place," he said.
He noted that he would like to share some of his many impressions of the Hurghada. "Sometimes you can hear that diving in Hurghada is not the most interesting.  But this is just a delusion.  Don't believe them, in fact, most of the hotel's beaches in Hurghada are sandy, but there are many coral islands nearby that can be reached by boat.  The most famous are the Gifthun Islands, where it is considered the most beautiful underwater world in Hurghada," he said.
"The Abu Ramada Reef will appeal to those not diving for the first time, as it has a rocky terrain covered with coral gardens and is suitable for deeper dives," he said.

"Gota Aburamada Reef is also a vertical rock covered with coral. The Abu Nuhas Reef on Shadwan Island is the perfect place for snorkeling.  There are also four sunken ships nearby. Incredible," he exclaimed.

"Although diving in Hurghada is offered in most cases by special boats, this resort is one of the leaders in the popularity of diving. Many thanks to the biggest professionals in tourism for the memory of a lifetime: @abax.ltd Georgi Pasev @ekvator_bg @diverislam @m.ayek," he said.

On his proudest moments of 2021, he said, "I am proud to have launched my global television project Destinations. We start with the month of Zanzibar very soon. With the "Smile Mission", we delighted over 350 orphans in Zanzibar."

"I recently organized the prestigious competition for the most beautiful Bulgarian and I am proud that we made Romania talk about Bulgaria through TV reports and inclusions. This was my goal, through the competition to promote my country in the best way. My special guest and jury was the world-famous Romanian top designer Catalin Botezatu, Akcent, Angie Kassabie, d-r Veneta Pavlova Eo Dent, Cvetelina Savova – Xylitol, Veska Penkova Scorpio group," he elaborated. 

"As soon as she appeared at the Golden Sands International Hotel, Catalin Botezatu caused a furor. More than 5 Romanian TV stations watched his every move during his visit as a jury and the presentation of his summer swimwear collection," he said.
To learn more about Atanas "Nasko" Lazarov, follow him on Instagram.


Hits: 9679 | Leave a comment