How to influence consumer behavior toward more sustainable consumption
Sustainable fashion is very important today and many fashion experts are trying to influence consumer behavior toward more sustainable consumption.
Sustainable fashion is a design philosophy for producing clothes, shoes and accessories in environmentally and socio-economically sustainable manners and to encourage more sustainable patterns of consumption and use.
6 principles of influence
Roberto Cialdini, US professor of marketing, business and psychology synthesized years of research on social influence into six universal principles for understanding attempts to influence human behavior. Businesses can use these principles in their efforts to influence consumers toward a more sustainable consumption.
1. Reciprocity. Humans often feel the need to return a favor or kind gestures. For consumers, this might mean offering a free sample or a generous discount, for example.
2. Commitment. Once someone is engaged with something, they are more likely to stick with it. In business, this means cultivating brand loyalty; once someone is working with a product or using a service, they are more likely to commit to paying for it again.
3. Pack mentality. If more people do something, others are likely to do it as well. When brands can demonstrate their popularity across a wide customer base, other consumers are more likely to buy as well.
4. Authority. People are more likely to listen to an expert than anyone off the street.
5. Liking. People who are similar to the target consumer are more likely to persuade the consumer to buy. People from similar demographics – whether in terms of ethnicity, socioeconomic class, religious inclination or even shared interests – are far more effective at persuading consumers than those they perceive as vastly different.
6. Scarcity. People tend to want what they perceive they cannot have. Making a product or service seem exclusive or as if it will go out of stock if they don't act quickly often makes it more enticing to the consumer and increases the likelihood that they will buy it.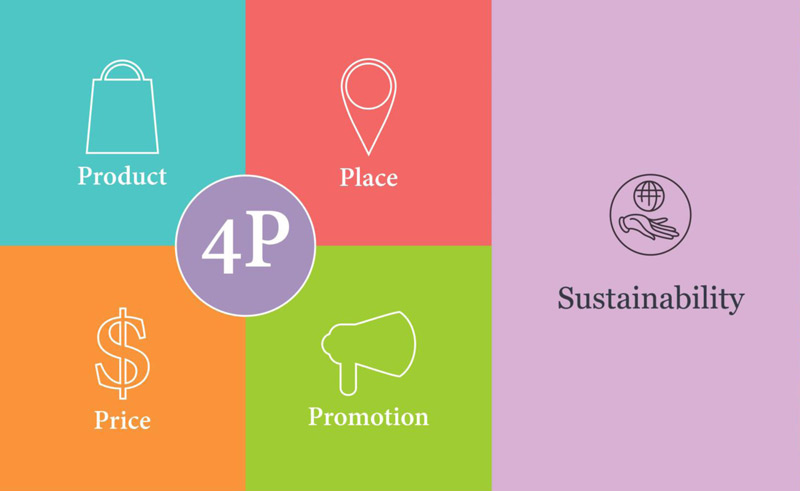 The 4Ps
The sustainable marketing should be considered based on traditional marketing mix, including product, price, place, promotion and add sustainable as an additional factor.
Product
To reduce the impact of the product on environment and ecosystem, both the production process and product functions should be considered.
Eco-friendly raw materials
- natural fibers, recycled or produced with water or land saving techniques, or not involving cruelty to animals
- man-made fibers from recycled materials, produced with low environment impact
The manufacturing processes with superior quality include:
- water and energy saving, waste and CO2 emissions reduction
Price
Generally, prices of green products are higher than other products. Consumers are price-sensitive when it comes to "buying green" and are unwilling to pay a premium price for green products.
Place
It is important where the sustainable products are promoted - Market, channel, distribution. Where the ideal customers go to find information about your industry?
Promotion
How do customers find out about sustainable products? What strategies should be used for advertising sustainable fashion products?
Previous research defined four main concerns to promote green products, including consumer attitudes towards advertising, credibility of environmental messages, credibility of the brand, and consumer attitudes towards green messages.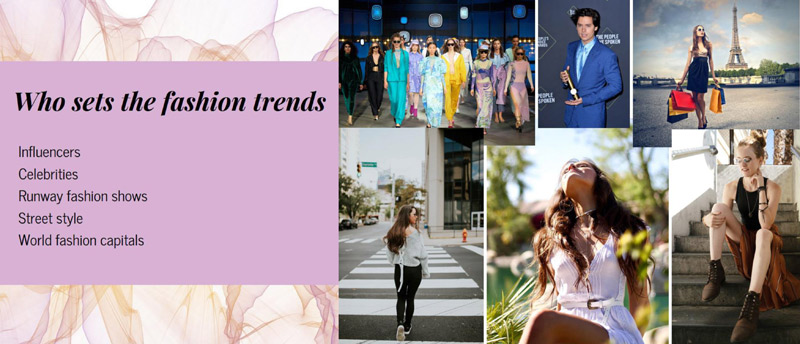 Sustainable packaging and environmental labeling can help consumers to define green products.
One good way for promoting sustainable products is to make them fashionable. Fashion trends have the opportunity to make a huge impact on the fashion industry worldwide.
In decades' fashion trends typically were started and evolved strictly from fashion brands to fashion magazines and then to consumers.
While traditional fashion houses still have an impact on the way that fashion trends emerge, it's not just those sources that play a role in popular fashion trends anymore. Fashion trends now start and evolve through five key ways: from the runway, from street style, through celebrities, through fashion influencers and bloggers, and through the world fashion capitals.
1. Runway Trends
Many of today's current trends are certainly inspired by the looks that designers send down the runways each season during Fashion Week events.
2. Street Style
The term 'street style' essentially refers to everyday looks that can be seen on the streets. These are the looks that people wear in their everyday life that make an impact on those who pass them by - and become inspired by them! The looks are typically easier to recreate.
3. Celebrities
There is no question about it - celebrities are one of the biggest trendsetters! Their fans follow their every move and copy what they do. Huge companies turn to them to be spokespeople for their brands and products.
Due to their huge fan base, celebrities can have a bigger reach than the latest fashion magazine. Many celebrities have become known as trend setters and style icons over the years.
4. Fashion Bloggers
Over the years, fashion bloggers have proven that they have great taste and are creating trends in the fashion world. Designers often turn to fashion bloggers - just as they turn to celebrities - to wear and help promote their products, because they are well aware of their influence.
5. World Fashion Capitals
Because fashion and trends are different all over the world, people often look to see what happening in the world fashion capitals - New York, Paris, Milan and London - to see what people are wearing and adopt those trends to fit into their lives.
One trend inspired from the Fashion Capitals are Mini skirts - While many people think the mini skirt trend started in the United States, this trend actually migrated from London in the late 1950's through designer Mary Quant and slowly migrated over to the United States. This trend definitely hasn't disappeared, as it is given a fresh twist pretty much every season!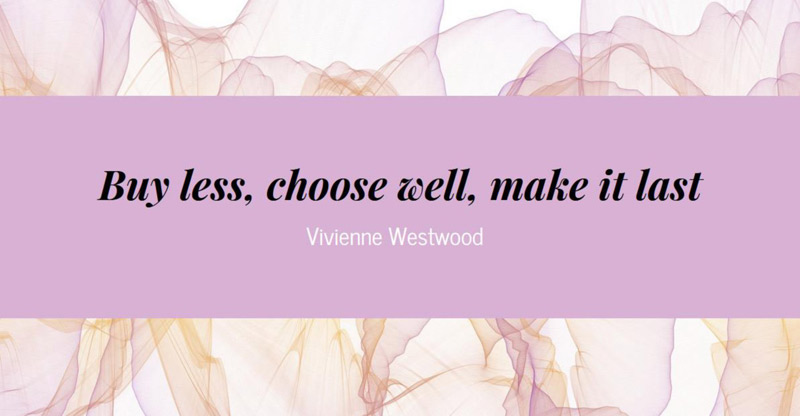 How to become a sustainable fashion consumer
Modern consumers are more aware of the environmental and human costs of their wardrobes. Surveys in Europe and the US show that consumers would like to buy more sustainable clothes - and are willing to pay a little extra too. But most of us don't even know what 'sustainable' means anymore. We are being bombarded with messages about organics and recycled fibres, environmental certifications, vegan, eco-conscious collections while the same fashion brands continue to tell us, that garments are disposable and we need a new outfit every week. The message is false and contradictory. In fact, the fashion industry is becoming less sustainable. It relies on mass production, low prices and large volumes of sales. The sector is growing at such a pace that its impact on the planet is actually worsening.
Thanks to fashion companies, consumers believe recycling clothes will help, but modern garments are often made of multiple fibres and heavily embellished which makes recycling extremely complicated. More than half of the clothing given to charity shops and textile recyclers ends up in landfill or incinerators. More alarmingly, microplastics which are released when we wash syntenic fibres such as polyester, nylon and acrylic are released into our oceans, rivers and are found in our food chain. 
Buy less and wear your clothes for longer 
Vivienne Westwood said it best: 'buy less, choose well, make it last'. Choose high quality pieces that you absolutely love and ones you know you'll keep forever.  When buying something, ask yourself 'will I wear this item 30 times?'  If the answer is yes, buy it. But you'd be surprised how many times you will say no.
Repair before you replace
Small rips, holes and missing buttons can easily be fixed.
Read the label
One of the best ways to ensure your purchase will be good for both your wallet and the environment in the long-term is to check the fabrics. Choosing natural, biodegradable fabrics is the most sustainable option. Good materials include organic cotton, tencel, linen, recycled polyester & recycled nylon. Avoid polyester, nylon, spandex and acrylic.
Buy sustainable pieces
Gone are the days when sustainable fashion choices meant over-priced linen trousers. Dozens of slow fashion brands have emerged in the last decade that are dedicated to ethical and sustainable practices. Products, produced locally and preserving local traditions are one of the best choices.
Buy vintage
As well as being an easy sustainable option buying second-hand, upcycled and vintage clothing allows consumers a new sense of individuality that you cannot find on the high street.
Rent your clothes
Owning clothes is so last year. Fashion rental is having a moment and not just for event wear. Where once people only rented formal wear for a special occasion, companies are now renting everyday clothing, handbags, shoes and accessories for one-off fees or via low-cost subscription. Rental offers a solution for those of us who don't want to invest heavily in clothes for a few wears, but want to keep up with the trends. Many of the rental platforms allow consumers to share their pieces, thus helping them to contribute to the circular economy.
Unsubscribe from fast fashion emails
Take the time to unsubscribe from fast fashion emails. It will help stop you mindless scrolling and over-consuming.
Follow sustainable brands and influencers
Fill your Instagram feed with people and brands who will inspire you to live your best sustainable life. You may wish to shop ethically, but your good intentions will go away if your feed is full of influencers promoting fast fashion outlets. Instagram is full of inspiring people and businesses who are doing things differently, and seeing these is really encouraging.
Buy custom clothes / Made-to-order
In the past the process was design-produce-sell. In the future, brands will first design-sell-produce. And the process has started for example with print on demand products, made-to-measure and personalization clothing..


Hits: 7845 | Leave a comment