Beat the odds: 3 secrets for MTM businesses to thrive amid challenging 2020
COVID-19 pandemic has accelerated the need for change in the made-to-measure world. In the short term, bespoke apparel businesses will face new challenges in catering to consumers that have been forced online by widespread quarantines. In the long term, they will have to find new ways to appease lingering fears over health and safety.
It is apparent that the person-to-person process of manual measuring will no longer suffice. So how can made-to-measure businesses continue to offer accurate and cost-effective body  measurements post-pandemic, while maintaining customer safety and personalization? Here are some good solutions:
1. Contactless body measuring in the age of social distancing
The use of measuring tapes to capture customer body measurements presented issues prior to the pandemic. The accuracy of these measurements depends largely on the person collecting them. Not only their experience, but also their current state - whether they're fatigued, stressed, or overburdened – is likely to impact results.
Following the pandemic, the inefficiency of a hands-on manual measuring process is even more apparent. The longer the pandemic goes on, the longer fears over contact with others will linger, and the fewer customers will be willing to interact with a human tailor. With consumer attitudes likely to be significantly impacted, the made to measure sector will have to adapt their processes appropriately.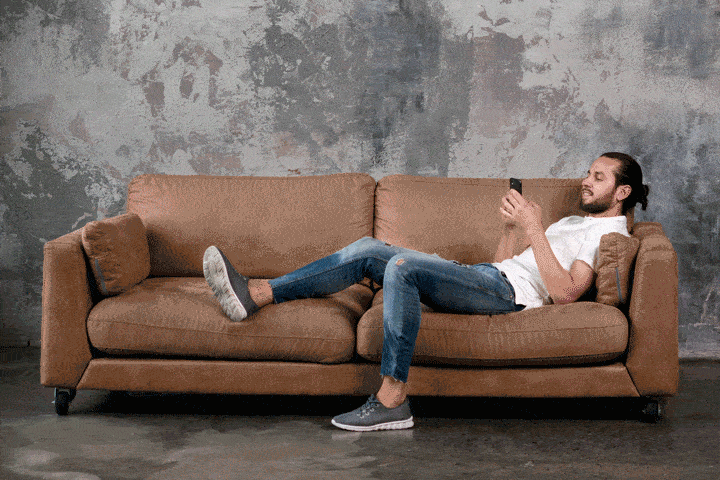 The 'Mobile Tailor' self-service solution built by 3DLOOK helps made-to-measure businesses receive precise body data of their customers remotely. The solution, which does not require any technical expertise to use, generates +65 points of measure from just two photos taken by the customer in under 45 seconds. The measurement data can then be accessed by each business through a personal workspace. For businesses that are using 3D fashion design software, there is also an option to receive the customer's unique 3D Body Avatar.
'Mobile Tailor' User Flow: your customer takes 2 photos with any smartphone on any background, and in under a minute - you get the customer body data.
Unlike other body measuring solutions, 'Mobile Tailor' is a self-service tool that runs without any complicated website integrations. Businesses can start using it immediately after the registration, no matter where they are, at home or at the office. The customers' flow is simple and secure: each customer receives a personal unique measurement link and photos can be made with any smartphone.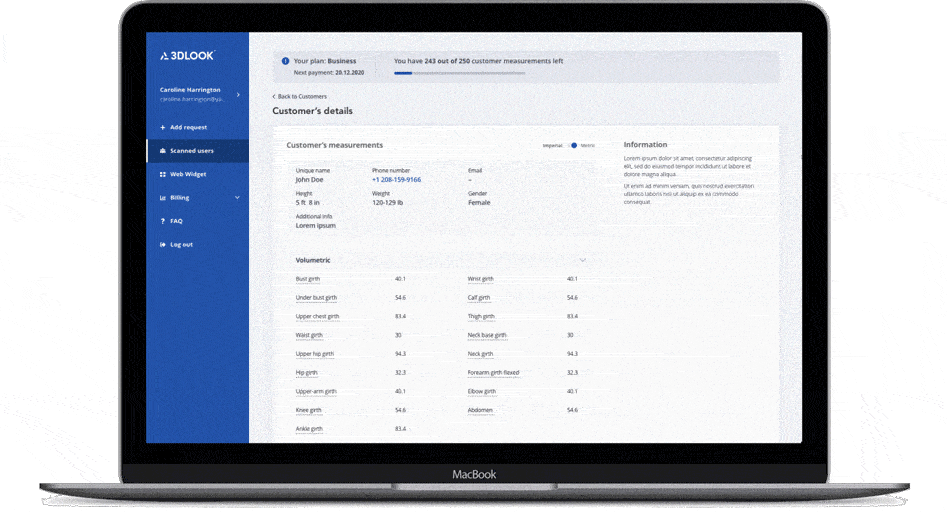 You get all the measurements of your customers on your own personal 'Mobile Tailor' dashboard.
Recent advances in artificial intelligence-based technologies, such as computer vision, machine learning, and 3D matching, have solved many of these concerns. Modern fashion technology, such as mobile body scanning solutions, offer precise tailor measurements without the need to visit a physical location or interact with a tailor. These online body scanner solutions can often be implemented easily into existing e-commerce channels, and start producing accurate measurements remotely in a matter of seconds.
Digitizing the measuring process is a necessity for made to measure manufacturers hoping to maintain business during what is likely to be a prolonged period of social distancing. By embracing this technology, bespoke clothing companies can continue to serve their customers globally without the need for physical contact, and without any additional burden on the customer or business.
2. Embrace digital software for pattern making
Producing custom clothing is still a largely manual process, and therefore offers plenty of opportunity for error during the fitting and patterning process. Computer-aided design (CAD) tools are already being used to some extent, offering better visualization of the customer and garment throughout production. However, the use of these tools is still reliant on manually collected, and often inaccurate data. These garments do offer a better fit than mass-market fashion, but also often fail to hit the mark for those ordering more complicated garments such as suits.
With an advanced online store, bespoke fashion retailers can offer consumers an online shopping experience not too dissimilar to visiting a brick and mortar store. With access to customer body data, captured through body measurement technology, AI algorithms can match customers to products that suit their bodies just like a store assistant would, for example. Likewise, 3D model generation and augmented reality could be implemented, enabling customers to try on products virtually.
Combining an advanced fashion design software with accurate body measurements collected using mobile body scanning techniques would allow for a more accurate made to measure fashion process.
Tools such as AccuMark Made-to-Measure, dedicated fashion design, and textile production software, allow clothing manufacturers to deliver perfectly fitting products in record time. Authentic customer data can be imported into the software, allowing tailors and manufacturers to generate patterns, assess the fit of a garment, and make necessary adjustments to ensure the final product matches the size, shape, and style preferences of its wearer.
The ability to make changes without the need for additional time-consuming fittings creates a more efficient production process, and importantly reduces contact between tailors and customers in the post-pandemic age.
3. Use 3D virtual sampling to visualize your customers
Consumers demand personalization now more than ever. Some 48% of Gen Z shoppers, which make up a third of the population, demand products that are tailor-made to their needs and taste according to IBM and the National Retail Federation. 3D virtual sampling can allow made-to-measure manufacturers to maintain the level and accuracy of personalization that consumers demand in a drastically altered retail landscape.
Data collected through 3DLOOK's mobile body scanning technology can be used to generate a realistic 3D avatar based on real customer data. These avatars can be uploaded to any 3D fashion design software, such as Browzwear and CLO, to extend their 3D modeling capabilities and ensure the design, shape, and fit meets the customer's expectations – without the need for additional measuring, adjustments, or returns.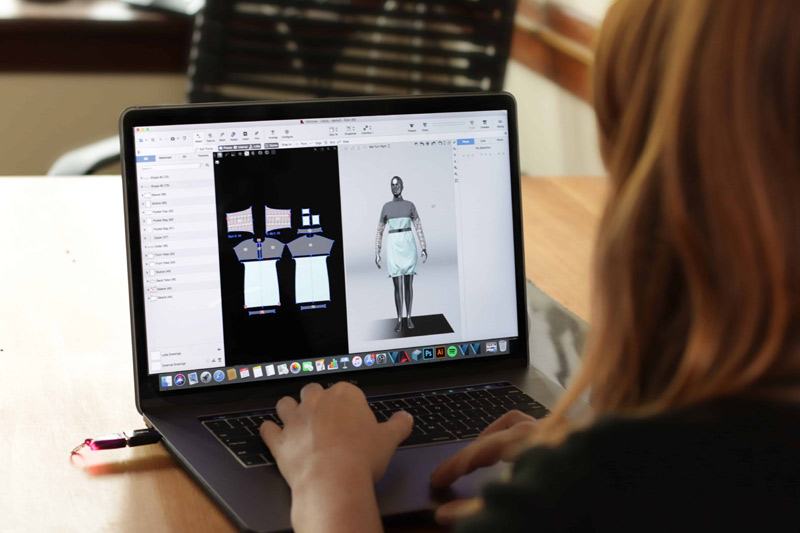 Image credit: Browzwear

Industry leaders such as PVH are beginning to realize the potential of digital 3D design technologies to design and adapt products more efficiently. By 2022, the fashion brand will design all of its products digitally. With benefits including cost and time-efficiency and reduced waste in sampling, the 3D design is something that the entire industry should be moving towards.

The era of relying on outdated and traditional systems is over. While COVID-19 has caused significant economic damage, it is also providing incredible opportunities in both the made to measure and wider industry for made-to-measure and the wider industry to modernize processes and make changes that were already disrupting an industry that has been adverse to change and digital transformation.

Originally published at 3DLOOK


Hits: 14708 | Leave a comment

More Articles from this author