Neonyt on Air to take place online from 13-17 July
The virtual Neonyt week will take place from 13-17 July with fashion and digital experts to discuss exciting topics related to business, lifestyle and knowledge.

No registration is required to participate in "Neonyt on Air" – all panel talks, live interviews, statement videos and news will be uploaded to the fair's Instagram profile @neonyt.berlin.

Here's a sneak peek of what awaits you in "Neonyt On Air". The full schedule will be revealed next week on their website.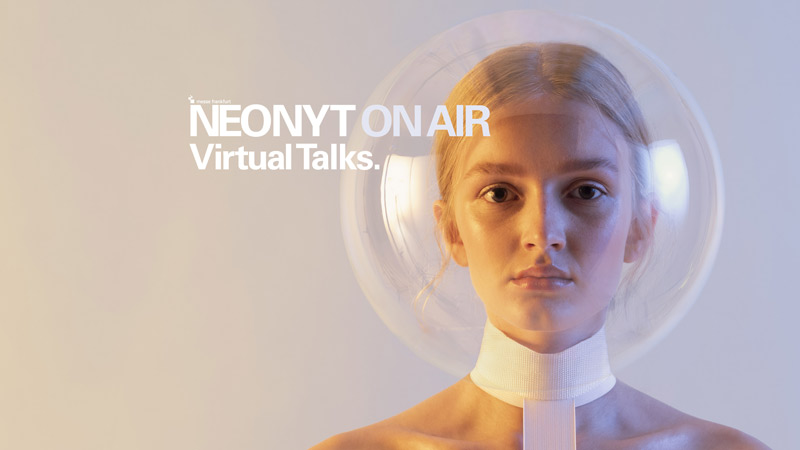 Programme of Neonyt on Air
Monday, 13 July: Welcome

The fashion industry and the tradeshow business are not only facing new challenges but, above all, also great opportunities - which we want to tackle together. During the virtual week, you can look forward to finding out the latest industry news and getting answers to questions about the status quo of the sustainable fashion scene. In short statement videos, Show Director Thimo Schwenzfeier, Creative Director Magdalena Schaffrin and Content Director Max Gilgenmann give you a brief insight into the programme of "Neonyt on Air" and Olaf Schmidt, Vice President Textiles & Textile Technologies of Messe Frankfurt, looks ahead to summer 2021 - to Frankfurt Fashion Week.

Tuesday, 14 July: Business

Digitisation as a driver of innovation: What opportunities and potentials does digitisation offer the textile industry? Thimo Schwenzfeier will talk about this together with Anna Franziska Michel from Yoonatech, Lena Blume from Browzwear and Saydou Bangoura from The Brand Show TV. Terms such as "virtual fashion", "digital sampling", "3D body scanning" and "online marketplace" are part of everyday life for the three digital business professionals. In a morning talk round, they will discuss their visions for the production, processing and distribution of fashion. In the afternoon, the marketing and business aspect is taken up again in a live interview with Joor.

Wednesday, 15 July: Lifestyle

Neonyt's influencer community will be in the spotlight on Wednesday. To start the ball rolling, everything will revolve around the Neonyt format Prepeek in an Instagram takeover with Thekla Wilkening from Stay Awhile: she will be showing how the concept has been developed over the years with support from the Fashion Changers and what Prepeek has to do with the red carpet of the Berlin International Film Festival. Why fashion is an expression of individuality and the significance of personal and corporate values will be the hot topics of Magdalena Schaffrin's panel talk on Wednesday afternoon. Together with natural cosmetics label Dr. Hauschka, influencer Julia Dalia and fashion stylist Claudia Hofmann, she will be speaking about the shift towards more diversity in the fashion and beauty sector.

Thursday, 16 July: Knowledge

Coronavirus-related uncertainties are forcing the creative and fashion industries to find new ways of working. This prompted Luxiders Magazine to do a Neonyt editorial shoot. The storyline: fashion in uncertain times. For a glimpse behind the scenes, head over to the Neonyt Instagram profile on Thursday morning. The topic will be explored in more depth in the afternoon when Max Gilgenmann will be talking to long-standing Neonyt partner and fair fashion pioneer Hessnatur, Lisa Jaspers from Folkdays and Mandie Bienek from Fashion Council Germany about the global problem of supply chain disruptions and order cancellations in production facilities.

Friday, 17 July: Frankfurt Fashion Week 2021

Where fashion and design meet sustainability and digitalisation: what potential does Frankfurt Fashion Week have for the Rhine-Main metropolis, the fashion industry in general and for the two initiators Messe Frankfurt and Premium Group – but also explicitly for Neonyt? Answers to this question will be provided by Peter Feldmann, Senior Mayor of the City of Frankfurt am Main, Detlef Braun, Member of the Executive Board of Messe Frankfurt, Olaf Schmidt, Vice President of Textiles & Textile Technologies at Messe Frankfurt, Thimo Schwenzfeier, Neonyt Show Director, as well as Anita Tillmann, Managing Director of the Premium Group, in video statements on Friday morning. Anita Tillmann and Olaf Schmidt will be answering further questions about Frankfurt Fashion Week in the subsequent interview. #NeonytOnAir


Hits: 8324 | Leave a comment