The best winter travel boots for men
The ultimate wardrobe staple for the winter season, a pair of men's boots will add some suave to any look. From off-duty styles such as panelled boots and easy-to-wear Chelsea styles to sophisticated suede lace-ups and simple leather designs, there are plenty of styles to choose from.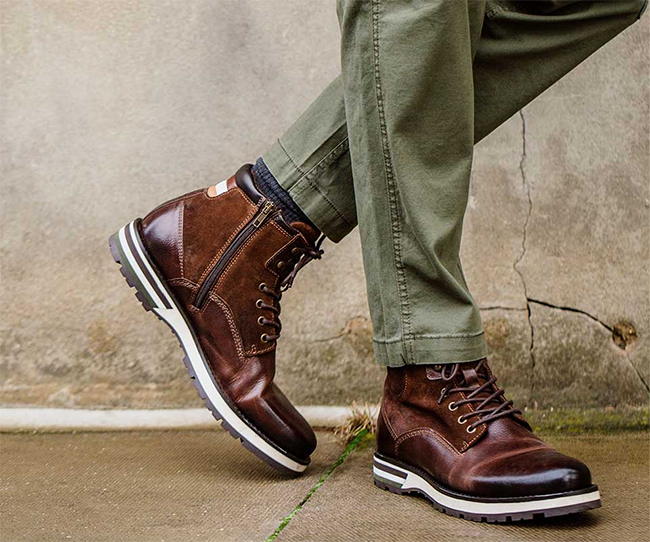 Take a look at our guide to the perfect winter boots for men to suit travel:
Chelsea boots:
Ideal for milder days, Chelsea boots offer an easy pull-on design and understated style. Perfect for any occasion, their plainer design makes for easy dressing up and dressing down, making your suitcase a little lighter. For warmer winter travels, a flat sole will suffice, but for more wintry conditions, opt for a pair with a cleated sole for a strong grip.
Army boots
If you're travelling somewhere with extreme wintry conditions, such as snow and ice, then a pair of army-style lace-up boots are an essential option. With heavy cleated soles, they also offer cushioned ankle supports for comfortable wear throughout the day.
Ideal for casual dressing with their panelled design, pair them with jeans and a Fairisle knit for a casual look, perfect for Sunday mornings if you're walking into a nearby town for brunch.
Walking/hiking boots
Again, ideal for the more treacherous conditions, walking boots offer great support with cushioned heels, cleated soles, and a sturdy lace-up design.
Although offering slightly less style than other leather or suede boots, they are very practical and great to take with you if you have the room in your suitcase.
Western/cowboy boots
The winter season often means a lot of festive events and dinners. If your travel involves a trip that requires a sophisticated look, then why not consider a pair of western boots? On-trend for this season, they offer a small heel and pointed toe, and are available in an array of prints and styles. Key pieces for this season are snake print, whilst tassels and studs are great for a classic nod to the western trend. Pair yours with a suit and roll neck for understated suave.
Chukka boots
Another pair that will cater to both smart and casual looks are Chukka boots. With both suede and leather designs available, they are often plain with a simple lace-up finish. Whether your winter travels are for work purposes or to enjoy a relaxing break away, they go well with smart trousers, chinos and jeans, meaning you can save some space when it comes to packing!


Hits: 6959 | Leave a comment