The consolidator of the Bulgarian textile sector
Two months before 25 September and with an increase of nearly 25%, the capacity of the second edition of TMT Expo is 70% booked up.
Professional forums are of leading importance for every business sector. In 2019, from 25 to 27 September, the textile industry branch will gather for the second consecutive year at Inter Expo Center, where TMT Expo will be held. The Forum will welcome the visitors with even more innovations and technologies, as well as with almost 25% increase in the exhibition area.
Already after its first edition in 2018, the business forum was recognized by the professionals in the field of materials, machines and technologies as a consolidator of the textile sector in Bulgaria. The interesting format and the parallel holding with the only exhibition dedicated to printed and advertising communications – COPIS, have turned TMT Expo into a point of attraction for the professionals. "The parallel holding of the two exhibitions is undoubtedly an effective formula for the development of successful business in the sector", were among the comments of those attending the 2018 edition.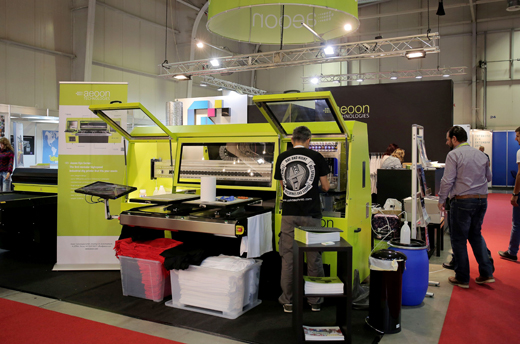 Due to the strong interest in 2019 TMT Expo increased its areas by 25%, taking 5000 sq. m from the exhibition areas of Inter Expo Center. "Nearly 70% of the allocated areas have already been booked", the organizers reported. The accompanying program, providing the opportunity to acquire know-how through professional events and company presentations, will bring certain added value. 
Significant increase of the foreign interest
Thanks to the successful first edition, the exhibition increasingly attracts the attention of companies operating in Southeastern Europe. Requests for participation by companies operating on the Balkans-Turkey, Greece, North Macedonia are growing. The interest of companies from Germany, Italy and India is really strong. Based on the existing trends, the forecast says that the professional forum will register over 20% growth of the number of participants.
Companies from Bulgaria and abroad who have booked their presence are representatives of almost the entire spectrum of productions and activities in the sector. This includes design, engineering, cutting, software companies, CAD/CAM systems, preparation for production and technological production.

From 25 to 27 September at the TMT Expo representatives of the textile industry will get together. Full information about the professional business exhibition can be found on the website tmtexpo.bg.


Hits: 5784 | Leave a comment