Why Seiko Watches are a Fantastic Present for Men
Watches are one of those things that sit slightly outside of an obvious classification, being part functional necessity, and (in some cases) part fashion accessory; and although these days the popularity of mobile phones means fewer people wear a watch daily, most of us own at least one.
Another interesting point about wristwatches is that many men find them as intriguing and collectable as women do, with practicality not always being the first consideration either. In a world where men have fewer chances to express their personality through accessories a watch helps fill that role, and many men are drawn towards watches that reflect their personality and make a statement, rather than simply looking for the watch with the highest price tag.
Solve the 'what to buy for a man?' dilemma
It always seems to be more difficult to find a great gift for the men in your life than it does to buy items for the women. From fathers and brothers, to uncles and nephews – what can you buy that isn't socks? Well, we think we've got that covered. We have already established that men love watches, and we know that Seiko is a consistent market leader the world of men's watches, so there's the obvious answer; Seiko watches are always a fantastic present for men – and here's why.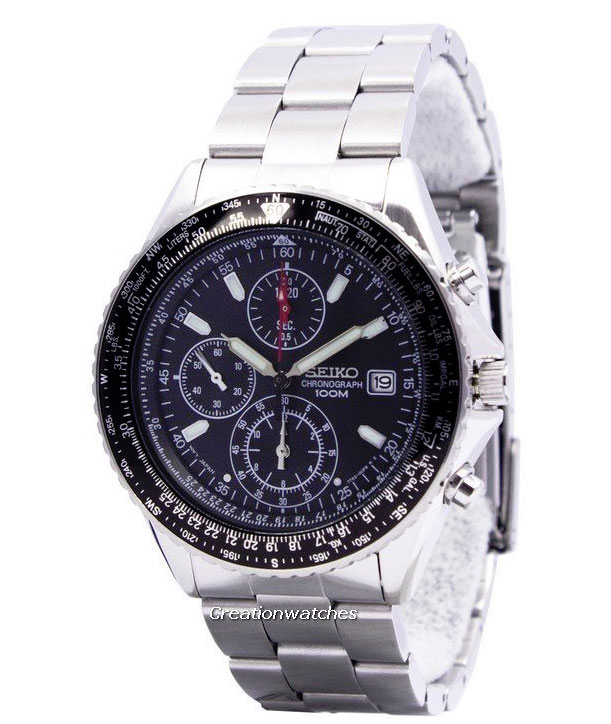 Reason #1 - Seiko watches embody class
Watches are miniature works of art with moving pieces, and a Seiko watch is a perfect blend of dedicated craftsmanship and the subtle adoption of appropriate technology. They aren't overdone, but a Seiko designed watch doesn't need to be very obvious as it attracts all the right people simply for being exactly the way it is – classy in a low-key kind of way, and a perfect choice for the men you know who fit easily into the same kind of description.

Reason #2 – Seiko watches are true classics
There are very few things in life which both suit and appeal to men of all ages, which is fair considering most items are designed for and marketed to a particular age or interest group. A Seiko watch though – that's different. It's considered a classic item without being at all old fashioned, and therefore equally suitable for any occasion – from a teenage boy's first watch or a graduation gift, to a 70th (or 80th) birthday surprise.

Reason #3 - Seiko watches are a great investment
That doesn't necessarily mean financial gain, although Seiko watches do tend to hold their value for the long term as they are so well crafted and timeless in design. There are plenty of Seiko watches which become family heirlooms, passed on from parent to child with pride.

Reason #4 - Seiko watches are affordable
There's a huge range of watches in their range, and they are all equally well made, so a pleasure to both give and receive. There are some sought after 'budget' (for want of a better word) models which cost less than $50, and then there are those which cost thousands. Yet despite the price difference both watches reflect that hand-crafted feel Seiko watches are so valued for.

The 'snowflake' men's watch from Seiko is a good example of this – blending its unique dial features and dedicated hand-polished finish on all surfaces, with the typical less is more Seiko style. It's unlikely anyone who isn't either in the watch business, or a very keen amateur and fan of Seiko designs, would realize they are looking at a Seiko watch valued at many thousands of dollars.

Reason #5 – Seiko watches respect tradition
Even the lowest price men's watches in their range are still made with the same care, quirky features and attention to detail as they always have been. That's why you will still find Seiko watches featuring Kinetic technology, alongside quartz models. Plus, every single component in a Seiko watch is produced in their own factory.

Reason #6 – Seiko watches are built to last
Ask any ten men who the maker of their first 'grown up' watch was and the chances are the majority will tell you it was a Seiko, and most of them will still have it. Men may choose to invest more in another Seiko as the years pass, (or of course, gratefully receive one as a gift), but these will rarely displace that first precious 'real' watch.

Reason #7 The range of Seiko watches is amazing
With so many fantastic versions on the market it's easy to see why there are many thousands of dedicated Seiko fans and collectors around the world. Let's look at just a few of the unique and cleverly detailed themes Seiko offers its customers.

- The Seiko Superior – classic design with some modern options such as block colors.
- Seiko Velatura Watches – celebrating all things marine so perfect for sailing and fishing fans.
- Seiko Pilot's Watches – aviation-themed and popular with those who fly, and those who don't.
- Seiko Sportura Collection – a great gift for men who like to play sport or exercise, though neither are compulsory to enjoy wearing this good looking timepiece.
- Seiko World Timer Watches – featuring the time in 28 major cities around the world (with the capacity to display either one or two of these at the same time), anyone interested in world affairs, geography, international business or travel will treasure a watch like this.
- Seiko Kinetic Watches – science geeks will love you forever if you buy them a watch like this! Basically, it works from a battery which is powered by the person wearing the watch! (Which occurs with hand movement, an action which converts the body's kinetic energy into electricity which can then be used to power the watch battery!)
- Seiko Limited Edition Watches – the ultimate for men with a collector's mind, only really small numbers (max around 2000) of a watch in this range are produced, and each has its issue number engraved on the back. If you are lucky enough to get hold of one it would be the ultimate gift.


Hits: 8252 | Leave a comment

We are looking for men's suit tailors, fashion designers, managers, fashion consultants who want to share their knowledge and tips in an article or video and contribute to the site! Please email us at contributor@bgfashion.net Don't miss the opportunity as this will be a free advertisement for yourself and your menswear brand!