Never Underestimate the Power of a Suit: Why and When to Dress to Impress
It's 2019… the year of the gentleman, and every modern man today should have at least four to five nice suits hanging up in his closet. Whether it's for special occasions like attending a wedding or being the arm candy to the lucky lady in his life… however you "chop it up," suits are a grown man essential that ALL men should have in their wardrobe.
Now, there are certain occasions, industries, and companies that don't require the tailored look of a suit (and those are pretty easy to distinguish) but whenever you're in a business setting and are unsure of what exactly to wear, you can never go wrong with a suit. Even if you're overdressed, you will still look like "you mean business!"
The Power of "The Suit"
When men wear a suit, there is an aura about them that commands respect. This aura of respect is applied in both personal and professional settings. When you show up to an event or business affair wearing a suit, it projects confidence, power, respect, and importance. Men will want to come to shake your hand and women will want to come and talk to you… if that isn't power unlike any other, nothing is.
*Sidenote: women love seeing a well put-together man in a suit that also smells nice, so don't skip out on the cologne*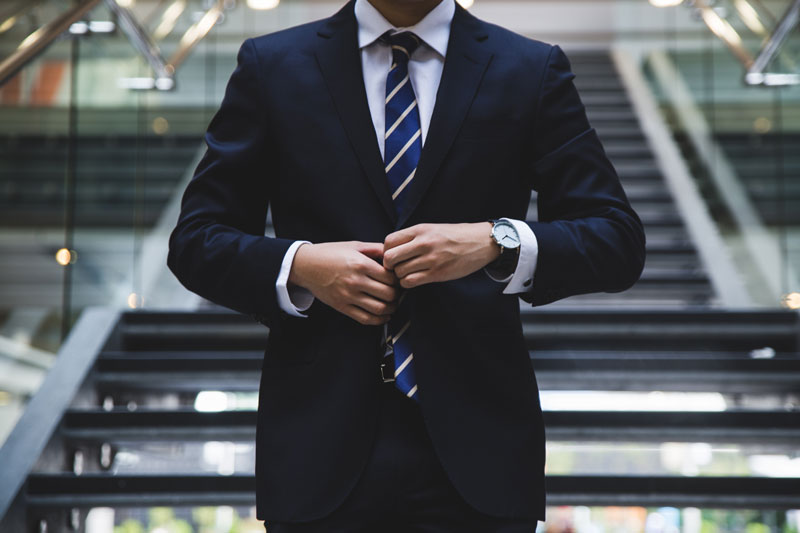 When to Wear a Suit
Every special occasion and industry requires a certain type of look and style. When a potential client will need legal representation in a courtroom, you can best believe that wearing a suit is an absolute requirement. How else would colleagues and clients be able to take you seriously?
Some men don't have a working knowledge of just how important a suit is. You not only want to wear suits that make great first impressions but you need to also realize that your appearance is a direct reflection of who you are. It's not necessarily a superficial flaw… it's just how the world works and people react better to people who are well-dressed and well-kept.
If you are a man who has a good sense of style but needs a little help on when it's appropriate to wear a suit, you've come to the right place. We're going to dig a little deeper into when to wear classic mens suits.
Business Networking Events
Anytime you are going somewhere and are representing the company you work for, wearing a suit is mandatory. With networking events, you are no longer an individual… you are a walking brand for your company. Forbes.com goes into further detail about how dressing with confidence is the equivalent of being a brand… It's occasions like this that emphasize the importance of first impressions.
During networking events, you will be meeting new people and they will probably be asking about the company you work for as well as business cards and your contact information. So, when you know that you have a networking event in your future, be sure to put your best foot forward… just make sure that foot is attached to a leg that is covered in a tailored suit.
Attire Specific Dress Codes
This pretty self-explanatory for the most part but whenever traveling somewhere or heading to some type of meeting and the dress code states the following type of dress code:
1. Standard Business Attire
2. Western Business Attire
3. International Business Attire
That is a dead giveaway to pull out the "bells and whistles." Anything that says "business casual" or "semi-casual," you can get away with a nice pair of dress pants with a button-up shirt. Make sure your shirt is tucked in and you're wearing a belt.
Personal Occasions
For men, outside of business, weddings and funerals are the other two occasions where you should wear suits. These are occasions where you need to dress conservatively out of respect to the deceased and family of the deceased as well as out of respect to the bride and groom.
Interviews
The whole point of an interview is to "sell yourself," which is another situation where first impressions matter. When you go to an interview, the potential employer can't look at you and be able to tell whether or not you're going to be a good employee… but they can look at you and tell whether or not you're serious about the interview based on what you're wearing.
Now, you can show up to the interview looking professional but it's up to you to back up what you're wearing with your intellect and skill set.
Bottom Line
The whole point of wearing a suit is to project the message that you are a professional who is serious about business. In a personal setting, you want to convey a feeling of respect… that you demand respect and you give respect.


Hits: 12782 | Leave a comment