The benefits of tailored suit
Suits are the staple of modernism, professionalism and success. A man in a suit commands more respect from his peers without one, which is why it's a strong tool for building your character. A bespoke suit offers you all of this and more. Here's a quick rundown on why you should have a tailored suit in your wardrobe.
Better Quality
Tailors have a connection with the best fabric mills there are so you will get the best fabrics for the type and style of the suit that you want. Additionally, the stitchings will be top-notched with no imperfections or hanging threads to be seen on the seams anywhere. It's the tailor's job to be impeccable with the details, as that's the defining feature of a good tailor. A good tailor knows that being well-dressed is to be respectful to the location and the people in an event. This is why they can't trade anything away for quality.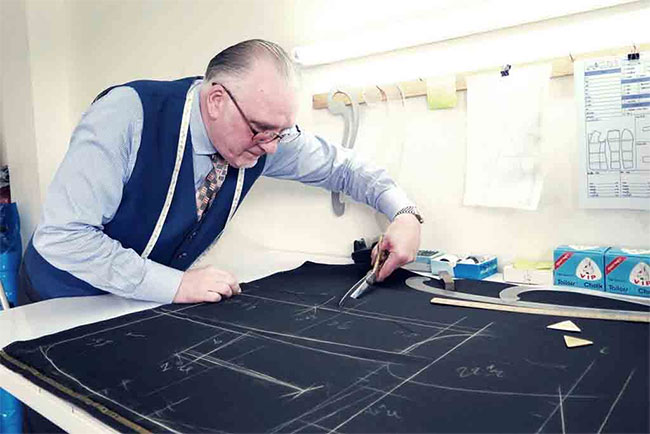 Better Fit
If you've tried on an off-the-rack suit and think that it's a good fit, wait until you get a chance to feel the fit of a tailored suit. Regardless of what you may think, you can't replicate a master craftsman measurements when it comes to suit making. Every person's body is different. Some of us have one longer limb, some of us have a shorter torso than the rest. This is why the only way you can ensure that a suit actually has a good fit is by having your measurements done by a tailor. Suits are designed to emphasize one's strong features while hiding the less complimenting ones, so no matter what your measurements are, your tailor can make sure that you look better in your attire.

Better Fashion
People think that suits are strict and boring, but this couldn't be further from the truth. There are different patterns, colours, cuts and other things that you can customize to showcase your personality and creativity. Don't overlook your tailor's sense of fashion, as that is one of the prominent parts of their job. If you want your suits to have patterns or graphics, just let your tailor know and they can arrange that for you. From the width of the lapel, the number of buttons, the vents, the cuffs, these are the perfect opportunities for you to stand out from the crowd.

Better Time Spent
Going from shops to shops, looking for one perfect suit is a tedious task that nobody really wants to do. Even if you've already bought it, there's no guarantee that the suit is going to fit well a few months or years down the line. This means that the process will have to be repeated over and over again. With a bespoke suit, your tailor will often have an aftercare service where you can bring your suit back for a repair and adjustment. This saves a lot of time on your part.

Better Money Spent
As mentioned, you will have to make the trip to the shops once every few years to get a new off-the-rack suit that might not fit you as well as it should. Plus, the quality of work can be shoddy, making it prone to being ripped and torn and you will have to go and get it repaired. With the same reason as for why you will save a lot of time by getting a well-fitted, high-quality bespoke suit, you will save a lot of money in the process as well.

To summarize, a good tailor will craft a suit to last and looking sharp for as long as it's cared for. Some tailor offers a monthly subscription on their aftercare service, so if you think you will be needing a suit often in the future, you should consider getting a bespoke suit.

Park Lane Tailors specialize in British Suits in Bangkok, if you're looking for an affordable, high-quality tailor with a personal service - get in touch today to see how we can help.


Hits: 10064 | Leave a comment