French bespoke suits by Kees Van Beers
Кees Van Beers, master tailor for four generations, combines the tradition of tailoring with the exclusive know-how of high fashion (haute-couture) by creating the patterns of clothes for Bespoke Tailoring and Custom Tailoring.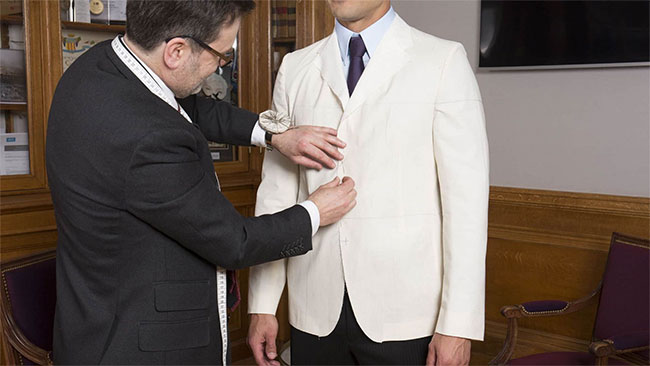 The House Kees van Beers guarantees you the realization of a personal pattern taking into account all the measures which are taken during the appointment. That pattern is then kept for all future orders.
Kees van Beers guarantees you the quality of the cut, the assembling and the finishing-touch "facon tailleur" of your suit. Naturally he takes care of perfecting all the little details so you will feel the very best in your suit.
Kees van Beers guarantees that the fabrics are delivered exclusively by the Top Manufacturers... like: Holland & Sherry, Harrison of Edinburgh and Loro Piana. This guarantees you an incomparable quality of fabrics and weaving, so your suit wears exceptionally well.

Your suits are your daily attire. They need to guarantee your absolute comfort for more than 10 hours a day. Your suits are your image. All day long they need to display your elegance but without ostentation. Your suits are the reflection of your personality. For that reason it's important that they are created for you and for you only. Your suits are also the expression of your humor, your mood. In the morning when you are choosing what you are going to wear, your choice will be more than an aesthetic one. You are going to show outside the energy you have inside.
The results of Kees Van Beers' study show that:
99% of their customers are satisfied.
75% of their customers use our services regularly.
100% of their customers remain loyal to them.


Hits: 10225 | Leave a comment