Top 4 Men's Handbags
Many people think it would be unfathomable for a man to carry a bag. This couldn't be further from the truth. There are tons of men who carry a bag each and every day. Doing so makes their life so much easier. After all, they have to carry a lot of documents and other items to work. How would they be able to lug these items around, if it weren't for their hand bag? Just remember that some men's hand bags are better than others. Within this guide, you're going to learn about the best of the best.
Backpacks
First and foremost, you should know that men can benefit greatly from carrying a backpack. After all, real men need to have a lot of items. They'll need their laptop, tablet, smartphone, and tons of paperwork. They need a lot of space to accommodate these items and that is why the backpack is so good. These items can get heavy pretty quickly. With the backpack, the man will be able to lug these items around without hurting their back.
Leather Clutch Case
Some men will only need a few items. If you fit into this category, you may want to take a minimalistic approach to the situation. This is why you should think about buying a leather clutch case. It is very similar to the female clutch, but it'll have a strap and a top handle. The leather clutch case won't carry as much as your backpack. However, it can still hold books and a laptop.
Classic Messenger Bag
Do you want to carry all of your items, while still looking fashionable from start to finish? If the answer is yes, you should definitely think about buying a messenger bag. Be sure to get a classic style one to ensure that you look amazing. The best men's messenger bags will be able to hold a lot of items. For instance, they can hold books, documents, pens, pencils, laptops, and more. On top of that, they're going to fit around your shoulder. They'll look great and they'll make carrying your supplies far easier than ever before.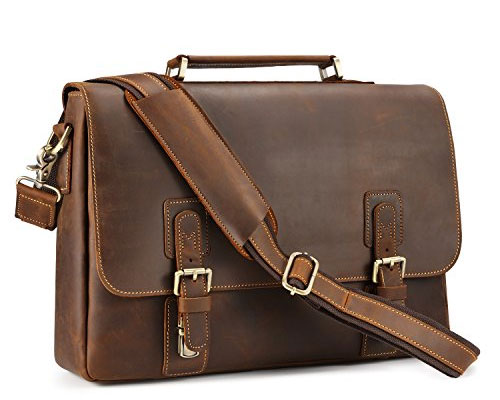 There will also be a zippered top. This decreases the risk that your laptop is going to fall out and hit the ground. You can even find messenger bags with locks, if you want to stop thieves from stealing your items while you're busy at work.

The Weekender
There is a good chance that you've seen a weekend bag at some point or another. It might be referred to as an overnight bag too. These bags are great for busy men. They're capable of holding plenty of items and they're suitable for many situations. For instance, you can use them for business trips, daily work activities and even gym visits. Get one that is lightweight and durable. This will make it very convenient to carry, while also ensuring that it lasts a lifetime. Just remember that these bags are somewhat short. Therefore, they might not be suitable for carrying laptops. However, they might carry tablets.


Hits: 8974 | Leave a comment