Study in FIDM - Earn an Advanced Degree in Fashion Menswear
At the only dedicated program in the U.S. that teaches the design and global operations of the fastest growing apparel segment, menswear with a focus on sportswear, students learn the hands-on skills to create a lifestyle menswear fashion collection. The Advisory Board includes heavy hitters Tom Julian, Trend Specialist; Aaron Ledet, VP, Americas Sourcing VF Corporation; and Joe Knoerschild, founding partner of Billabong and Hurley. Students learn sourcing and production first-hand on a Study Tour to Central America.
The Advanced Study Program in Menswear provides students with a comprehensive understanding of the design, marketing, and operational functions of today's global menswear industry. Students apply their design and leadership skills to all aspects of creating a collection, from concept to production, for a targeted menswear market. The program, which is 70% design and 30% global operations, includes a Study Tour to Central America where students experience actual sourcing and production.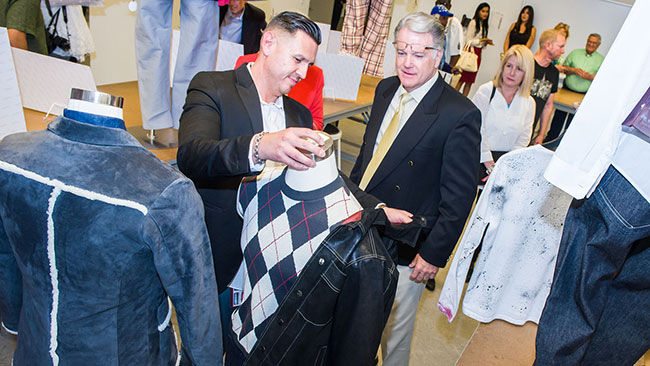 Associate of Arts Advanced Study Programs develop specialized expertise in the student's unique area of study. Admission is limited to candidates who possess a prior FIDM degree in a related discipline, or a prior degree in a related field from another accredited college or university.

Quiksilver, Pacific Sunwear, Patagonia, Volcom, Nordstrom, Target, Old Navy, and Gap Inc., are just some of the hundreds of companies that hire our grads. Many of our Menswear Program graduates design for top brands, or have launched their own collection.

Career Opportunities
Our Career Center has cultivated a database of thousands of employer contacts nationwide with the singular goal of providing industry-related internships and employment for our students and graduates throughout their careers.

Menswear Designer
Create menswear collections, from concepts and sketching to fabric and trends. Oversee all aspects of the design room; direct Design Assistants, Patternmakers, and Artists; communicate ideas and vision to staff; and handle preliminary fittings. Understand current market and competition.

Menswear Associate Designer
Work with a Designer on all aspects of design. Associate Designers develop a strong aesthetic and sketching ability for presentation boards. Also important: technical knowledge and flat sketching, communication, fabric and trim sourcing skills.

Menswear Merchandiser
Turn trends into profitable products that meet the needs of the target customer. Utilize strong color sense and analytical skills as well as knowledge of garment construction, costing, and fabric sourcing. Strong organizational, verbal, computer, and communication skills are a must. Responsible for communication with different departments in an organization.

Menswear Technical Designer
Work with Patternmakers, fit live models and forms, and create technical flat sketches and garment specifications; proficiency in Web PDM applications. Strong patternmaking, fit and grading experience are a must. Communicate pattern corrections with domestic and overseas vendors; develop and review fabric and construction standards.

Menswear Trend Analyst
Provide outlook on color, style, and fabric to the Merchandising Team, who will incorporate the upcoming trends into new product lines. Predict long-range fashion trends, and interpret and evaluate what is current in the fashion world. Develop written fashion forecast reports and filter industry information to Designers, Buyers, and Fashion Editors.


Hits: 10113 | Leave a comment