Re.Verso for a circular economy
Today, style, quality and a respect for the environment are no longer dissociable. For Re.VerSo™, all three of these fundamental qualities are essential to produce high-end and innovative textiles that meet all the criteria of the fashion industry.
Re.VerSo™ is the brand of a new, circular economy manufacturing system for wool and cashmere, developed by qualified partners, re­presenting an advanced, 100% Made in Italy, integrated, transparent and traceable supply chain.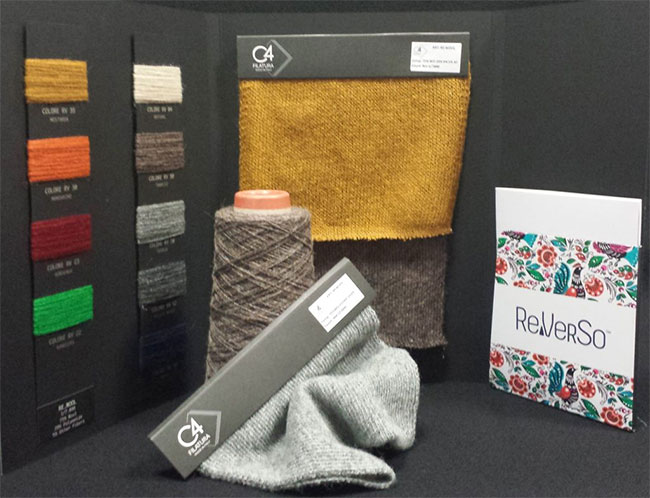 The idea is to recover surplus pre-consumer off cuts and trimmings of already dyed wool and cashmere materials from factories, thus alleviating the problem of the disposal of unused fibres. To do this, Re.VerSo™ brings together several partners, each of whom provides their individual expertise: Green Line and Nuova Fratelli Boretti for processing the raw materials, A. Stelloni for their Fashion textiles Collection by Mapel, Filpucci for spinning high quality fashion yarns for knitwear and Filatura C4 for yarns designed for weave and contract textiles.

In the interest of a circular economy, the company offers brands and retailers the possibility of recycling their own residues to create new textile fibres, collection after collection.

Re.VerSo™represents excellence, the result of a Made in Italy culture and tradition, combined with a new vision of Smart Innovation, capable of yielding beautiful, premium, intelligent and stylish zero waste materials.

Re.VerSo™raw materials are Global Recycled Standard (GRS) and SA8000 certified, with a confirmed LCA (Life Cycle Assessment)) study performed by Prima Q on Re.Verso™ Wool and cashmere pro­ducts. Compared with the similar but "conventional" products, the following savings have been confirmed:
Savings for 1.000 Kg of Re.VersoTM, as compared to virgin cashmere *
-82% energy
-92% water
-97% co2
Savings for 1.000 Kg of Re.VerSo™wool, compared to virgin wool *
-76% energy
-89% water
-96% co2


Hits: 9813 | Leave a comment