The stylist Lalle Johnson about his classic style
Few know men's fashion better than the Stockholm-based stylist, Lalle Johnson, who has worked with everything from major fashion magazines to Veronica Maggio, Oscar Jacobsen and Hennes & Mauritz.
How did you end up a stylist?
"I developed an interest in clothes very early on. In the beginning of the '80s, I was a model in Copenhagen, and then a photographer asked me if I would like to help him with a job that involved promoting men's clothing in a woman's magazine. From that point on, the ball just kept rolling. The past 10-15 years, I've been working as a style consultant.
How would you describe your style?
"Soft and tailored."
And how would you describe yourself in three words?
"Happy, lazy and generous."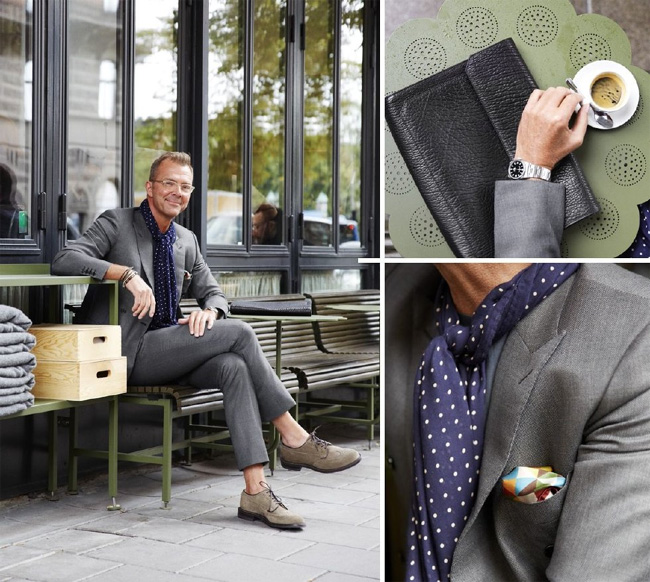 Would you say that your style matches your personality?
"Well, even more so my age, heh-heh."

What is your favourite garment?
"It's hard to say because it varies. I dress according to how I feel and am always thinking integration."

You have been known for saying that you don't care about trends, so what do you mean by that?
"One of the most boring things I know is talking about yellow jeans or silver shoes, and what is 'right' or 'wrong' this season - it feels very un-trendy." Everything goes in cycles, and all of the trends have already been done 10 times in the past in different variations.
… But I'm happy to discuss design and materials every day of the week if you want!"

What are you most proud of in your life?
"My wife and my two sons.

What is the highlight of your career?
"It hasn't happened yet, ha-ha. But, all kidding aside, this collaboration with Dressmann is way up at the top!"

Which fashion house or designers inspire you?
"I'm not concerned about labels. And because the design and material are what I care about, I am constantly being inspired by someone new."

What would you say to young, aspiring stylists or entrepreneurs; what does it take to be successful in the industry?"
"Things are very tough out there nowadays. If you get the opportunity to be in the right place at the right time, then take a step back and listen and learn. There is nothing as annoying as young people who think they know and have learned it all in three weeks. It doesn't work that way, at least not in this industry. So, I would say: patience is a virtue. Does that make me sound old, or what?"


Hits: 8430 | Leave a comment