303 TUSCANS awarded Angelico for their sustainable fabrics
At Milano Unica Angelico was one of the brands that received the "303 TUSCANS" award for ethical fashion. It is awarded to manufactures of fabrics made from natural materials, following the principles of Ethical fashion and having transparent supply chain.
Angelico has a concrete answer to the increasing demand of sustainable fabrics. The focus on environmental sustainability - increasingly requested by fashion houses and by an eco-friendly market sector -  gains a concrete dimension, with a series of treatments inspired by nature. 
Lanolin, a totally natural substance produced by the processing of wool, gives fibres a soft, delicate and luxurious feel and does not require chemical additions. A genuine return to the original character of the fibre; alongside this is the beeswax finish, which has a similar effect on cotton fabrics.
This fabric offers the advantage of wool fibre's heat-regulating qualities, and the unique style of Biella tradition. Thanks to nanomolecular treatments which leave pH and hand intact, the fabric acquires showerproof and stain-proof properties to give a naturally waterproof surface that does not interfere with the wool's natural breathability and resilience. The nanotechnology anti-crease finish, meanwhile, means the garment can be machine-washed at 30°C.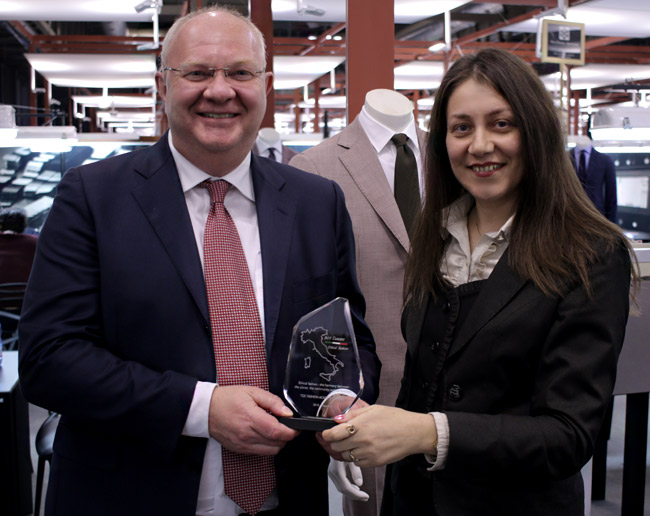 Angelico also offers top quality Merino wool, Mongolian cashmere, Egyptian cotton, as well as linen, silk and other fibres. Inspiration, elegance and refinement; fancy sophisticated designs, sometimes also colorful; comfort and drape are all direct results of the best raw materials.


Hits: 9043 | Leave a comment