ANGELICO Spring-Summer 2019 Collection - Natural summer performance
This will be a season of movement, starting with the delightfully undulating structures and finishes that bestow performance on the summery elegance chosen by Angelico to dress active days. Brightness and innovation accompany the collections of traditional fabrics and K1, the creative range that includes jersey.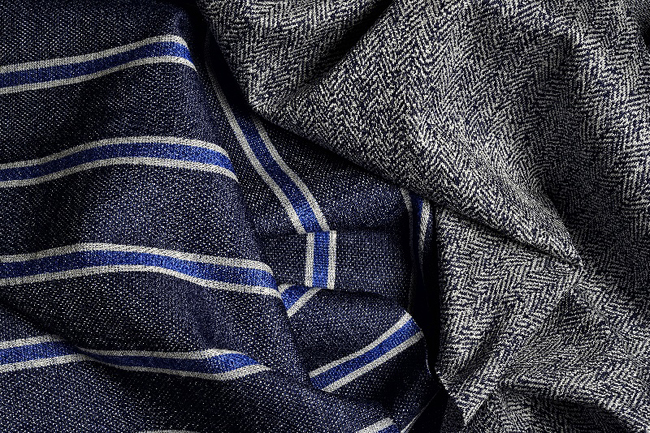 The new Gorgomoro label
The Gorgomoro label makes its debut, encapsulating the quest for comfortable wool-based stretch fabrics undertaken by Lanificio Angelico over the past few seasons.
The name Gorgomoro is an homage to the stretch of the Oropa river in the Biellese Alps which provides the water used for our dyeing and finishing processes. It's very light water with special properties and only residual mineral content, giving fabrics a mild, soft feel and a natural elasticity, without the need for chemical softeners. After use, the water is completely purified before continuing on its journey. Gorgomoro fabrics come in several thicknesses and degrees of natural stretch, and are ideal for blazers, formalwear and travel suits with impeccable wearability, requiring minimum care and perfectly suited to an active lifestyle.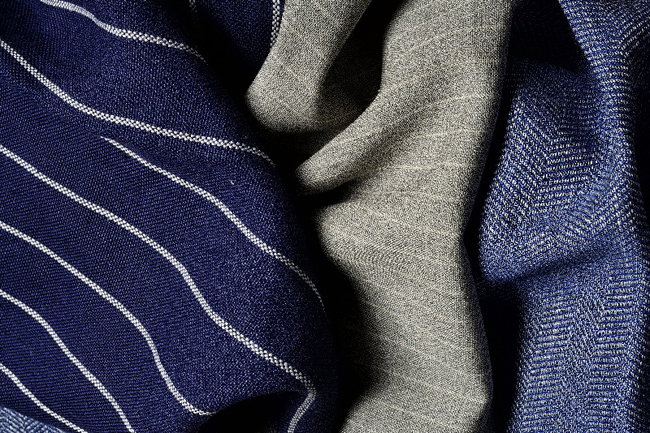 Natural summer blends
The collection is bright and airy, with a predominance of vivid colours: blues, beiges and browns paired with whites, patterns in shades of red, mustard and brilliant green. Wide stripes enliven dandy-style blazers, alongside micro stripes and patterns in various colour combinations, tartans with splashes of colour, herringbone patterns and d?lav? tones. To the touch the fabrics are loose and soft, ideal for comfortable casual jackets, the symbol of contemporary elegance.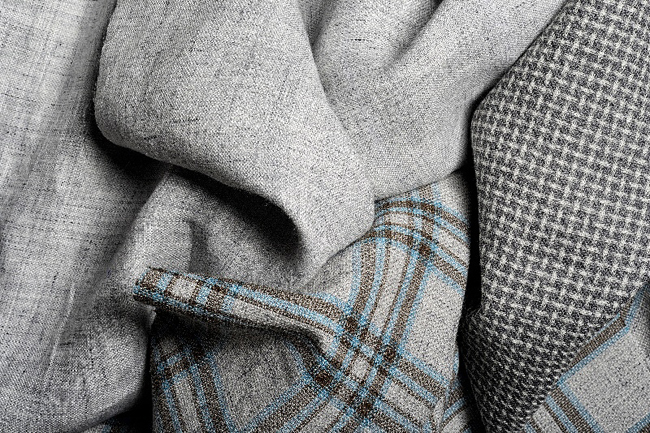 Diffused dynamism is created by mouline in natural fibres and weave combinations using yarns of different weights. Bases are pleasantly uneven and cool, even in four-layer fabrics for suits and jackets. 100% linen suits, with lively stippled effects from linen blends and malfil? yarns, are perfect for the summer heat.
The range of suits and jackets is packed with creative ideas: herringbone jackets in linen and cotton, coarse-weave d?lav? fabrics in wool, linen-cottons and bright blends with natural fibres. The Platinum label, a benchmark for tailored suits, benefits from the research into performance carried out on the exquisite fibres and fine wool offered by the brand.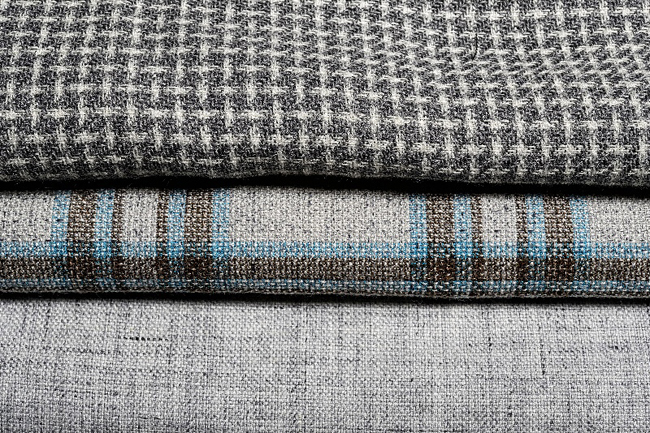 K1 Collection
Performance and stylistic experimentation prove to be the drivers of this collection, in an openended journey in which new processes increase the versatility of fabrics with every new season, in sync with aesthetic research.
The focus is on the suit, with four treatments that turn it into a contemporary garment, practical and with undisputed elegance, easy to manage by the man who's always on the move, who travels a lot and wants to feel at ease in different settings.
New nanomolecular treatments leave the feel of the fabric and the ph of the fibres unchanged, while adding value to garments designed to meet different needs. Mercerisation leaves wool fibres without scales and hairiness, making summer suits and jackets cooler and more pleasant next to the skin. It is also used for mono- and bi-stretch fabrics and superfines, giving them a soft feel and eliminating pilling.
The ability to machine-wash wool-based garments at 30°, with crease-free results, is a definite functional advantage, as is the water-repellent anti-stain treatment, a valuable ally in busy, actionpacked days as it does not affect the natural breathability of the fibres. Lastly, a finish that lends garments a quirky property: scented microcapsules which open on contact with the skin, gradually releasing a pleasant fragrance.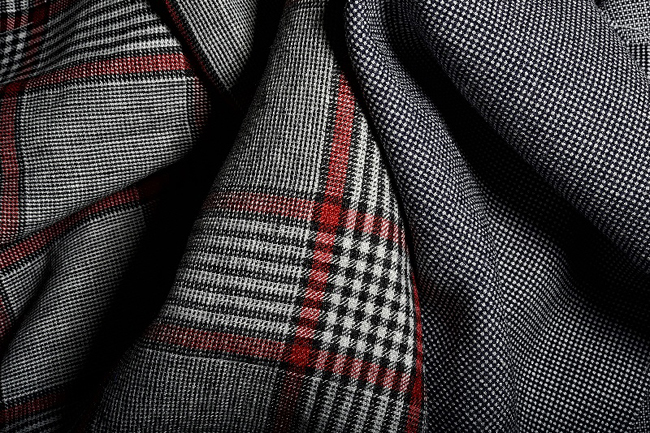 Standout new products in the Spring Summer collection PE 2019 include fairly informal fabrics, with lightweight jerseys for outerwear (230-250 g), linen-cotton jerseys and cotton weaves available garment-dyed or yarn-dyed depending on the desired effect. Among the orthogonal fabrics, one pleasurable must-have is the openable double-layer for jackets, at its best in unlined summer garments.
The K1 range also opts for movement, with embroidery effects obtained from linen malfil?, perfect for achieving a three-dimensional decoration, pure delave soft-touch tartan for jackets, and prints on jersey and orthogonal fabrics that redefine paisley, jacquard and maxi stripes.


Hits: 7884 | Leave a comment