Custom men's shoes by Saint Vacant
They say shoes reveal all there is to know about a man. Take a step to a simpler, bolder shoe wardrobe. Every event in a man's life fits into five soles.
Bringing bespoke technique into a factory-made shoe category is setting a new standard on quality. Artisan footwear is never average, never out of style, and with playful features never stops surprising. Saint Vacant products come in batches, instead of seasons. From a range consisting of only five essential models – the only five a man needs.
The shoes are made in peace and with patience during slow factory days, as opposed to the rush and chaos of the fashion seasons. When shoes are made in small batches, the process becomes like a bespoke experience. You have a chance to influence on the colors and materials used, and walking becomes a truly unique affair.
What makes the Saint Vacant shoes boast a high quality and durability, is the Goodyear welted construction. Invented hundreds of years ago, it's still considered as one of the finest methods of shoe construction. The process is intricate, and requires the finest of materials, but results in superior quality and comfort. Naturally, it's not something that anyone can do. The technique calls for special manufacturing machinery and operating craftsmanship. The Saint Vacant shoes are put together in Portugal, in esteemed and long-operated factories specialized in Goodyear welting.
In addition to a refined appearance, the Goodyear welting technique also contributes to a remarkably easy reparability. Saint Vacant shoes can be resoled repeatedly. With a specialized cobbler in every major city, keeping your foot apparel in pristine condition is effortless.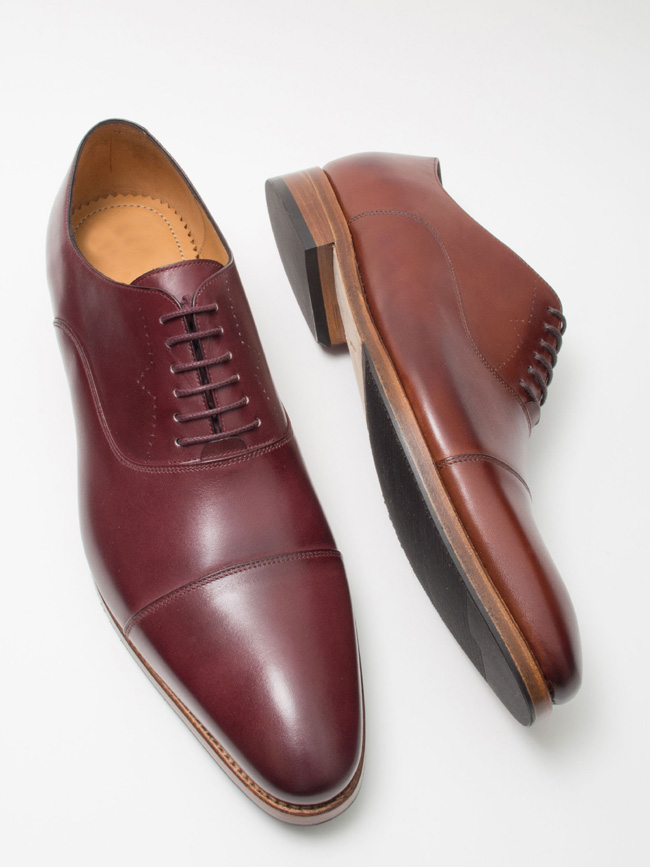 The Goodyear Welted Saint Vacant Dress Shoe offers the fit and quality of a bespoke shoe, and carries you effortlessly through all formal events. At their Helsinki store they can determine the perfect size for you - after which you can customize your pair as you please. While the Saint Vacant stock shoes come in full sizes, the customization process allows them to offer the Dress Shoe also in half-sizes to ensure perfect fit. They offer a large selection of premium leathers in unique colours. Here are some options to choose from and images to inspire you:
The upper: Choose from a variety of premium calf & cow leathers with smooth or pebbled surfaces. For a more relaxed look go for the colourful suedes and for the most prestigious events in life, the calf patent leather. You can even mix up the materials between the different parts of the upper to create something truly unique.
The Outsole: Would you like an open leather sole or protection from the elements with rubber half-soles? It's all up to you. The colour and thickness of the outsole can also be fine-tuned to meet your desires.
The Insock: Even the darkest shoes deserve a drop of hidden colour. Choose the colour & material of the insocks.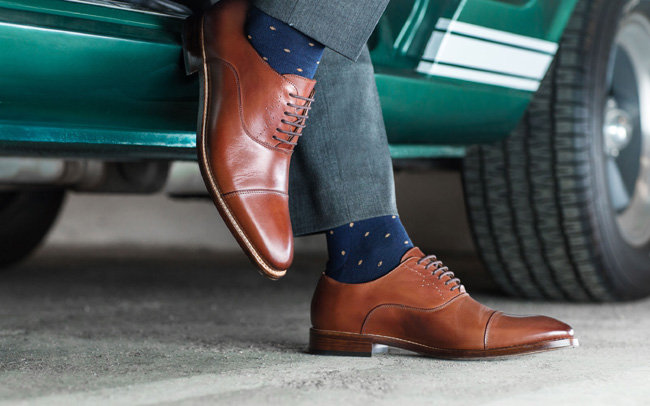 The decorations: The distinctive yet subtle decorative punch-holes on the sides of the Dress Shoe can be put to work. We can modify the size and colour of the punch-holes to make your pair stand out or make a point.

www.saintvacant.com


Hits: 6928 | Leave a comment