Churchill's real-life tailor designs bespoke suits for Wright's war drama, the Darkest Hour
British biographical war drama, the Darkest Hour, is set to be released in the UK in January. The thrilling plot follows Winston Churchill's early days as Prime Minister, as Hitler closes in on Britain during World War II.
Director Joe Wright and costume designer Jacqueline Durran have expressed a meticulous eye for historical details, particularly with regards to costume.
The real-life tailor to Winston Churchill, Henry Poole & Co, is honoured to have been entrusted with creating suits for Gary Oldman and Ben Mendelsohn, who play Churchill and King George VI respectively.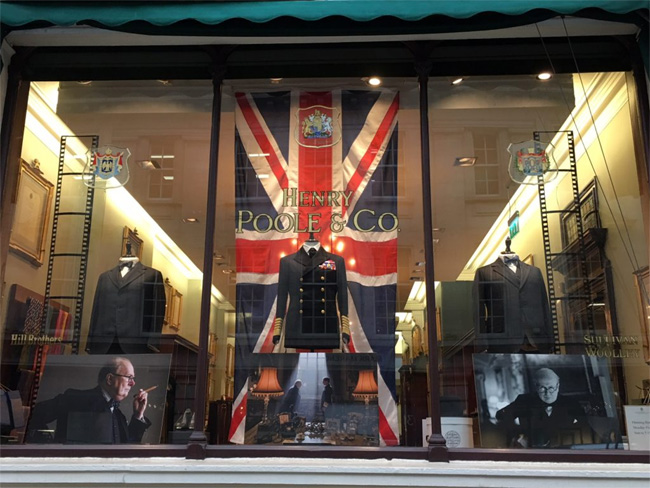 Oldman wears a dark grey chalk stripe suit and what might be described as a "lounge morning suit", whilst Mendelsohn wears a double-breasted lounge suit in mid blue worsted and a royal Naval undress uniform as an Admiral of the Fleet.

Just as the former Prime Minister had regular fittings at Henry Poole & Co, his on-stage character, Oldman also came to be fitted at the historic tailor's Savile Row premises.

The cloths used are exclusively sourced in Britain and Oldman's and Mendelsohn's bespoke attire, cut in the period correct manner.

Sir Winston Churchill and Henry Poole & Co.
Britain's greatest 20th century Prime Minister Sir Winston Churchill was a customer of Henry Poole & Co from 1903 until the outbreak of the Second World War. He was introduced to the house by his father Sir Randolph Churchill and in addition to ordering civilian suits, Poole's tailored ceremonial attire for his various appointments including Under Secretary of State for the Colonies, Privy Councillor, President of the Board of Trade, Home Secretary, First Lord of the Admiralty, Secretary of State for War, Chancellor of the Exchequer and Elder Brother of Trinity House.

In 2007 Poole's invited Fox Brothers Ltd to weave a grey chalk stripe flannel. The inspiration for this cloth came from an image of Sir Winston Churchill wearing his Henry Poole grey chalk stripe suit holding a Thompson submachine gun. This cloth, exclusive to Henry Poole, is fondly named The Churchill.

www.henrypoole.com


Hits: 5524 | Leave a comment