FILPUCCI launches the 'Responsible Innovation" Line at Pitti Filati & C.L.A.S.S. partnership
At Pitti Filati, and as part of a journey to be and make better products, the FILPUCCI GROUP invites the fashion industry to experience its new line of more sustainable yarn creativity.
The "Responsible Innovation Collection" represents a new level of smart innovation linked to responsible, eco-centric production. The collection uses the best high-tech, natural-based materials, combined with FILPUCCI's dying & finishing expertise. This gives customer's real access to a new, fashion-forward aesthetic, where quality and smart uniqueness in these new, more responsible yarns, deliver a new textile era of sustainable fashion solutions that are driven by ethical and natural values.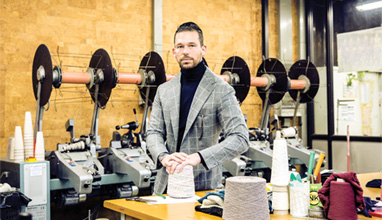 FILPUCCI is proud to announce it is a new official partner of C.L.A.S.S. (Creativity Lifestyle and Sustainable Synergy). Since 2007, C.L.A.S.S., a unique multi-platform HUB based in Milan, specializes in integrating a new generation of eco-values for fashion, home products and business strategies. These values speak to a new, smarter, contemporary consumer. Founded by Giusy Bettoni, C.L.A.S.S. introduces a new way of design thinking that represents a shift in culture, enabling businesses to be competitive and socially innovative.

From this platform, FILPUCCI is also a key ambassador for the unique C.L.A.S.S. partner product, Re.Verso™, for its luxury upcycled cashmere yarns.

New additional steps on the FILPUCCI journey towards a more responsible approach to smart design and manufacture also include:
- The signing of a new 'Values Chart' in conjunction with a joint consortium to guarantee sustainable production chains that are fully traceable with certified materials and measured environmental performances, such as reducing CO2, water use and power consumption.
- The company is also GRS accredited with dyeing facilities that are second to none, boasting a GOTS certification alongside recycling 70% of water and also as part of the DETOX campaign for the last 3 years. This is a key added value mirroring the whole company's dyeing operation.
- The FILPUCCI GROUP produces its own 'Balance of Sustainability' report each year to measure and account for issues relating to the business impact of a responsible innovation strategy, and research optimization into origins of materials, transparency, certifications and processes designed to reduce environmental impacts and a no-waste manufacturing philosophy.

There are seven new yarn styles in the Responsible Innovation Collection with smart blends of only the best, certified, organic and natural materials (cottons & linens), new generation wool Re.Verso™ and sustainable hi-tech materials (Cupro and Q-Nova) for 5 to 18 gauge knitwear design:
CERA, GRACE, BIONYCO, SUGHERO, FOUR SEASONS, PLANET, BONTON, KAMUT


Hits: 5685 | Leave a comment