Everything you should know about the lounge suit
What about the lounge suit? The meaning, the basics and the code.. these things you are going to find in the next lines.
We find the meaning of "lounge suit" from the Collins dictionary: "The customary suit of matching jacket and trousers worn by men for the normal business day".
"Lounge suit" is a catch-all term for "any suit that isn't a dinner suit" (known as a tuxedo). They come in every colour, pattern, fabric, price and cut you can imagine. Chances are that if you have a job in an office, you're already wearing one all day.
Lounge suits are worn when the dress-code states "cocktail" on the invite. Some people use "cocktail" as plea for you to wear a jacket, regardless of matching trousers to make an entire suit. And honestly, if you can at least manage to find a decent jacket to wear you'll be fine. Think of the stereotypical guy at Friday's; navy blazer, beige chinos, RM boots. That's cocktail.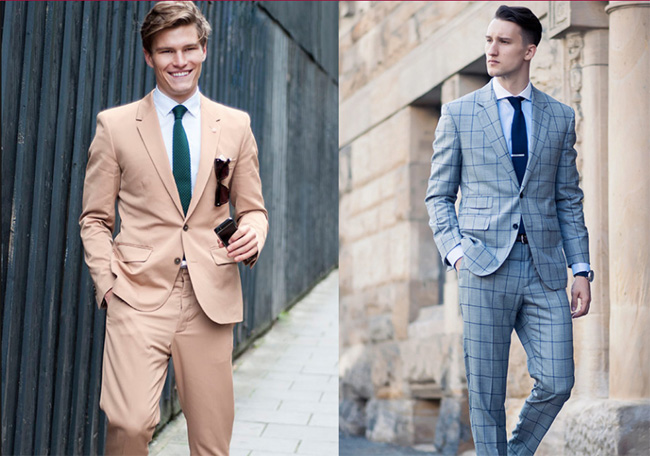 A three-piece suit consists of a single-breasted jacket, a single- or double-breasted waistcoat and trousers. When wearing a singlebreasted waistcoat, the bottom button is always left undone. A two-piece suit consists of single-breasted or double-breasted jacket with trousers (no waistcoat). Belts should not be worn with a waistcoat or double-breasted suit.

A shirt with a turndown (not button-down) collar should be worn with a tie and the top button of the shirt must be done up. The most versatile tie knots are the four-in-hand and the half- Windsor; large Windsor knots should generally be avoided.

Dark suits are still seen on the older rural generation at formal or official events, such as agricultural shows, when there is a luncheon tent for members or notables, and for a day in London.

You can choose a lounge suit in any fit that suits your frame and sense of style. Finding the right fit for you is the key to making sure you feel confident in your lounge suit.

Regular fit cuts are traditional. They're looser-fitting and lots of men find them the most comfortable option, while still looking sharp. For a sleeker outline, it's best to go for a tailored fit – the jackets are generous in the shoulders for easy movement but pinch in slightly at the waist, and the trousers are also slightly tapered for an overall tailored look.

For something more up-to-date, you could opt for a slim fit. Narrower on the shoulders, waist and lapels, these suits enhance a lean frame, giving you a crisp outline.

Skinny fit suits are even more close-fitting, and the jacket and trousers have the shortest length. These suits are razor-sharp and work best on a trim body.


Hits: 7160 | Leave a comment