Lexus presented their guide how to buy a bespoke suit
Unlike made-to-measure suits that alter a pre-made pattern, bespoke suits are built from the ground up. Because your tailor won't be working with a template pattern, he or she will take every detail into account, including the ones you might not realize are important, such as the slope of your shoulders and the arch of your back.
Start by talking to your tailor about the purpose of the suit (or suits) you're ordering. Are they for a special occasion? A new job? You will also need to discuss your preference between two- or three-piece suits. This discussion will help you and your tailor decide on important components of the suit, including:
Fabric: Your suit should be able to be worn through three seasons. Choose between four main fabrics: worsted wool (one of the most popular options due to its versatile qualities), super 120s (a lightweight wool), mohair, and flannel.
Lapel: Do you prefer the traditional notch, a more modern peak, or a shawl lapel?
Shoulders: If you want to create a broader appearance, go with padded shoulders. If you'd like a more natural flow from shoulder to arm, choose shoulders without padding, known as "spalla camicia."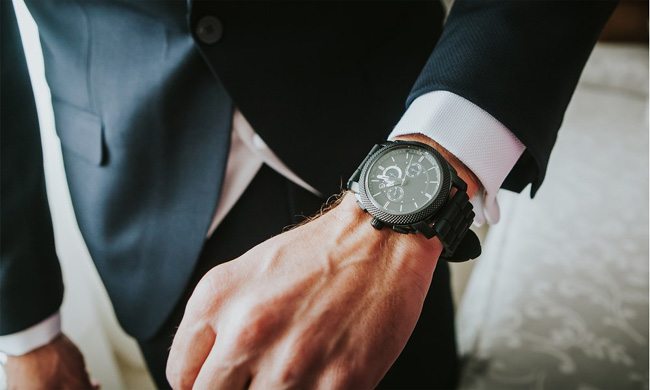 Pockets: Besom pockets are set in the jacket like a slit, while flap pockets are covered by, well, flaps.
Interior Features: If you've found yourself with a collection of suspenders over the years or have always wanted to try them out, be sure your tailor is aware that he or she should include interior buttons. You also have the freedom here to add as many interior pockets as you would like, in any shape or size.
Vent: Would you like to include a slit at the back of your jacket? A single vent will be cut in the center of the suit jacket, while a double vent is more modern and can lend a more fitted feel to wearers.
Side Tabs: Belts have no place on a handcrafted suit. Opt for side tabs on your pants to adjust the waist whenever needed.
Pant Break: A half-break is typically standard in the industry and will result in the bottom of your trousers slightly skimming the top of your shoe. You can choose between a full break, half-break, quarter-break, or no break.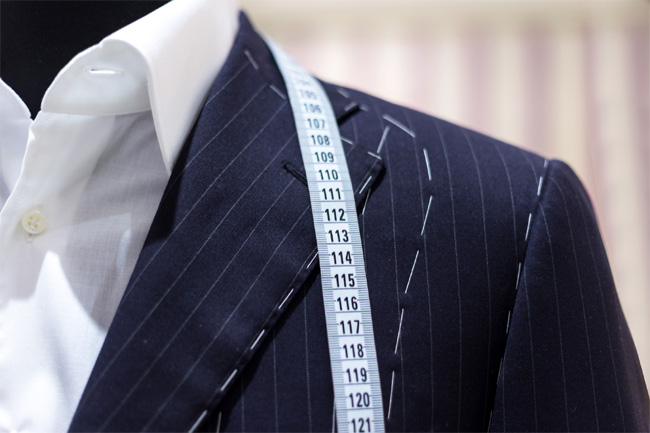 Of course, these are only some of the main features. This is your suit, and your tailor should be able to accommodate any request you have. If you've seen something specific, it's always good practice to bring photos in with you, and you should never be afraid to bring up any issues or questions you have during your fittings.
Speaking of fittings, be ready to visit your tailor for regular appointments, even after your initial fitting and measurement consultation. You'll need to try on different parts of your suit for adjustments and alterations throughout the process.
It's this regular face-to-face interaction with your tailor that is arguably the most important aspect of the entire experience. Whoever takes your measurements and sits down with you to talk about your wants and needs is the same person who will be hand-stitching your suit.
Here are a few more tips to ensure your handcrafted suit is perfect for you:
Understand your tailor's house cut. There's a difference between an English cut and an Italian cut, and doing your homework will help you choose a tailor for the first time or understand what to expect when you go in for your next suit.
Going through any body transformations? Wait on ordering your suit until you've reached a stable body shape.
Start with basics before you begin incorporating uncommon or seasonal items.
Ask your tailor how to best maintain your suits. They'll often recommend limiting dry cleaning but will have some tips and tricks up their sleeve to help you extend the life of your handcrafted collection.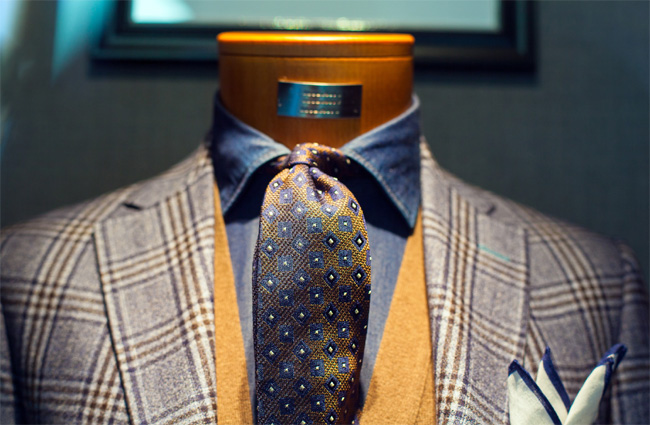 At Lexus of Seattle, they believe that luxury means making an entrance without saying a word. Whether you're behind the wheel of one of our top-of-the-line vehicles or stepping into a room in your custom-made suit, all eyes will be on you.

www.lexusofseattle.com


Hits: 4840 | Leave a comment