Dorian Stefano Tarantini: M1992 and his "Digital Degeneration of Luxury"
This new M1992 path represents a moment of transition, a conscious, mature direction. Dorian Stefano Tarantini, a creative, enthusiastic soul, constantly on the go is here to tell us more. He has given life to one of the most promising brands on the contemporary fashion scene that initially originated as a video-art project. What emerges from this is a complex, talented creative system as well the concept that everything is possible… such as flying a helicopter… don't you think so? Dorian gave an interview to Pitti Uomo what we can expect from the brand at the exhibition.
Tell us something about yourself and your career path... when and why did you give life to your brand? Where are you currently based?
When I was a child, I became interested in music and in the world of imagery associated with it. Therefore, I started to address my aesthetic research towards areas that were considered unusual for a teenager: from Pre-Raphaelite art to the Neo-Gothic movement, from the mod subculture to that of a New-Romantic nature. This has contaminated and caused my taste and even my lifestyle to evolve, leading me today to be the one who created a fashion brand in which I concentrate and list my lucid dreams of the past as well as an exaltation of the future.
M1992 was initially intended to be a video-art project that evolved into a line of clothing. In 2016, I decided to start working on a complete collection and in January 2017, I was given the opportunity to present a fashion show in Milan by Carlo Capasa, the President of the Italian National Chamber of Fashion, who, right from the very beginning, has always believed in the project.
You are often defined as a conceptual artist, a designer, a DJ ... what do you think of these definitions? Which do you feel describes you best? Instead, how would you like to define yourself?
These are all definitions that I am very comfortable with, even if personally, I wouldn't know how to describe myself as I am an enthusiast of all aspects of my work. My job as a DJ that I still practise is, without doubt, the one that has given me the opportunity to express myself for the longest time and that has led to the creation of a real community of young creative people around my role.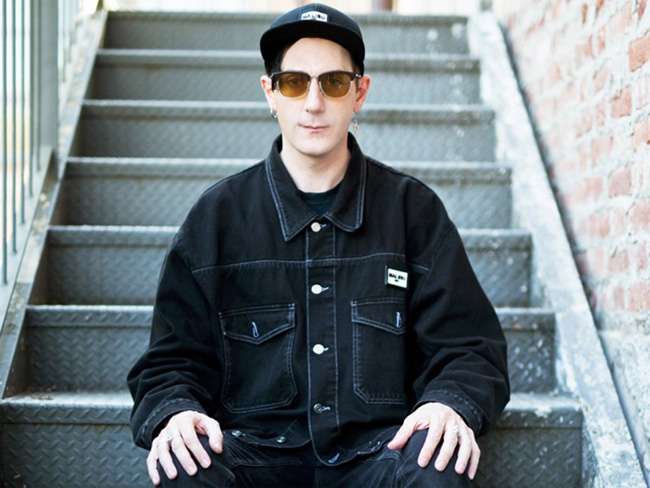 Tell us about M1992, how would you describe it? Tell us something about your new path... what can we expect from this?
M1992 is a "non-place" where radical changes take place and where the past re-emerges to mercilessly interfere with daily life by projecting it into a performative dimension with a wealth of different languages and methods: music production, branding, fashion design, video clips, marketing, luxury items. I like to define M1992 as a "Digital degeneration of luxury". M1992 is a bottom-up project taking possession of the stylistic features of money and finance without the need for authorisation, becoming a kind of platform for a virtual patronage that does not require any investments. In other words, M1992 virtually commissions itself with aesthetic situations that use and re-interpret works or events that are already known producing something totally original.

What does taking part in Pitti Uomo mean to you?
Florence is a city that I have frequented a great deal and which has always inspired me, therefore, for me, Pitti Uomo is a real personal achievement rather than one of a professional nature. The idea that many of my idols have been here before me, evokes an extremely strong feeling in me that urges me to continue my project with earnestness. Moreover, this season I will be in the company of two of the most outstanding brands in the fashion worlds, that are Undercover and Brooks Brothers of which I am also a loyal customer.

Can we have a foretaste of the collection that you will present?
This is a moment of transition from Malibu 1992 to M1992 taking a decidedly more mature, conscious direction. With the FW18 collection, I will explore the aesthetic codes that many have forgotten yet which are more contemporary than ever in the current way of dressing. Therefore, I would like to reveal its origins at the Pitti Uomo fashion show.

Generally speaking and with regards to fashion, who are your greatest sources of inspiration?
Claude Montana, Gianni Versace, House OF Bijan, Giorgio Beverly Hills, Ralph Lauren, Best Company. The post-internet subcultures, Milan, clubbing.

With reference to your career, what has the most precious advice been so far? And who gave it to you?
My closest friends have always advised me to persevere in what I was creating in both the music and fashion sectors. I don't believe that their advice was precious to me, but rather their trust and support.

What are your future projects?
Consolidating M1992 and organising a mega party.

The last few questions, speaking more about yourself....
What music can't you get out of your mind?
In this period, I am only listening to Pet Shop Boys and Lil Pump.

Which was the last journey you went on? Which would be the journey of your dreams?
I am constantly on the go. I'm taking part in this interview from the city of London, which is my absolute favourite. I would also love to visit Iran and Iraq.

Which book made you change your perspective on life?
The Divine Comedy

Which work of art would you like to have at home?
A piece of art by Cory Arcangel

If you could do something again, what would you do?
Fly a helicopter.


Hits: 4605 | Leave a comment