The inverted pyramid template
The inverted pyramid is a common method for writing news stories used by journalists and other writers to illustrate how information should be prioritized and structured in a text. It requires the writer to rank the importance of information starting with the most important information first.
The inverted pyramid is illustrated as a triangle with one side horizontally at the top and the body pointing down. The widest part at the top represents the most important information that the writer means to convey. The lower portion illustrates that other material should follow in order of diminishing importance.
The story starts with a clear statement, answering the four questions: Who, What, Where and When. Many journalists add also How and Why.
Here is an example from the news where you can see the structure of the information answering the four questions:
TOC Fashion Academy Tuscany (WHO) organizes the awarding ceremony "303 Tuscans" (WHAT) for Ethical fashion in Florence, Italy (WHERE) on 10.01.2018, at 6 p.m. (WHEN).
Who: Who is the subject of the information? Is it a person, an organization, a department?
What: What has/will happen?
Where: Where did/will the event occur?
When: When did/will the event happen?
After the most important information in the first sentence, the value of the information in the article decreases in each paragraph.
It is quite an easy and straightforward way. However, if you are assigned to do writing and you are looking for some kind of advice on writing your topics there are online solutions for students. You can use the quality services at WritingCheap.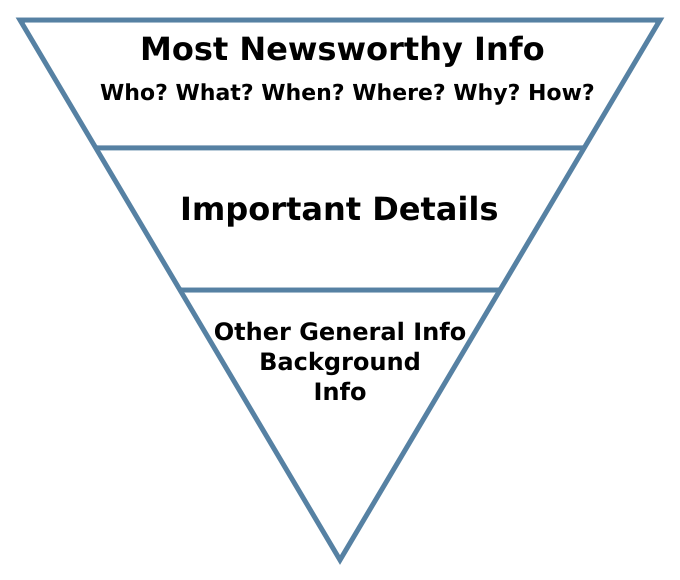 Hits: 6232 | Leave a comment