The iconic gondoliers of Venice wear wool
The classic blue and white stripe has long been used to dress the iconic gondoliers of Venice. Now, in a sartorial makeover, two icons align as the iconic Woolmark brand unveils new threads in a contemporary twist for the canals' masters.
For more than 1000 years gondolas have been a primary means of transport along the Venetian canals. Now, Al Duca D'Aosta's Venetian brand Emilio Ceccato – in collaboration with The Woolmark Company and the Association of Venetian Gondoliers – have created a new uniform, crafted from Australian Merino wool.
The city's 443 gondoliers will wear the iconic blue and white stripe uniform comprising a T-shirt using Reda fabric, a sweater made from Tollegno yarn and a Marzotto quilted vest as they navigate their way through the Serenissima canals.
Thanks to wool's natural, inherent benefits – including thermo regulation and superb breathability – the noble fibre guarantees maximum comfort and freedom of movement during physical activity, as evidenced by its increasing popularity of use in sportswear.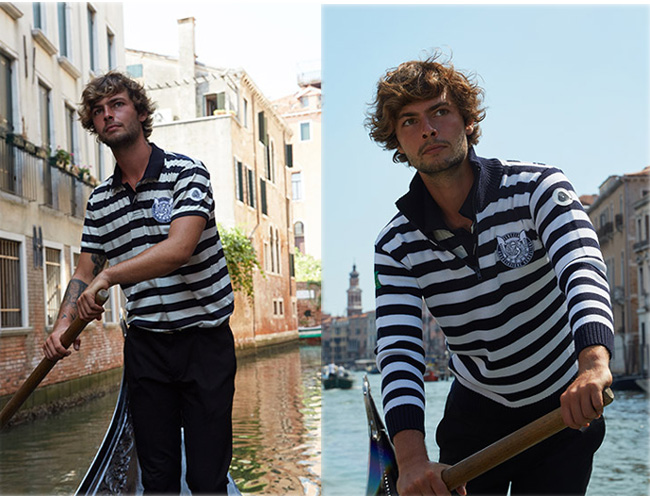 "We are proud that, after almost a century, the gondoliers have rediscovered wool for their uniforms," said The Woolmark Company Global Strategy Advisor Fabrizio Servente.
"Their job requires high-level physical performance in extremely variable weather conditions. The return to Merino wool usage confirms the ability of this natural fibre to respond to their needs; this is why The Woolmark Company wanted to support this project with the historical brand Emilio Ceccato and Association of Venetian Gondoliers."
Aldo Reato, President at Association of Venetian Gondoliers, declared: "We are extremely glad for this new partnership with Emilio Ceccato and The Woolmark Company. Wearing wool of high quality as the gondoliers used to do at the beginning of the 10th Century adds value and pride to our profession."

"Loving Venice and its traditions means investing in quality and teaming up with companies who produce and promote the quality of Italian fabrics," said Alberto Bozzo Ceo at Al Duca D'Aosta.
"Emilio Ceccato's new collection and the partnership with The Woolmark Company is an example. We are proud to offer to Association of Venetian Gondoliers garments made with the world's best fabrics."

Photos and information: www.woolmark.com


Hits: 5772 | Leave a comment