Carmina shoemaker - artisans shoes since 1866
They are a four generation shoemaker based in Mallorca. Carmina shoes combine the classic models such as oxford shoes, derby or loafers, monk strap shoes, and contemporary styles as chelsea and chukka boots. Specialists in genuine shell cordovan shoes and boots.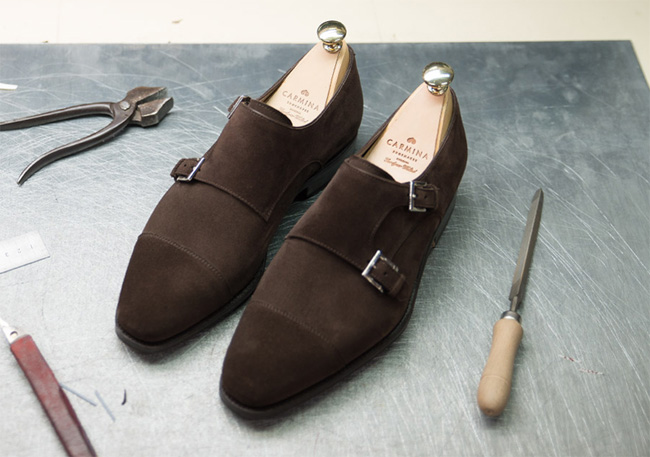 The master last-maker creates a wooden mould by hand after completing an ergonomic analysis of the foot to combine comfort and aesthetic appeal.All of their shoes are made using the traditional Goodyear stitch and are submitted to a strict quality control process. The shoes are made by a team of skilled craftsmen who carefully handle each stage of production.
This tradition is no longer used by most fabricants of this kind of shoe, but they continue to use it as part of the production process. It consists of drawing the model directly onto the wooden shoe last.
The lines traced on the last in three dimensions are transferred to a two-dimensional pattern that indicates the cut of the pieces of leather and lining for the upper part of the shoe.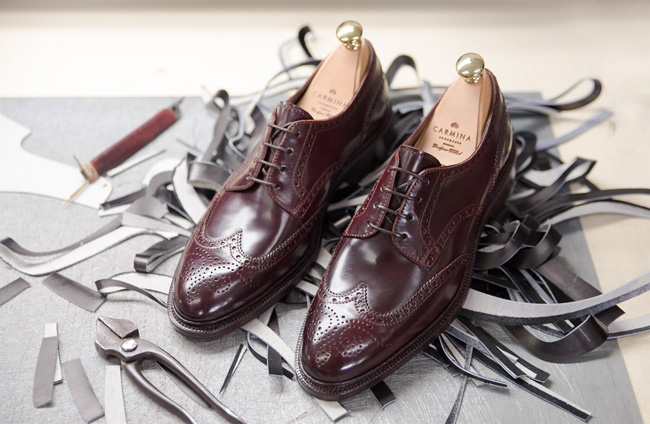 They use meticulously selected materials from only the best sources. They are always stored at the same temperature so that they acquire the texture needed for cutting. Carmina specialises in treating shell cordovan leather, a highly prized animal skin of exquisite quality.
Cutting is always done by hand, piece by piece, pair by pair. Later, the pieces are evened out in bulk to guarantee a perfect assembly and stitch.
All pieces, including the lining and reinforcements, are carefully sewn together with thread made of cotton and acrylic to ensure that the backstitch is as tense as possible, which in turn guarantees long-lasting quality.
The leather is fitted over the last in a semimanual process. With the help of humid heat, the leather is perfectly moulded to the volume and shape of the last. Once assembly is completed, the shoe is left on the last for four days, so that it will acquire the permanent form that ensures its durability.
The welt (connection between sole and upper shoe) is stitched and the gap it leaves is filled with a natural compound of cork and ground sole leather that is 1-centimetre thick. Given the malleable properties of this compound, each foot (once the shoe is put on) creates its own natural mould after several days' use.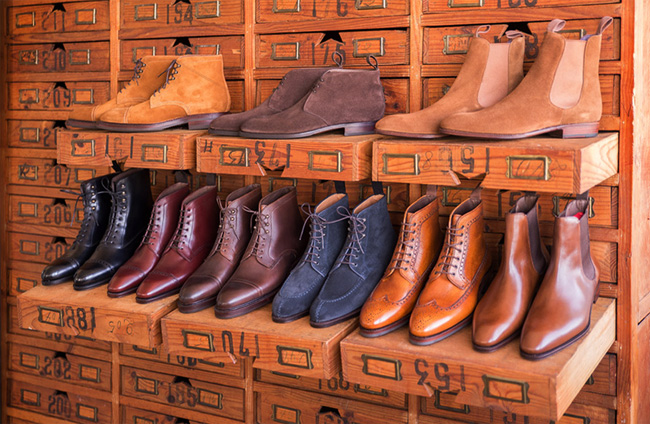 The next step is evening out the edges of the platform, preparing the shoe for the heel attachment. This is done with layers of sole laid one upon the other to obtain a compact body that will never crack or shift.

The sole edges and undersides are painted with wax and carnauba palm wax dyes to obtain a natural, long-lasting shine that embellishes the shoe.

The leather is treated with waxes and beeswaxes with ermine-hair brushes and tinsel cloth. This is how they obtain the multi-toned polish, avoiding a uniform brilliancy and achieving the patina of a used shoe.

Photos and information: www.carminashoemaker.com


Hits: 6040 | Leave a comment