Popular custom tailors in Texas
We continue our series of articles about the custom tailors from the separate states in USA. It is Texas turn, so now you can see the tailors in this state. These tailors are with a rich experience in custom made suits and accessories. Some of them provide the tailoring service in more states but also have a workshops in Texas.
Classic Tailor - At Classic Tailor in Murphy Texas they pride themselves in being the hometown tailor. Boasting 25 years of experience, the tailoring craft was passed on to him from his father who owned a tailor shop in Dallas for over 50 years! In true fashion of being family owned an operated, they offer personalized service and ALL alterations are done onsite.
R.W. Furr Clothiers If you are looking for top quality, custom suits in Dallas, TX, they are the men's clothing store for you. Their professional tailors have years of experience in producing top quality suits that highlight all of your strengths. With their expertise, they can create the suit that fit just right for that one special occasion. Their primary clientele consists of renowned businessmen, bankers, executives, realtors, attorneys, judges, and physicians.
With an eye for excellence, we can pair you with the perfect combination of sports coats and slacks. R.W. Furr Clothiers is here to take care of you. They understand the importance of professional style business attire. Their tailors have over 35 years of experience in the flawless creation of custom suits.
Vu's Custom Clothier - Vu's Tailor has been proudly serving the Dallas/Fort Worth area since 1996. At Vu's Tailor, we take care of all of your alteration needs, custom suits, shirts, and so much more. We provide a superb personal tailor experience with in-depth knowledge for your style and needs. Hoang Vu has been tailoring for over 25 years and has the skills and trained hands to execute any of your tailoring or custom needs.
Gessane Tailors - Gassane Tailors provides superior quality in alterations and tailoring. They make custom suits with the finest cloths from all around the world including Italy and England, as well as provide alterations for men, women, and children no matter what the problem, big or small.
Larry's Original Custom Tailor - Having a suit or dress that fits perfectly can give you the confidence you need to take on the night. No matter if you are going away on business or to a private event, Larry's Original Custom Tailor will make sure you look your best. They have an endless selection of fabric textures and styles on display at our Houston, TX shop. You can depend on their experienced tailors to discuss all options available to you before making a final decision.
Balani Custom Clothiers - For over 50 years, BALANI has specialized in delivering the the world's most prestigious fabrics constructed in our highest standards of craftsmanship. Our highly-knowledgable team of clothiers will help you determine the proper cut, fabric, and style that is suited best to reflect your personal sense of style and body type.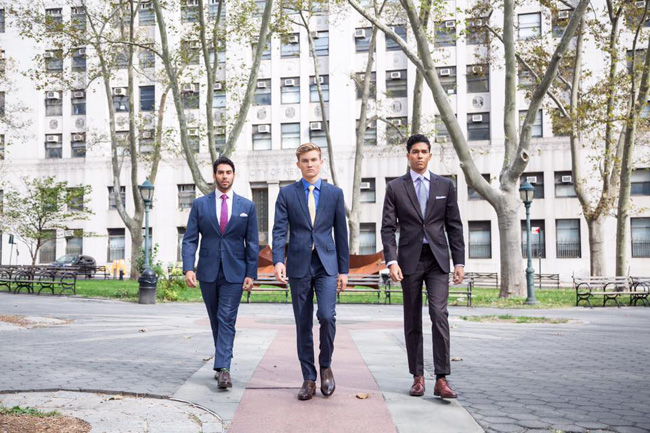 Imparali - Finest Italian wools from Dormeuil, Vitale Barberis & other reputable mills Comfortably soft, natural cotton shirts you will want to wear everyday Unrivaled online selection & view of fabric detail in Imparali's 3D module.
Most customization options in the industry for a truly bespoke look Add monograms and contrasting linings & threads at no additional cost Video, text and popularity ratings to help you choose your options.

Ace Tailors - Ace Custom Tailors provides all major and minor alterations for men, women, and children. They even provide same day service on many alterations and are open at most locations seven days a week and evenings. As the largest, most highly recognized, recommended, and awarded tailor shop in Texas, Ace Custom Tailors strives to provide customers with exceptional quality and timely completion of work, superior service, and guaranteed satisfaction.

Cesar Custom Tailor Shop - Custom tailoring means providing their customers with a complex arrangement of high quality fabrics to choose from to create and design clothing as a piece of art, individuality that is styled and bench made, not something that is able to be just simply purchased at a department store. They work with each customer, male or female to create this art to compliment them the best, providing them with a feeling of difference, quality and more.

Q Clothier - Eschewing the typical trappings of the men's shopping experience, Q offers a complimentary whiskey bar, attentive service, and sophisticated surroundings to craft a more meaningful, dignified, and memorable experience for its visitors. Founded by Raja Ratan, a second generation haberdasher, Q Clothier has been recognized as one of the finest menswear institutions by the likes of GQ, Maxim, and more.

D Jones - D. Jones Clothiers has a strong team of talented suppliers, tailors and clothiers that work directly for us, which is unique to our industry. It takes at least seven people, dedicating several hours to craft the perfect bench-made pattern for your suit jacket, trouser, vest and shirt.
D. Jones believes in a personal service and relationship with all of their clients, that's why they come to you in the comfort of your home or the convenience of your office.They do not have a retail shop because nothing is cut and sewn until after they take your measurements.

Tom James - Tom James Company is the world's largest manufacturer of custom clothing. They make high quality custom suits and custom dress shirts for busy professionals in East Texas and the surrounding areas. They also provide all of the furnishings needed to complete your custom look. Their highly-trained bespoke tailors at Tom James of East Texas come directly to your home or office, saving you valuable time.


Hits: 6165 | Leave a comment