Popular custom tailors in Delaware
We continue our series of articles about the custom tailors from the separate states in USA. It is Delaware turn, so now you can see the tailors in this state. We were looking very hard but we found very little amount of tailors. Despite, we will show you the contacts below.
Wardrobe Management and Design - Wardrobe Management & Design is a proud member of the Custom Tailors & Designers Association, the oldest trade organization in the United States dedicated to the education and advancement of distinguished Master Tailors, designers, custom clothiers and direct sellers who create fine custom clothing for discerning clients throughout the United States. Wardrobe Management & Design has earned a stellar reputation for pleasing the most discriminating sartorial enthusiasts in the Philadelphia tri-state region and beyond since 1996. This reputation has been earned by providing impeccable custom clothing that reflects, projects and complements both the professional and personal lifestyles of their clients. We proudly carry on the time-honored tradition of custom tailoring, skillfully handcrafting garments using patterns created specifically for each client.
Morroni Custom Clothing - They are a full service custom clothing shop and provide complete wardrobe planning based on your career and social needs. Serving Pennsylvania, New Jersey, and Delaware. Daniel started Morroni Fino Toccare in 1993 and has developed a loyal clientele of executives, television personalities and sport figures throughout the Delaware Valley and beyond. Servicing the fashion elite, Morroni Fino Toccare consistently delivers masterfully tailored business, casual, and formal wear with superior craftsmanship. They offer their clients an extensive selection of the finest fabrics from around the world. We work with our clients in the privacy of their own home or office to make the fitting process convenient and relaxing. A custom suit made by Daniel Morroni will give you the silent, unshakeable confidence of knowing that you are perfectly presented. You will be personally measured by Dan. Your suit will be crafted using full canvas construction from his precise measurements. With his expertise you can make the right decisions on style, fabric and cut to blend perfection. Your suit will be then created using the finest materials and highest standards of craftsmanship. The result is always a unique creation with a perfect fit that reflects your personal style. Experience true confidence the next time you walk into the room.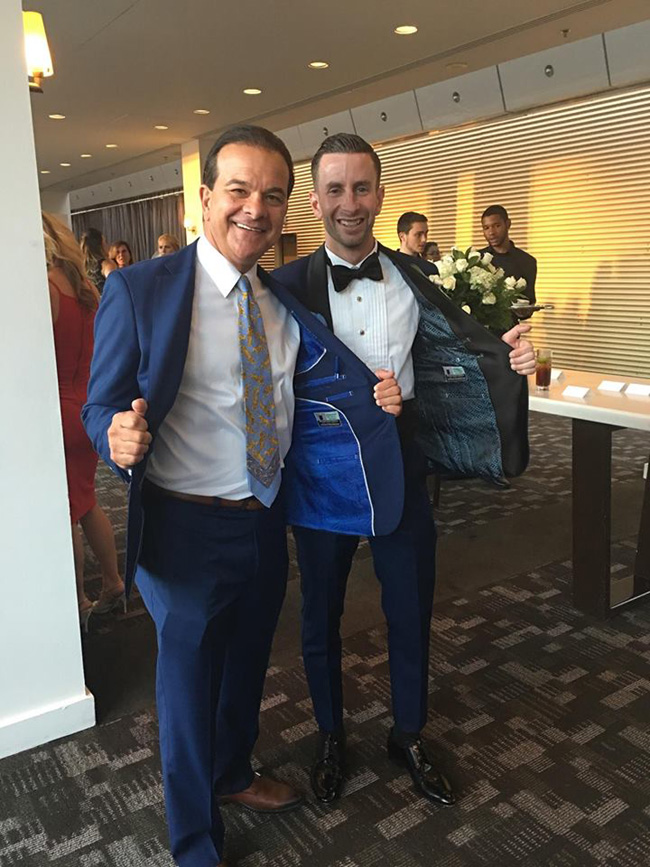 A Stitch In Time by Judy - A Stitch In Time by Judy is a reliable source of tailoring service in Wilmington. Visit us sometime soon at their address or call at (302) 792-2579. Address: 1400 Philadelphia Pike, Wilmington, Delaware, 19809

Collars to Cuffs
Address: 44 Evergreen Dr, Dover, Delaware, 19901
Phone: (302) 678-7125

Fashion Creation Custom Tailors
Address: 901 S Market St, Wilmington, Delaware, 19801
Phone: (302) 656-4248

Georgetown Tailors
Address: 33 Celtic St, Georgetown, Delaware, 19947
Phone: (302) 856-9460

Italos Tailor Shop
Address: 64 E Main St, Newark, Delaware, 19711
Phone: (302) 366-8031

Kings Tailoring
Address: 1733 Marsh Rd, Wilmington, Delaware, 19810
Phone: (302) 478-5130

New Style Tailor Shop
Address: 405 Philadelphia Pike, Wilmington, Delaware, 19809
Phone: (302) 655-3444

Professional Tailor Shop
Address: 939 S Governors Ave, Dover, Delaware, 19904
Phone: (302) 674-2652

Sals Tailoring
Address: Brandywine Sq, Wilmington, Delaware, 19801
Phone: (302) 478-0232

Yadas Tailoring
Address: 1800 Philadelphia Pike, Wilmington, Delaware, 19809
Phone: (302) 792-2351

Brandywine Tailors Limited
Address:202 Sharpless Dr, Wilmington, Delaware, 19803
Phone: (302) 479-9720


Hits: 7161 | Leave a comment