Popular custom tailors in New York
Today, we are going to present you the best tailors in New York City. They impress with their craftsmanship and perfection while made your bespoke suit.
Heritage by Martin Greenfield - Heritage by Martin Greenfield hand manufactures all of its garments to the unique fit, lifestyle and fashion preference of each client. Their tailors will fit, measure and deliver your garments in the comfort of your home or office.
Saint Laurie - Saint Laurie Merchant Tailors was founded in 1913 by Samuel Kozinn, a Jewish immigrant from Poland whose mother tongue was Yiddish. Samuel's first garments were trousers manufactured in the now-fashionable Williamsburg section of Brooklyn.
DUCA SARTORIA - They have the perfect combination of Contemporary and Traditional tailoring. Care-free and extravagant, or sophisticated-chic & classic for lovers of tradition. These unique blends allow you to perfect your manly style. Duca Sartoria advises you adopt this philosophy and choose tailor-made for all occasions. We guarantee a great value and excellent customer service.
BECKENSTEIN BESPOKE - Positioning Steven Tabak, Bespoke Tailor extraordinaire, within the central core of Beckenstein Men's Fabric empire showroom, is a brilliant blend just shy of a century in the making. As a master tailor, Tabak has made thousands of garments spanning four decades. A true craftsman, he considers himself a perfectionist and has earned a reputation as one of the most prestigious tailors in NYC, and perhaps the Eastern U.S.
Beyond Bespoke - They offer fully- and partially-bespoke suits, shirts, trousers, blazers, topcoats and tuxedos crafted in either the English or Italian styles. The quality of every bespoke garment is guaranteed for 10 years. And the cost includes a year of alterations.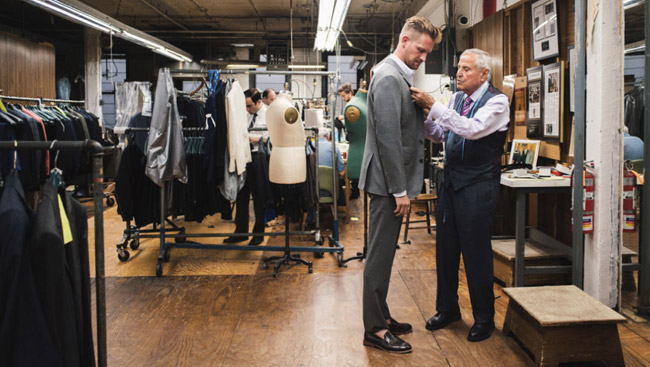 Miller's Oath - The design is a modernization of traditional American clothing inspired by wardrobe pieces from the turn of the century until today. Subtle details from the front cutaway, semi-roped shoulder, coat length, high armhole and ticket pocket create the Miller's Oath aesthetic, a timeless silhouette that is as distinctive as it is sophisticated. The collection includes suits, sportcoats, shirts, ties, topcoats, and jeans.

Alan David Custom - Once your initial measurements have been taken, they will help you select the fabrics for your custom made suits. Alan David Custom carries fabrics from mills with long-standing histories of quality and value, including Loro Piana, Scabal, Dormeuil, and Ermenegildo Zegna.

LS Men's Clothing - Their custom suits are Made in America, by custom tailors, using old world techniques with an emphasis on contemporary styling. Their clientele includes a fascinating array of CEO's of fortune 500 companies, Nobel prize laureates, leaders in national and local governments, and federal judges. They continue to rely on LS for the best custom tailor in New York City and high quality men's bespoke suits at affordable prices. Our expert staff is always available to advise and guide you in the selection process.

La RukicoTailors - The experts at La Rukico Custom Tailors New York City have been providing an international clientele with the finest tailor-made clothing available. Led by the unfailing vision of owner Mr. Kelly, they create business suits, custom suits, custom shirts, blazers, sports jackets, pants, tuxedos, overcoats, and more. Their method is timeless: find the highest-quality fabrics in the world and hand them to the most skilled craftsman.

Michael Andrews - Michael Andrews Bespoke was founded with the goal of crafting the world's finest tailoring. Over the last decade, they have earned an international reputation for the quality and fit of their creations. Their clients include Wall Street luminaries, Fortune 500 CEOs and foreign dignitaries, as well as award winning actors, world-renowned musicians and professional athletes.

Turnbull & Asser - There are few experiences more satisfying than pulling on a crisply laundered shirt that's been made for you, and you alone. Thanks to their precise measurements and exclusive fabrics, each bespoke design is a one-of-a-kind treasure that will last a lifetime.


Hits: 5709 | Leave a comment