Philipp Plein Spring/Summer 2016 - inspired by the hip-rock
An incredible post-modern and futuristic atmosphere is the set-up of the #PLEINPUNK show at Milan ́s Social Music City. An enormous Globe of Death at the entrance sets the mood of the show, with six stuntmen making acrobatic jumps and turns in the location. In the center of the runway more than 65 destroyed cars colored in gold and silver gave the feeling of an art installation. Right before the model ́s entrance a flaming car appeared and drove fast around the set followed by two vintage police cars like a classic chase scene from a movie. American Hip-Hop sensation Tyga kicks off the show performing his hit: Rack City.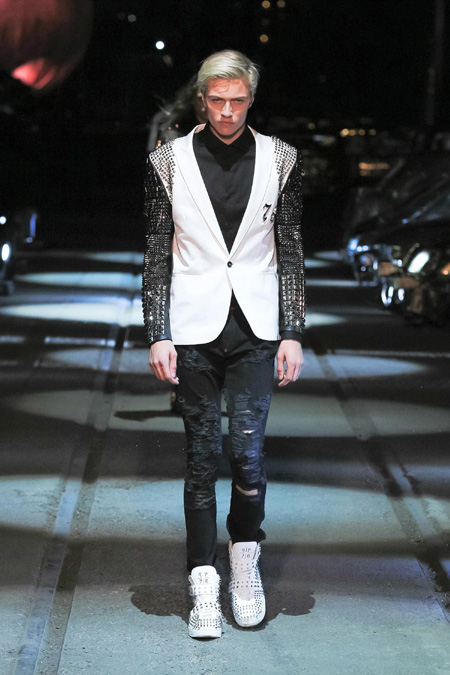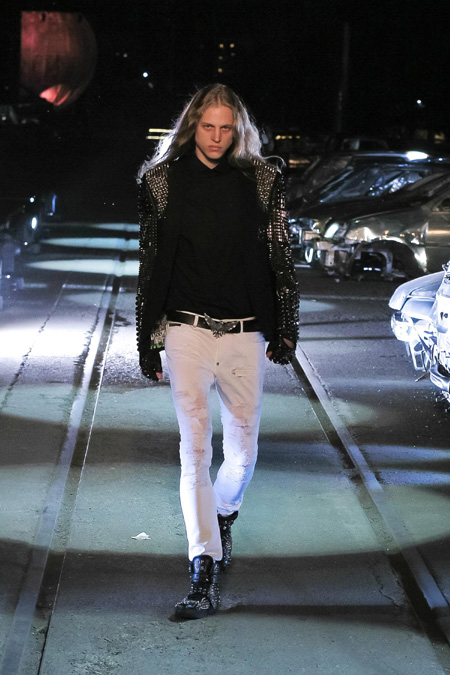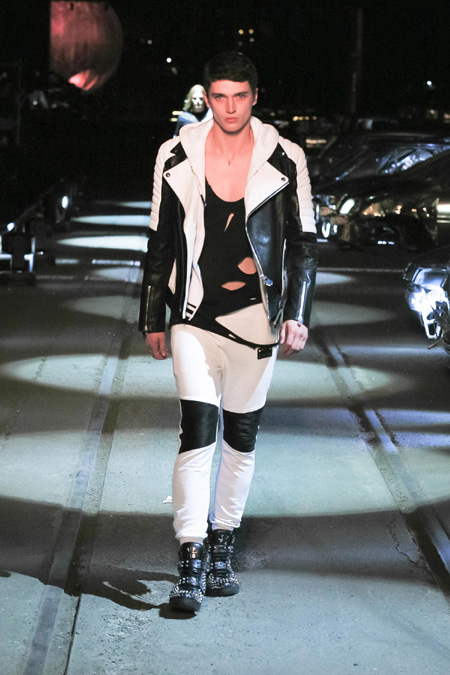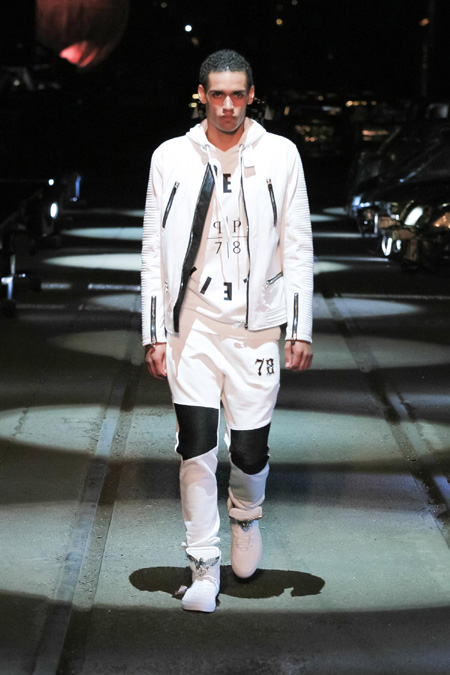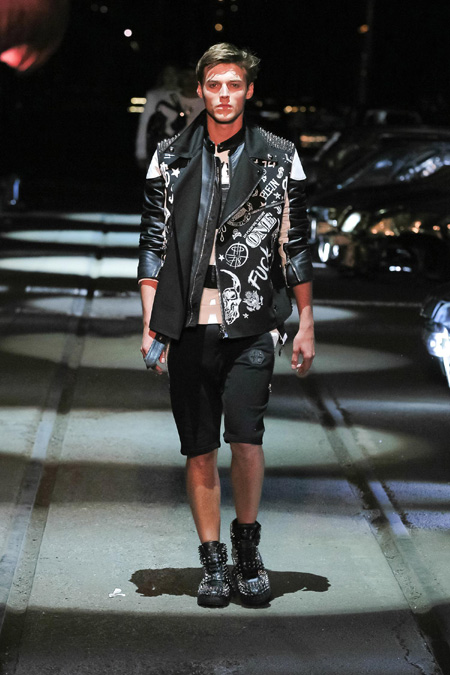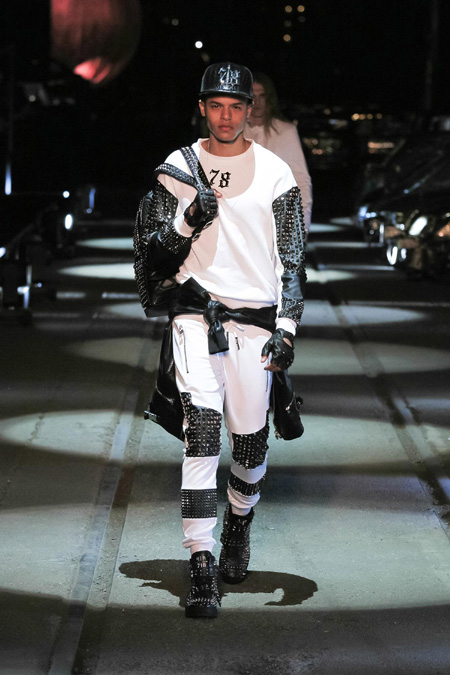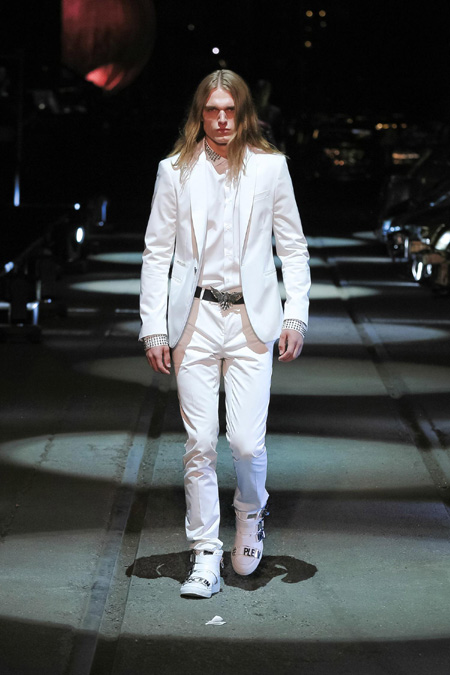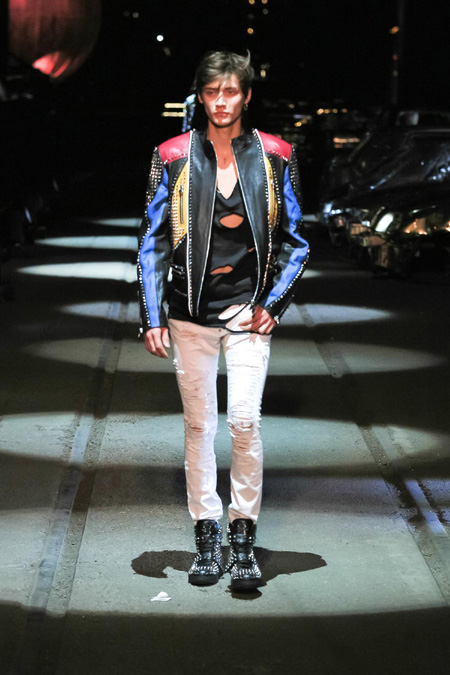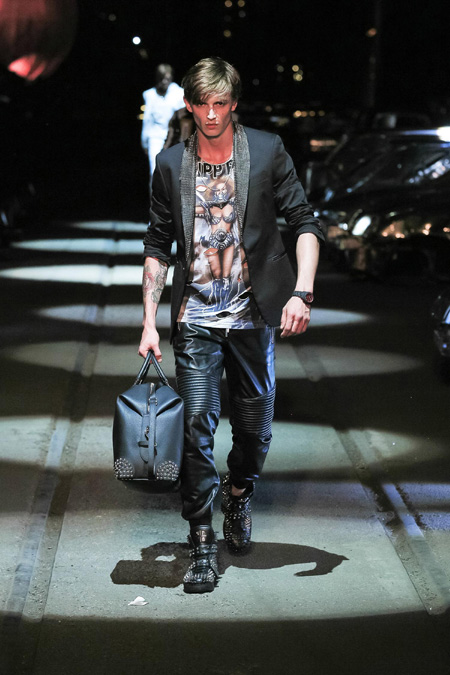 Followed by a super cast of models including the brand new testimonial Lucky Blue Smith who opened the show charging in on a motorbike. The show then ends dramatically with two gigantic Monstertrucks crushing all the cars in one run.
Inspired by the " hip-rock" combination of hip hop, heavy-metal, rock and rap. But most of all, a reinterpretation of the world of punk.
Dramatic opposites are combined in the same look to create a striking and ultra-modern outcome. Oversized t-shirts and extra skinny pants. Zippers and padded shoulders worn over classic knitwear. Details of the world of bikers with a quilted effects.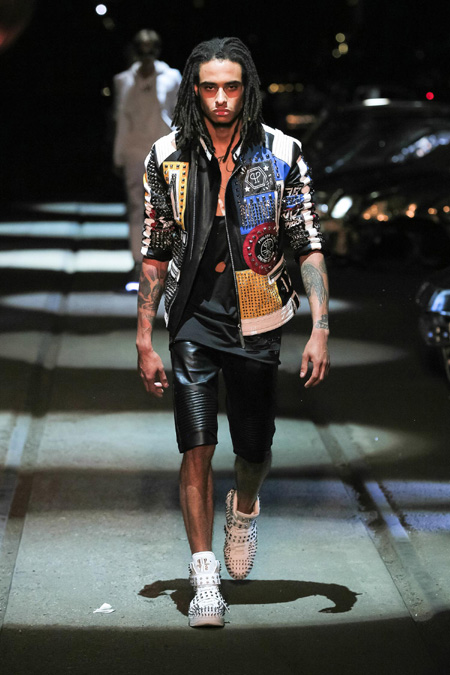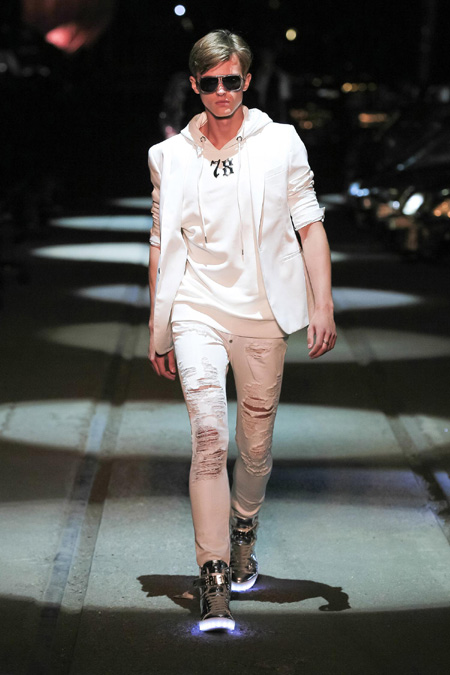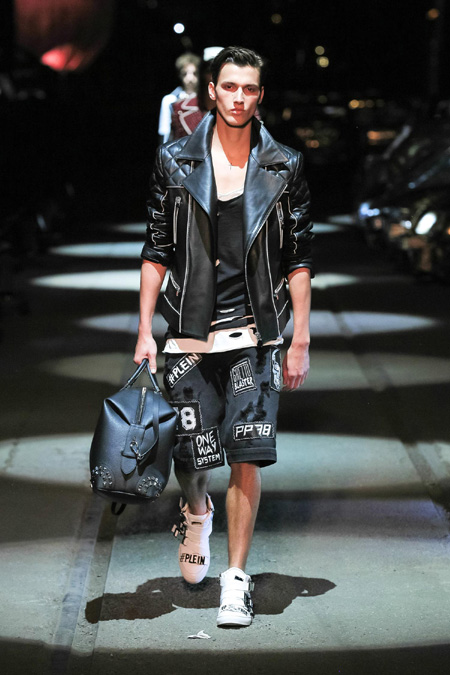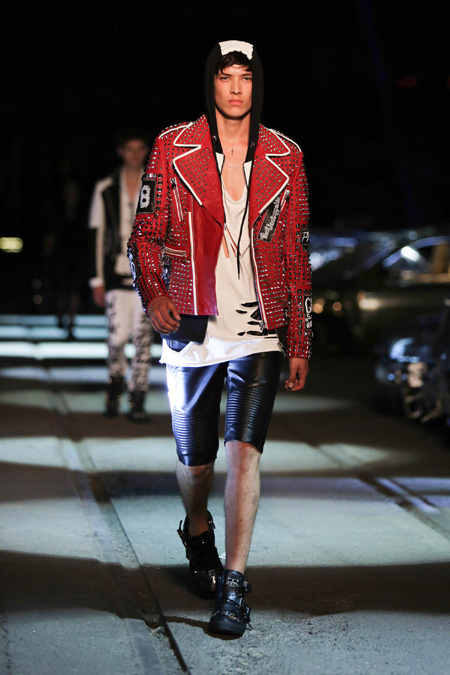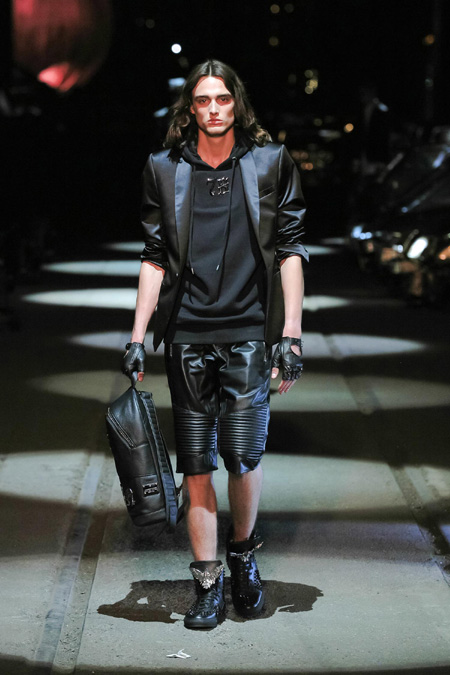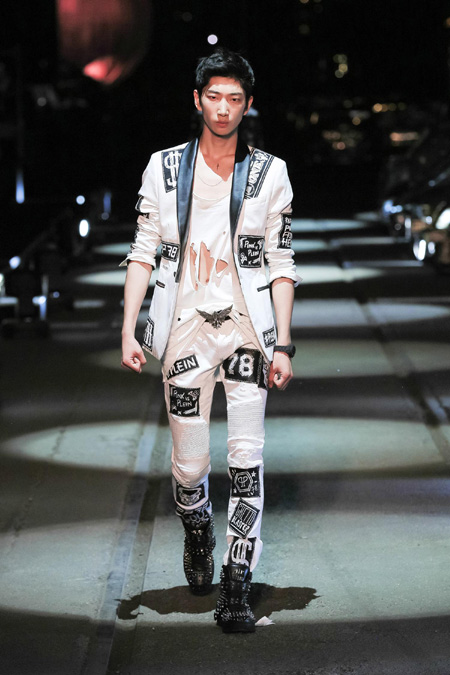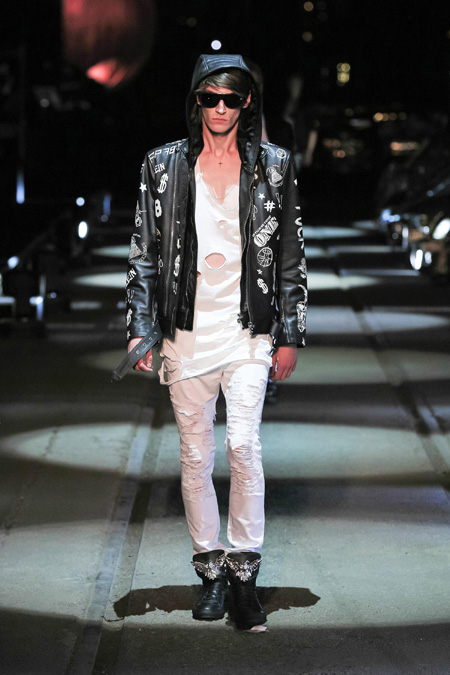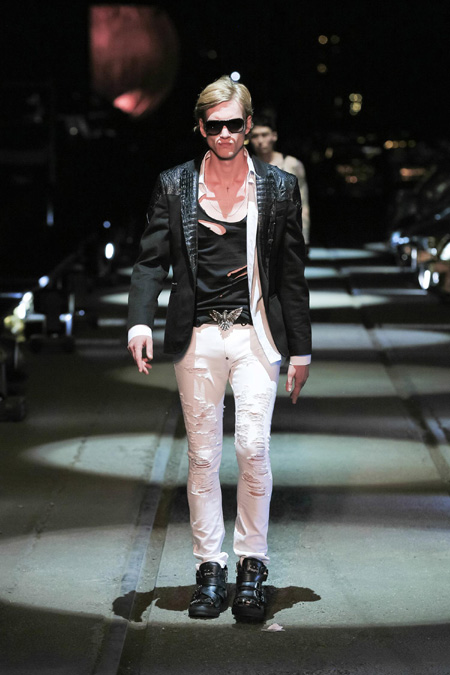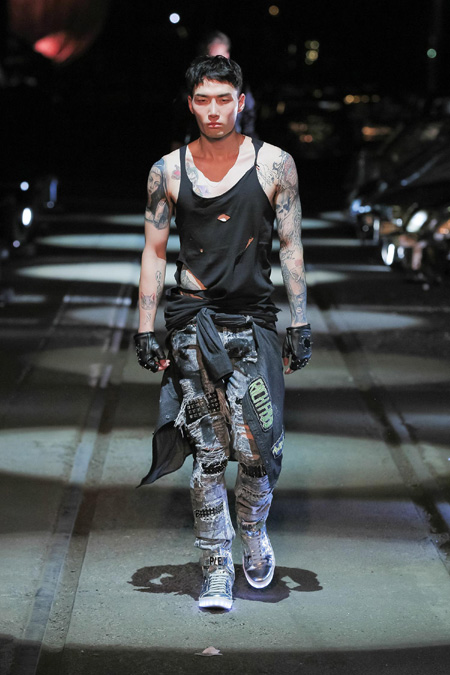 White, black and red are the main colors. Strong, divergent and primary, they dialogue as the slang of a rap song.
Prints and embroideries bring heavy-metal band's ultra colorful and sharp writings from the 1990's back into fashion: Gun's and Roses, Metallica, Iron Maiden. The hard and romantic aesthetic of their concert T-shirts relives according to the style of PHILIPP PLEIN. The same happens with PP78, the House's logo with all the designer's favorite hashtags and the ones created for the collection.
and patchwork technique decorate every surface; rather than just details, they become true protagonists of the #PleinPunk male image.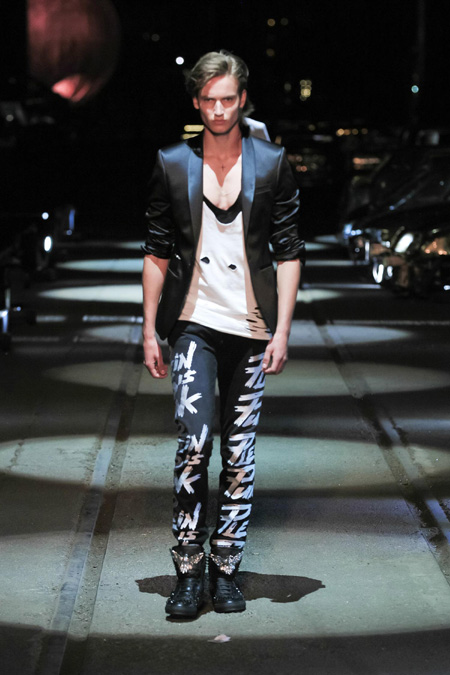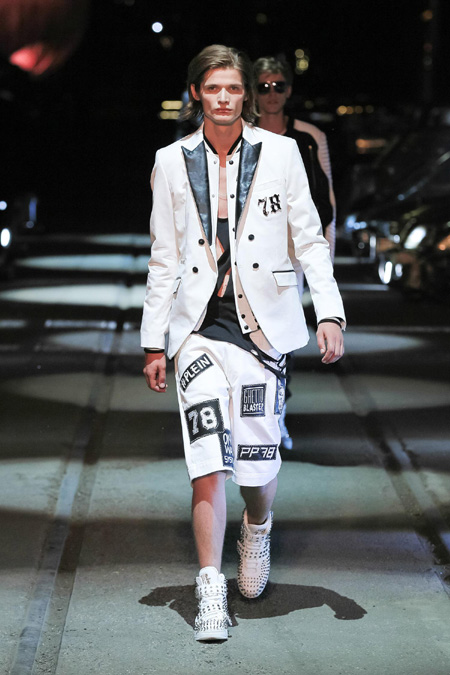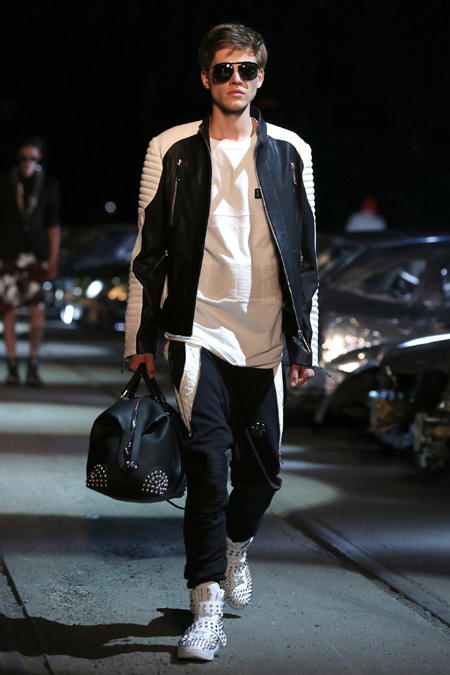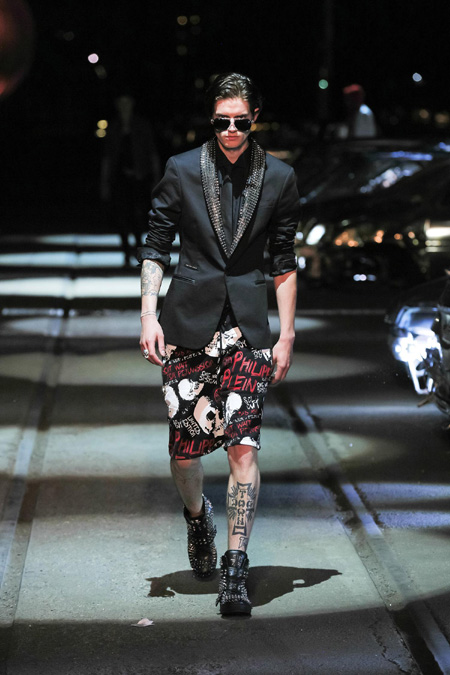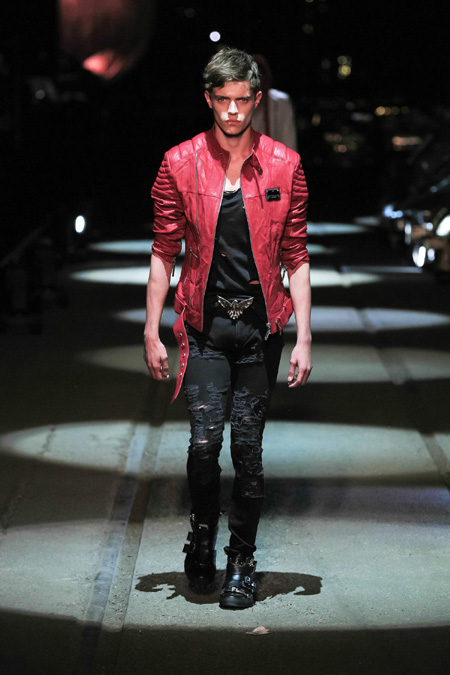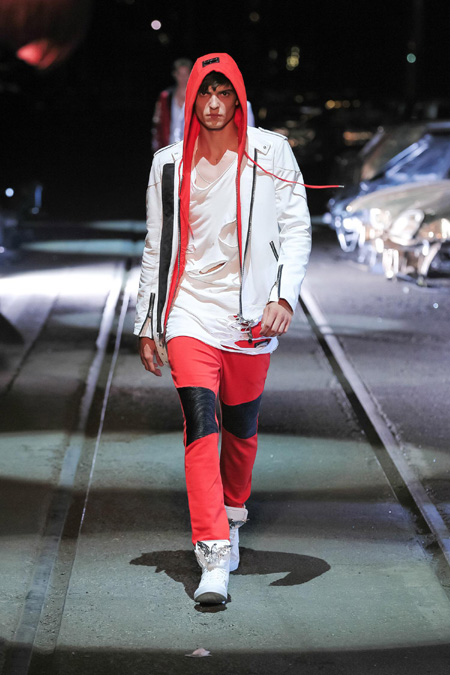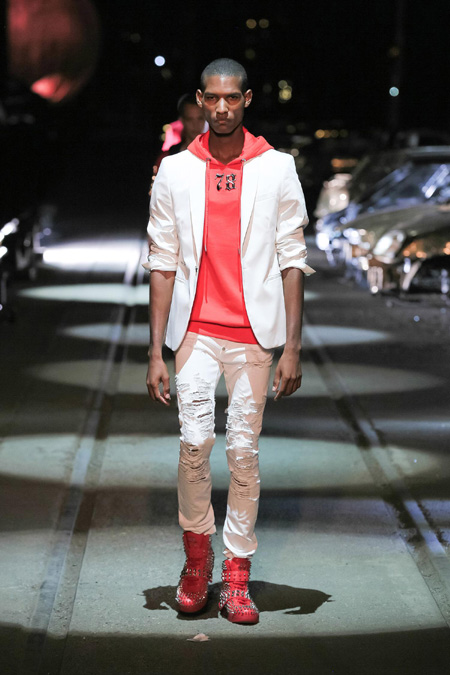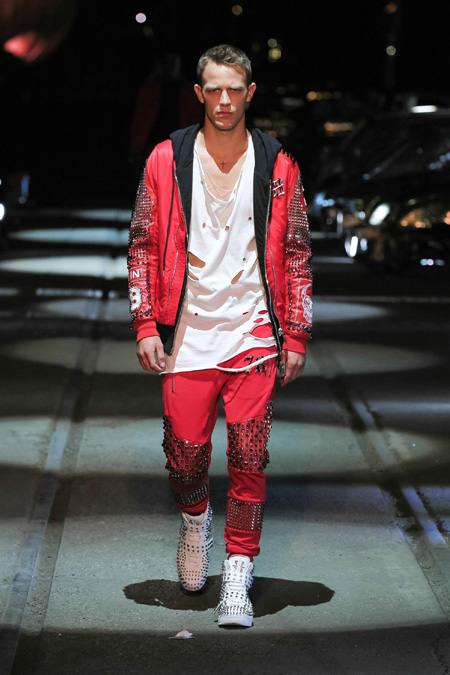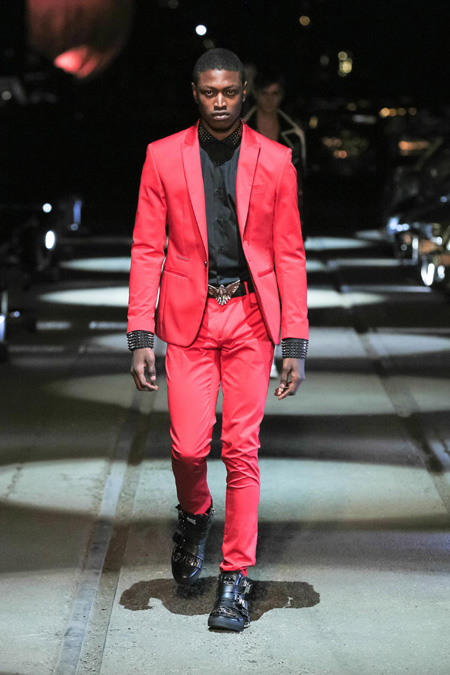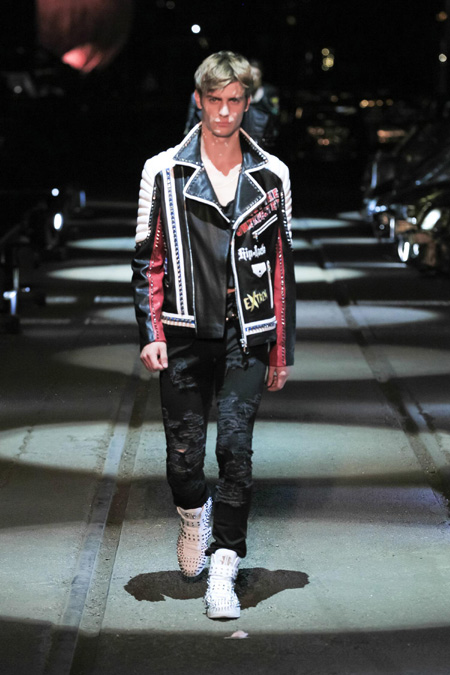 Hand-finished leather jackets carve out an extremely important space. With writings, designs or handmade airbrushing, they are customized as if they were created for a rock star.
Formal menswear is completely redesigned as a remix of the tradition of tailoring. Cotton suits are deconstructed offering a new skinny fit with slim black, studded or graffiti printed ties.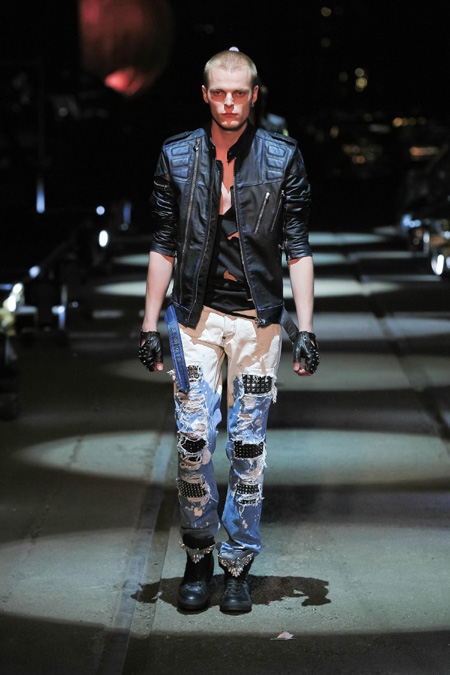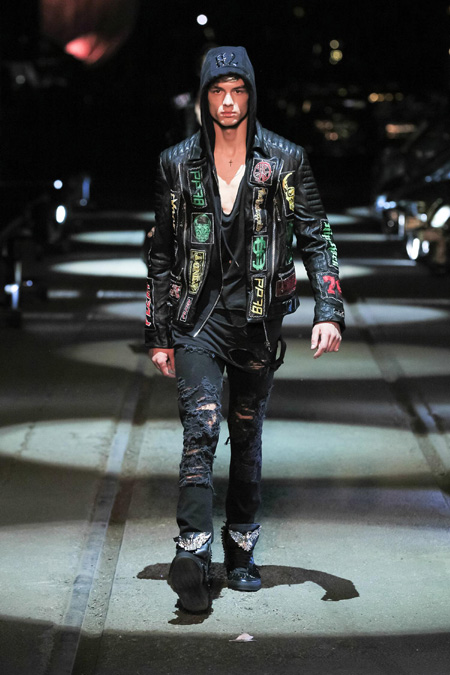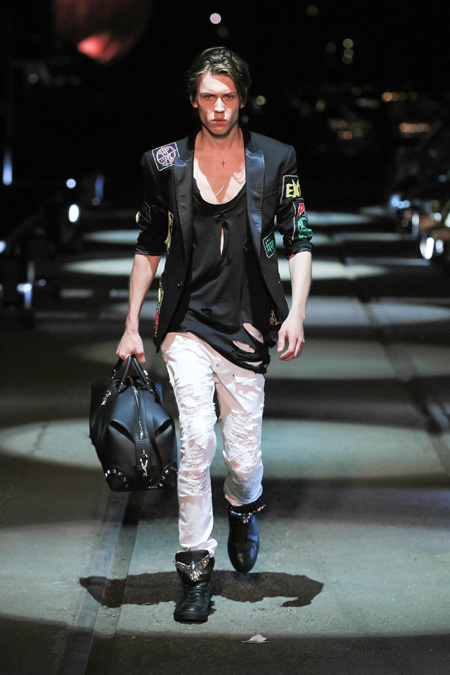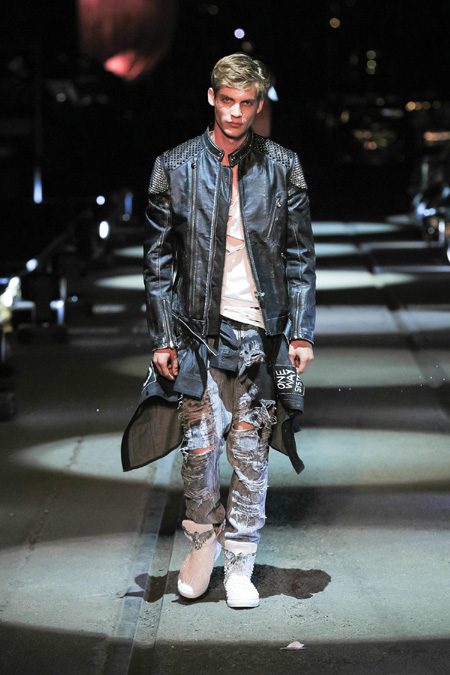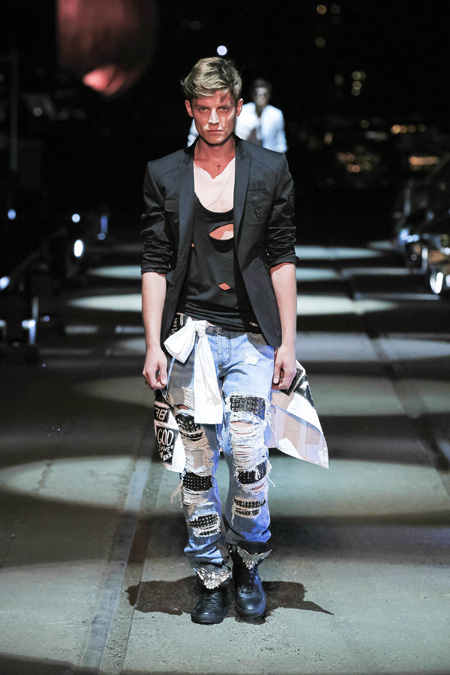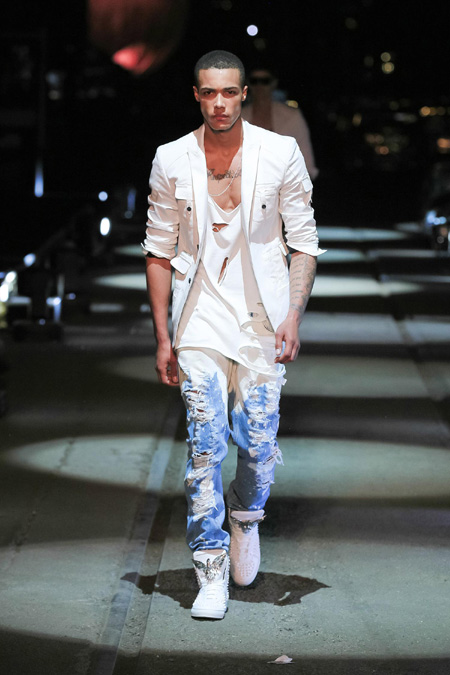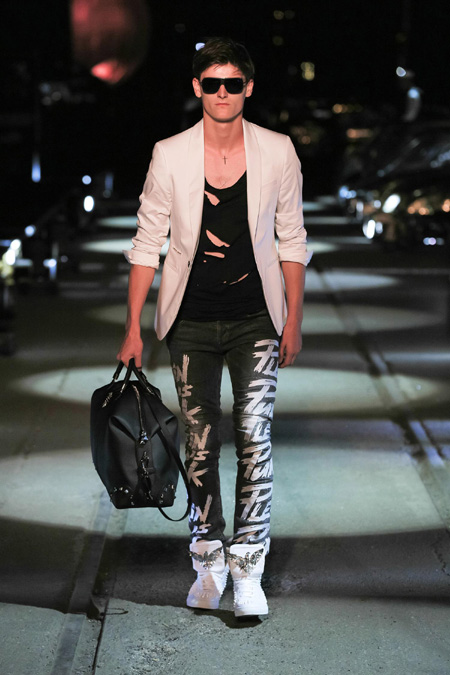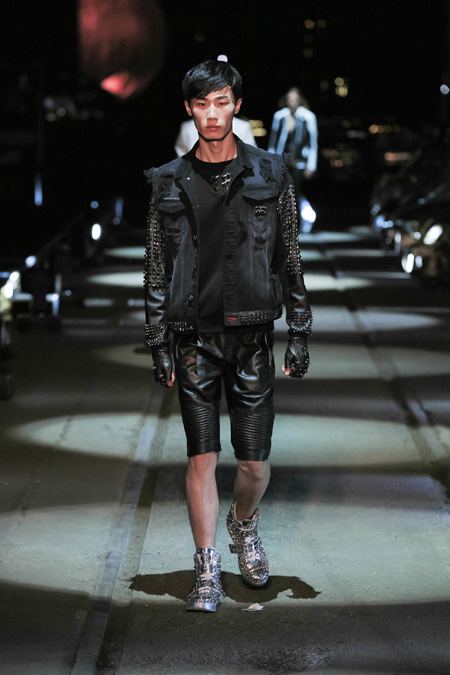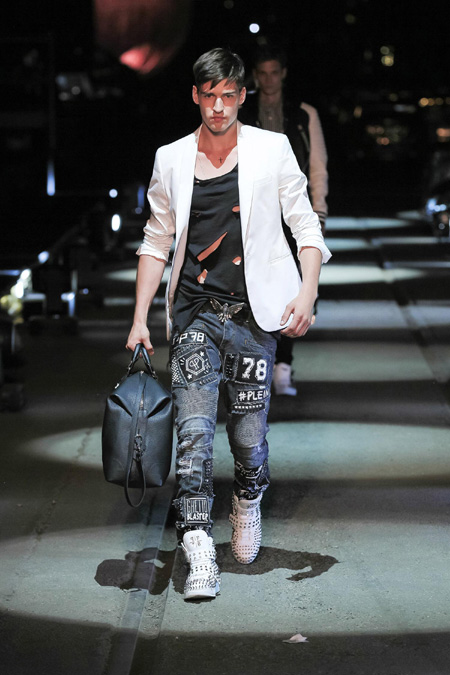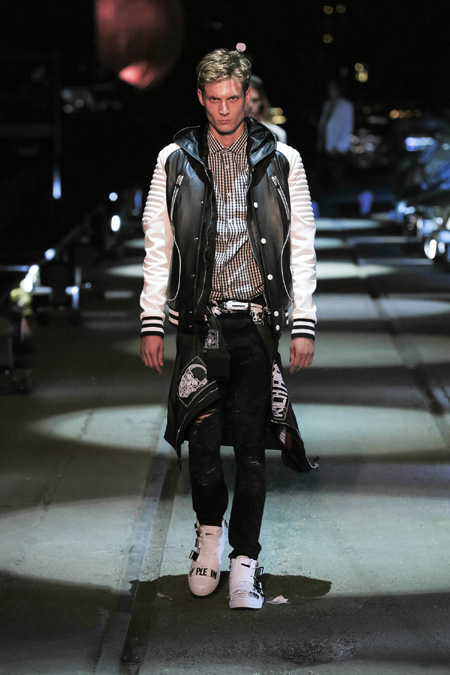 The shoes are extra-luxury sneakers made with fine leathers and embellished with studs and customizations that make them as precious as unique pieces.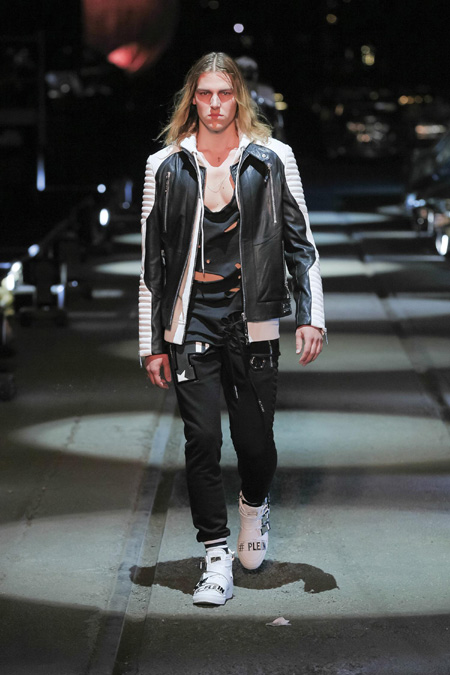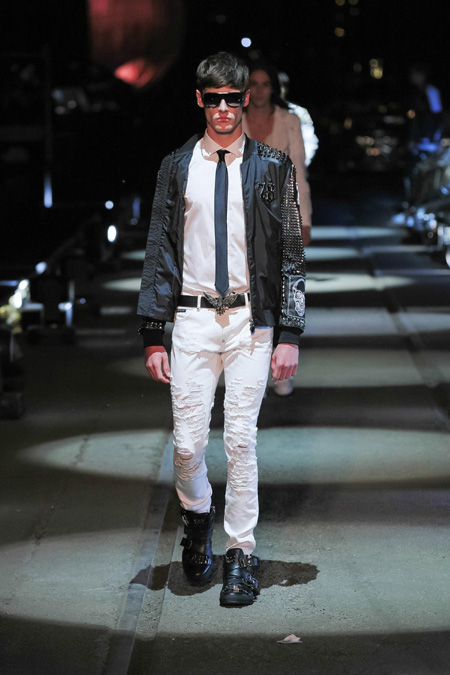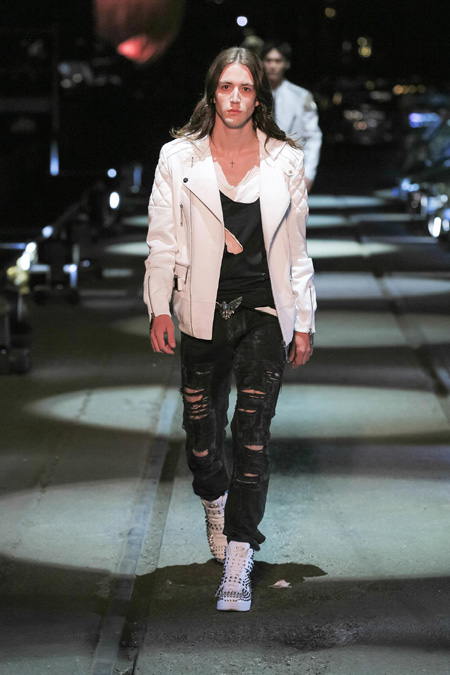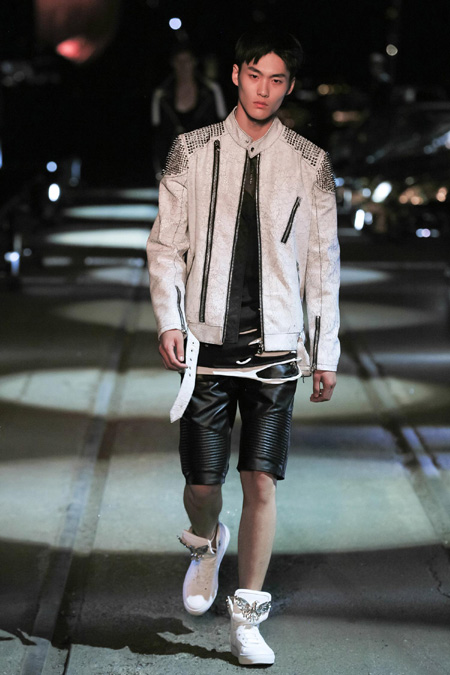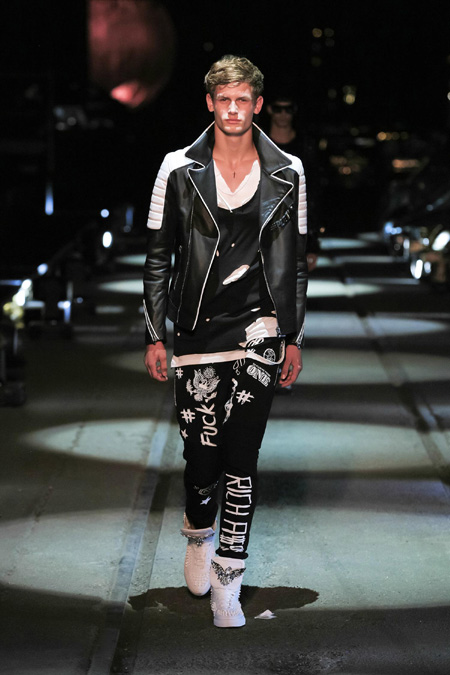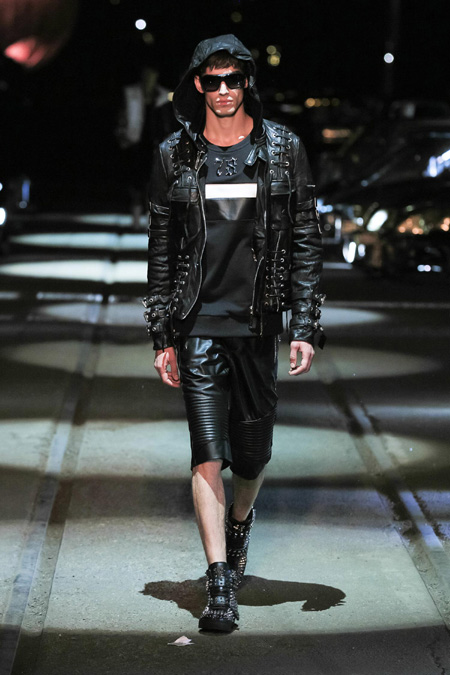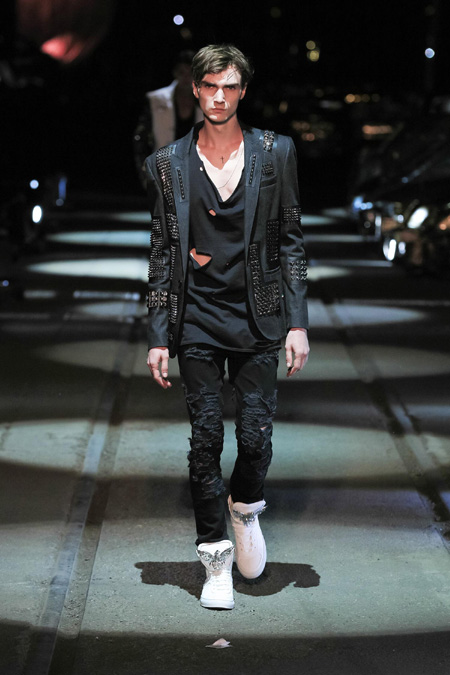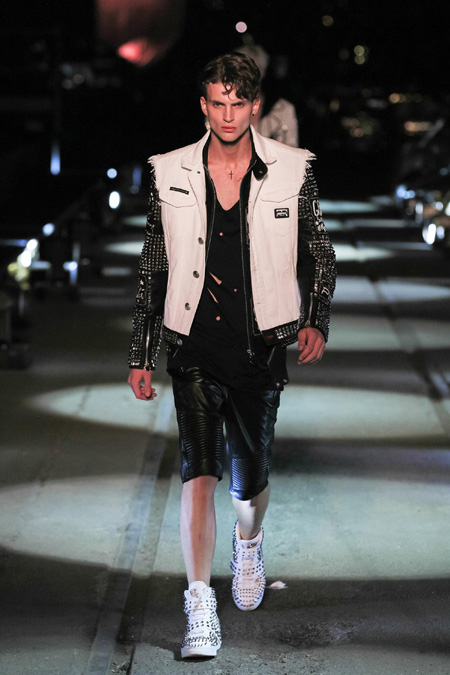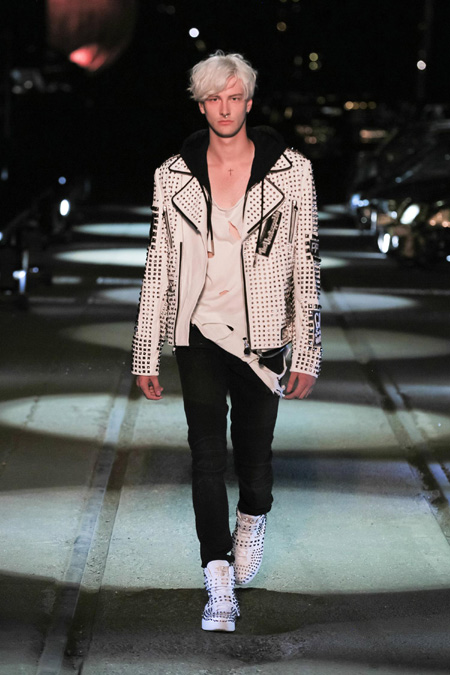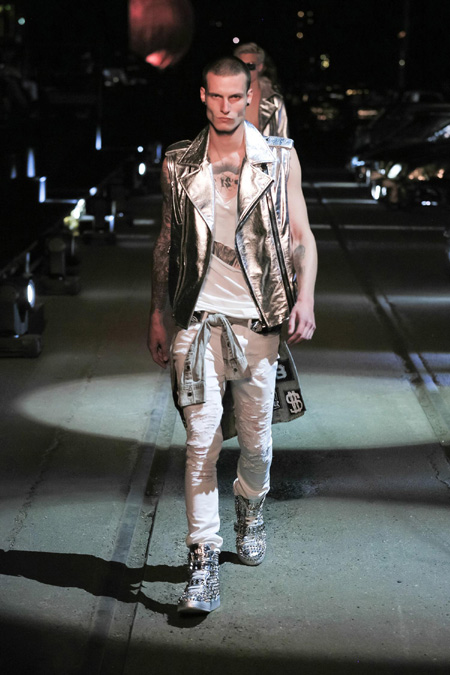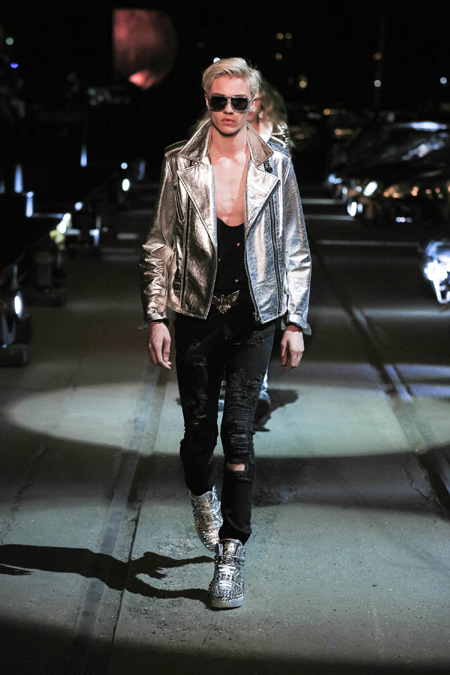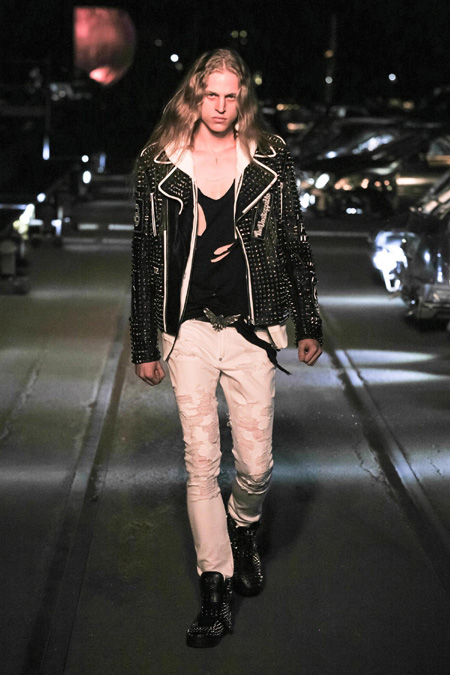 Photos and information: philippplein.com


Hits: 6512 | Leave a comment