Christian Louboutin boots during Todd Lynn SS 2016 presentation
On Friday night in London, a high-octane tribe of dystopian desert dwellers descended upon the LCM runways for Todd Lynn's Spring/Summer 2016 collection. Draped in immaculately tailored yet unconventional blazers (a Todd Lynn signature), oversized biker jackets, transparent knitwear, and shorts, the men and women of Todd's misanthropic world marched in custom made Christian Louboutin boots set to a rousing soundtrack from Glasgow three-piece Baby Strange.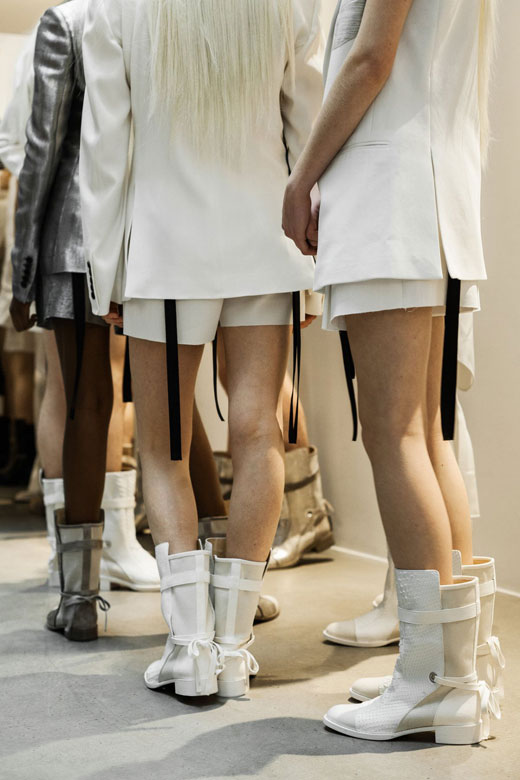 "I'm obsessed with the shoes," said Todd of the unisex, multi-media biker boots.
"They have a real continuity with the patchwork details of the collection." In a spectrum of neutrals and a metallic, each mid-calf boot features a piece of python with a stamped eyelet and ties that fasten around the back of the boot, achieving a pieced together aesthetic.
"There's a lot of tying-on, which I love," Lynn explains of the collection.
"I like the idea of a found garment; it reminds me of being a kid when I'd find clothes and adapt them. You make your own vision in how it's worn."
With the scavenger in mind, oversized leather jackets for men and women are likewise adapted with straps that are adjustable on a whim, while tailored, patchwork leather jackets create a contrast against more voluminous silhouettes seen in the collection.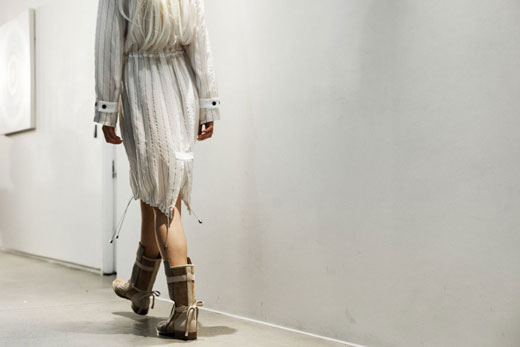 Departing from his usual black on black palette, Lynn opted to dress his tribe largely in white as well as a futuristic reversed silver jacquard. Topped with blunt banged, bleached blonde wigs, the Nordic-looking models appeared both androgynous and powerful.
"Androgyny is what I always do. Boys and girls are becoming the same, that's what's happening in the world."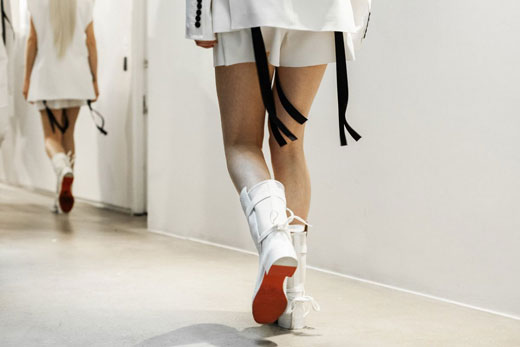 Photos and information: christianlouboutin.com


Hits: 5946 | Leave a comment