The Wool Lab Spring-Summer 2016
The Wool Lab is created each season in collaboration with the world's most innovative and quality-oriented spinners and weavers. It is a collection of the most beautiful wool products, commercially available, and in line with the leading fashion and textile trends.

The tool is available free of charge and upon request for designers, manufacturers, retailers, fashion and apparel brands and to all the professionals of the fashion industry, to provide a concrete sourcing service, putting them in contact with the world's best wool suppliers.
Each season, more and more fashion professionals look forward to seeing the latest edition of The Wool Lab to be inspired and informed about the latest trends and infinite potential of wool, as well as to have the chance to browse a concrete sourcing guide for the best fabrics and yarns.

The Wool Lab returns with two themes dedicated to the world of classical elegance; a must-have in the world of wool that is well expressed for this SS16 edition by the themes Capri, for menswear, and Montecarlo, for womenswear.
In addition to these formal themes, the concept of 'contrasts' is well expressed by the strong colours matching an unexpected elegance, such as the one which can also be found in the theme Sapeur.
Sapeur comes from La Sape, Société del Ambianceurs et des Personnes Élégantes, the roots of which are in Congo. Born in the '70s the Sapeur trend was the response to the dictatorship that was imposed on the Congolese to dress with traditional and sober tunics. The Sapeur movement diverged as much as possible from Western fashion style. It's a new concept of men's elegance, fierce and carefully assembled, that stands out in contrast to the regular men's style.
The idea of contrasts is also expressed in the theme Technocasual, whereby the latest technical innovations in the world of wool fabrics are applied to the most classic lines for the garments.

Fabrics with technical treatments - such as the Plasma Treatment - or fabrics lent by the sports/outdoors industry are used for formal garments, such as men's formal jackets or sweaters, to offer maximum comfort and performance in everyday situations.
The themes Floral - a female look inspired by the stylization of nature that gets its origins in the Art Nouveau style - and Neo Trotter - a contemporary and young lifestyle defined by a practical wear with a fashionable touch - complete the presentation of the six trends for the Wool Lab SS16.
After the exclusive launch at Pitti Uomo, The Wool Lab SS16 will be presented at the most important trade shows worldwide, as well as through The Woolmark Company's global network, along with one-on-one meetings set up with top designers, brands, manufacturers and retailers.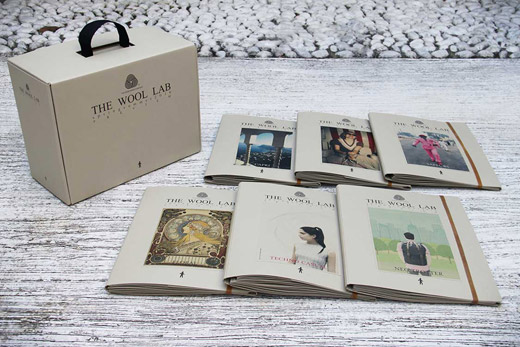 Technical Details
The Wool Lab SS16 presents six inspirational themes:

1. Capri
Inspirations - The Neapolitan tailoring tradition. The split suit as expression of a refined, relaxed style.
Materials - 100% Merino wool, also blended with other noble animal fibres such as silk, mohair and cashmere.
Structures & Patterns - Hopsack, twill, checks, panama.
Colours - Warm neutral, bordeaux, off-white, blue.

2. Montecarlo
Inspirations - The lifestyle through the streets of the Principality of Monaco. A woman who is simply elegant both in formal and informal occasions.
Materials - 100% wool, also blended with silk, cotton, viscose or angora.
Structures & Patterns - Sablé, piquet, tone on tone jacquard, Chanel-like pattern.
Colours - Pastels and neutrals.

3. Sapeur
Inspirations - Their bold, unexpected lifestyle is a source of celebrated originality and positivity. An amazing inspirational display of colour and creativity.
Materials - 100% wool, also blended with cotton or linen.
Structures & Patterns - Plain, micro jacquard, coloured pinstripes, vichy checks and stripes, panama.
Colours - Colour block, piece-dyed.

4. Floral
Inspirations - A feminine look inspired by the stylization of nature that gets its origins from the Art Nouveau style. Fluid shapes and floral prints are the expression of a sophisticated vision of ecology.
Materials - 100% wool, wool/viscose, wool/silk, wool/Tencel.
Structures & Patterns - Plain, satin, dobby, voile, floreal printsù.
Colours - Bright and deep colours.

5. Technocasual
Inspirations - A dynamic streetwear style. Young people who like to combine the must-haves of classic garments with high-tech accessories and clothes.
Materials - 100% wool, wool/cotton, wool blends with technical fibres, wool/silk.
Structures & Patterns - Classic Basic Patterns. Fleece and treated yarns for jersey and knitwear.
Treatments - Bonded, coated, plasma treatment, plated fabrics, waxed.
Colours - Blue, grey, silver.

6. Neo Trotter
Inspirations - A contemporary and young lifestyle defined by practical wear with a fashionable touch. The Neo Trotter is a modern explorer who mixes the need of functional garments with for stylish details and accessories. Fabrics are resilient and resistant, but always in style.
Materials - 100% wool, wool/cotton, wool/linen, wool/nylon.
Structures & Patterns - Check, panama, twill, denim look, pattern stripes. Jacquard and mélange jersey for yarns and knitwear.
Colours - Khaki, blue, Bordeaux, orange, forest green.


Information: woolmark.com


Hits: 8829 | Leave a comment