Loro Piana Men's Fabrics Fall/Winter 2015: Wool takes center stage
* Cashmere is also reinterpreted to create new fabrics with unique performances
Loro Piana has always been associated with the very finest and best raw materials. For the past six generations, Loro Piana has been the vanguard of developing the potential of Super 120's wool.
This winter the focus will be on wool - the oldest natural fibre known to man. Alongside cashmere, wool has undergone innovative treatments and used to create brand new blends to enrich the products presented at the Milano Unica fair, where I visited the booth of this premier international textile brand.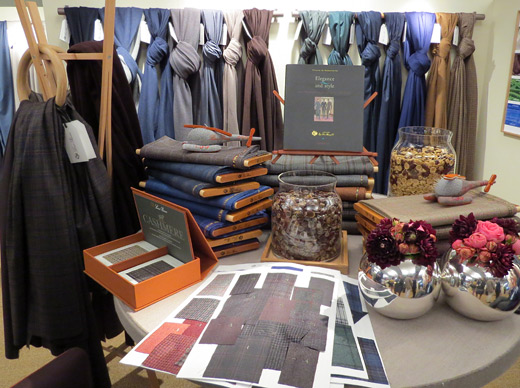 The wool fabrics are lightweight, breathable, comfortable and resilient, perfect for both menswear and womenswear.
The new menswear fabrics are Favola and Sweet felt.
The Favola natural wool and cashmere blend creates a series of warm yet light fabrics, used to create timeless jackets and suits. It is available in patterned and block versions and the colour palette ranges from natural and earthy hues, to the green shades of the underbrush and a full spectrum of blues and azures.
Sweet felt is an extremely soft fabric. The "double" effect is created by means of reinforcements and particular colour mixes that create contrasting tones on the surface. It is ideal for lined items and is available in jacket and coat weights.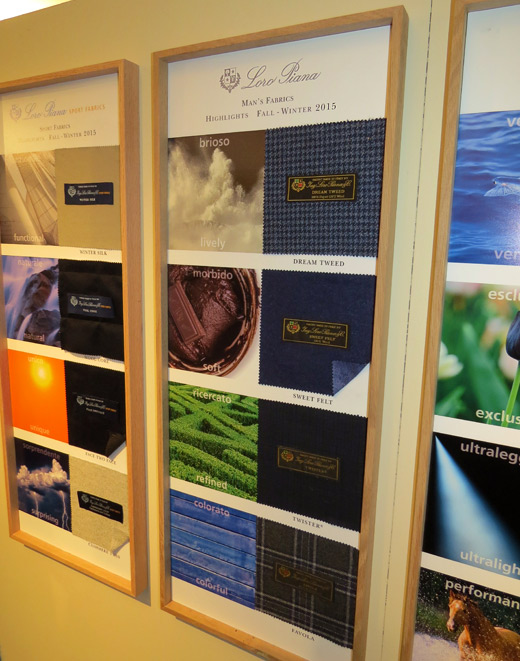 Loro Piana is the single largest user of Super 120's wool, purchasing up to forty percent of the total annual output. The wool comes from the very best lots of Australian merino wool, which is woven into yarn of exceptional fineness, tenacity, and strength. The yarn used is so fine, that one pound of it can be stretched out for 17 miles. Due to this fine raw material, Super 120's can provide the customer with softness and comfort that no other wool can.

Loro Piana is the premier international textile conglomerate with its corporate headquarters in Italy. Currently it has plants operating around the world because of their high standard levels and strict quality control measures. Loro Piana has always been on the cutting edge of technology; Franco Loro Piana initiated the concept of fine and lightweight fabric for the clergy, which later became known as Tasmanian, which revolutionized the Ready-to-Wear industry. Even though the finishing techniques are kept highly guarded, the finished product is renowned for its smoothness and wonderful durability. Loro Piana is the hallmark of sophisticated weaving and finishing technology available.

Photos:
1. - 2. Loro Piana booth at Milano Unica. Photo © Be Global Fashion Network


Hits: 8536 | Leave a comment