Canadian fashion house makes ​​suits in the style of James Bond
Fashion House in Toronto released for businessmen who have to travel to dangerous places, the first bulletproof three-piece suit.
David Tran, who heads the Department of Special Projects of the fashion house Garrison Bespoke Toronto design the James Bond 's suit after a conversation with a customer who was returning from a trip to a foreign country, where he was attacked. "We wanted to create a real James Bond's suit", said Tran, adding that this niche is very welcome because the demand for sewing services has decreased.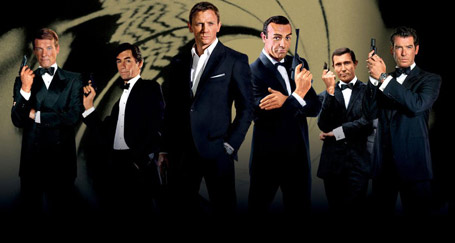 Tran says that the design of the suit was the easy part , but there have been many technological difficulties. It can be used kevlar from which to make bulletproof vests, because it is very heavy and bulk material. Then the fashion house contacted companies equipped American army whose names Tran declined to disclose . The costumes are made ​​based on lightweight carbon nanotubes cost 20 000 dollars upwards. The material is sewn into the lining of the suit and protects its owner from knives and small caliber firearms without restricting his movements .

The potential clients work in the financial sector, mining and oil industry and many of them complain that when traveling in some dangerous areas feel nervous, which could have a negative impact on their business success in negotiations. The most important is that the suit must look quite normal and do not indicate that it is armored, as it would give a bad signal for fear of the other part. The first suit is ready and it has been sold. We are running 6 more orders at the moment.


Hits: 10627 | Leave a comment