Giorgio Armani for Made-to-measure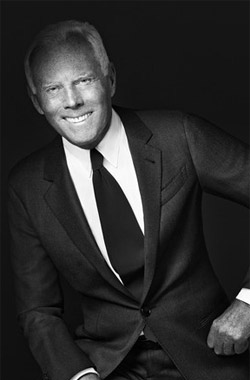 Giorgio Armani is a famous designer, model and now photographer.
"Sartorial attention is part of the DNA of my brand, and the Made to Measure line represents its highest expression", said Armani.
"I like the idea of being its testimonial, wearing a jacket and a tie and presenting myself with a different image from the one people normally associate me with", added the designer.
"My message is that sartorial today is no longer only connected to formal wear. A Made to Measure suit works well also for the most dynamic lifestyle because it is created with individual changes that make it comfortable and practical, depending on each customer's special requests."
In the photo, Armani is captured wearing a Made to Measure single-breasted, one-button jacket in 100 percent bird's-eye combed wool. Hand stitching on the collar and along the lapels, front pleats, a curving breast pocket and hand-sewn sleeve buttonholes are among the standout details.
The company is going to make a special Web site for Armani's Made to Measure line. Customers can book an appointment online and view the range of possible alterations and variety of styles.
See players from Bayern Munich wearing custom Armani suits.
Hits: 7968 | Leave a comment