Day of Moscow-based brands has opened Global Talents Digital
Day of Moscow-based brands under the Global Talents Digital initiative has already got 600,000+ views in VK, Russia's and the CIS's major social media (https://vk.com/mbfwrussia). Global Talents Digital is also being streamed at 100+ media portals and social media. Shows and presentations delivered by designers from 34 countries and areas of the world are being covered by the largest Russian and international publications, concept stores, showrooms, and others. Global Talents Digital participants present top regional fashion weeks from Moscow-based Mercedes-Benz Fashion Week Russia to Rakuten Fashion Week TOKYO.

On Day 1 of this global event, ten Moscow-based sustainable brands supported by the Department of Entrepreneurship and Innovative Development of the city of Moscow presented their collections. Moreover, the designers used Augmented Reality, AR in their works. Specially designed AR elements invited the audience to ponder on the issues and challenges of ethical fashion and the environment.
Offline shows returning to Moscow along with virtual models and AR – this was Day 1 of Global Talents Digital.
SERAYA (Moscow)
Designer: Ksenia Seraya
Genderless and ageless, the SERAYA brand is the epitome of slow fashion. With the new collection presented by a duo of redhead eternal characters of a mother and a daughter, the new garments signified a gentle return to nature. Soft and warm browns were the color palette in this presentation, with gentle cream tones and deep greens, accentuating the silhouettes well. Voluminous, yet still well-shaped, these dresses and oversized sweaters felt almost like something your mother would knit for you – cozy, familiar and just very close to your heart. This is really an epitome of a true Russian designer – tactile, classic, historic, and above all, timeless. These wide-knit woolen garments are a perfect idea of how mindful and caring we all have to be, when faced with the circumstances that determined the course of this year so far. Every garment has been hand-knit, hand-painted and covered in organic cotton to make this a perfect warm-up for both your body and soul this Fall/Winter season.
BRAND'S LOOKBOOK: https://tinyurl.com/y4rdpzqv
BRAND'S VIDEO PRESENTATION: https://tinyurl.com/y2njlwzt ; https://www.youtube.com/watch?v=YCBc2ipyO54
SEMILETOVA (Moscow)
LIVE STREAM
Designer: Maria Semiletova
The first live presentation of the day was SEMILETOVA's new collection. We saw a simple and elegant assortment of dresses in metallic greens, silvers and whites. All garments are made from natural recycled fibers, using the very minimum amount of energy and with a responsible approach, in particular, to the rules of labor.
Maria presented a collection focused on formal and eveningwear, with a keen eye towards shaping and silhouetting, showing us that being elegant and sustainable is not mutually exclusive.
The dresses used the softest silks and tulle fabrics, accentuating the femininity of every garment.
A variety of influences seemed to affect this collection, from traditional Greek feminine robes and dresses to typical Parisian nighttime chic.
With the palette ranging from deep black eveningwear dresses and slips to full-scale Mediterranean bridalwear gowns of soft papery white fabrics, this was a collection that anyone could fall in love with. Many garments gave off a futuristic geometric vibe with exaggerated shoulder lines, while others used Arabic print on the back.
A sustainable and future-minded, yet still effortlessly elegant assortment of looks.
CATWALK: https://tinyurl.com/y28sbwo7
LIVE STREAM: https://tinyurl.com/y2tdhlff ; https://www.youtube.com/watch?v=gjZ74fPoXr0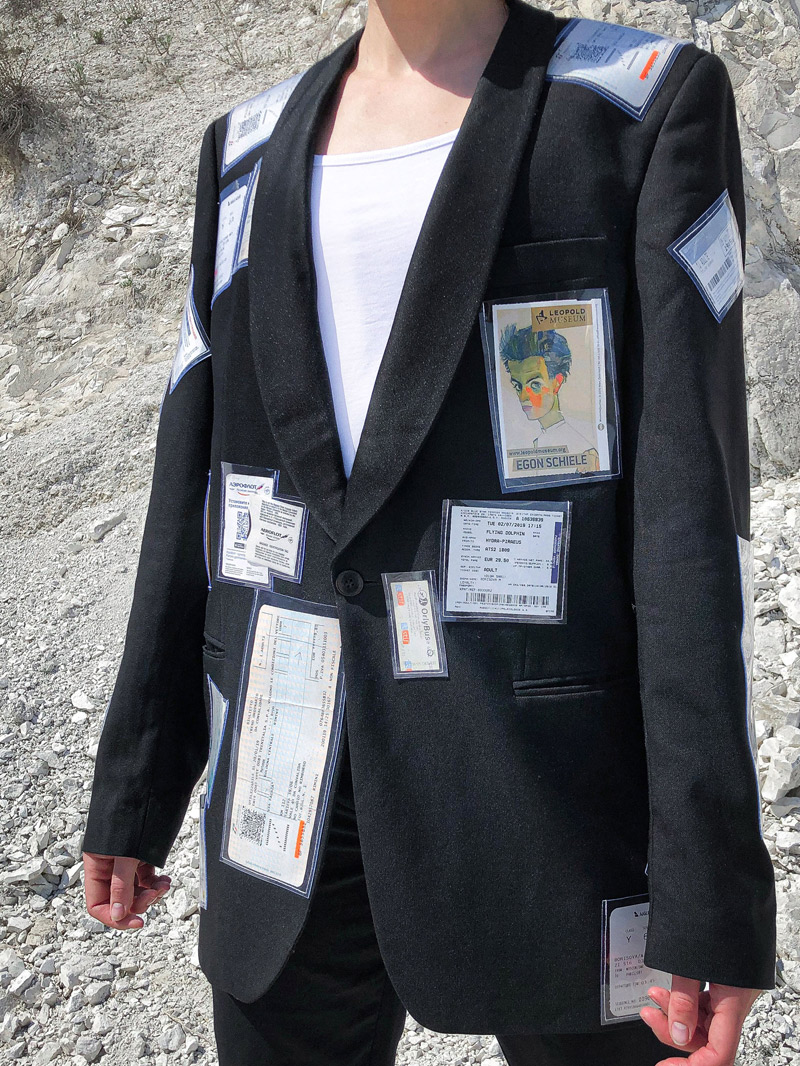 RigRaiser (Moscow)
Designer: Anna Lekontseva
The RigRaiser brand concept is also fitting for Global Talents Digital, seeing as both the event and the brand itself are both fully devoted to sustainable fashion – every part of this collection has been recycled.
Combining separate recycled garments, the brand creates what it calls "Wearable art." Therefore, every collection is limited in numbers, and every part of every collection is in itself a collaboration with a modern Russian artist. With this in mind, designer Anna Lekontseva plans to write a unique story with every dress being one-of-a-kind and a combination of independent minimally used garments. Pre-owned items begin life anew in their video presentation, showing a model, swimming in an ocean of plastic on a surfboard, picking out things to use. Then the transformation begins, with old garments being cleaned and shaped by professional seamstresses at the RigRaiser workshop.
Then the garments find their way to an art studio of a professional painter that uses them as a canvas - artist Marusia Borisova-Sevastyanova paints straight onto the fabric of an old dress shirt, giving it an entirely new purpose.
BRAND'S LOOKBOOK: https://tinyurl.com/yxjj9dtn
BRAND'S VIDEO PRESENTATION: https://tinyurl.com/y6klblmb ; https://www.youtube.com/watch?v=TsYctKSjEW0
ATUMATU (Moscow)
ATUMATU is a sustainable lingerie and swimwear brand that values natural beauty. Around 78% of the swimwear in the collection is made from reclaimed nylon – Econyl fibers gathered from fishing nets, and the underwear is made from Penier cotton. The brand team swore off paper packaging: every ATUMATU order is delivered in textile bags that the brand sews in its workshop. ATUMATU now strives for a totally waste-free production: for example, their hair ties are made from remains of nylon, and designers are currently planning to produce children's toys from recycled linen with every toy to be donated to charity.

The collection itself, playful and soft, showed us oversized and soft sweatshirts and sweatpants, perfect for wearing at home. With pastel tones of terracotta, teal and mauve, this collection brought back the golden age of Benetton, but this time, every garment is all-organic, all-handcrafted, and all-sustainable.
BRAND'S LOOKBOOK: https://tinyurl.com/y3x6lbv8
BRAND'S VIDEO PRESENTATION: https://tinyurl.com/yym7mwbh ; https://www.youtube.com/watch?v=CaFtsHt30V0
RADICAL CHIC (Moscow)
Designer: Alexandra Kaloshina
RADICAL CHIC is a Russian brand of silk, woolen, and cashmere accessories. Every collection is created top-to-bottom in Moscow in their own production facility. Every design is developed by their own textile design company Solstudio Textile Design. To uphold the principles of slow fashion and appeal to conscious consumption, the brand's artists embarked on an expedition to the Russian North to bring back material for their fabrics and silk scarves.
Some scarves were reminiscent of the Futurist and Social Realist movements, while other were abstract and depicted chains and piping in a classically Hermès fashion.
BRAND'S LOOKBOOK: https://tinyurl.com/y2m9prtu
BRAND'S VIDEO PRESENTATION: https://tinyurl.com/y2y6nasa ; https://www.youtube.com/watch?v=eqyh3fBCd1Q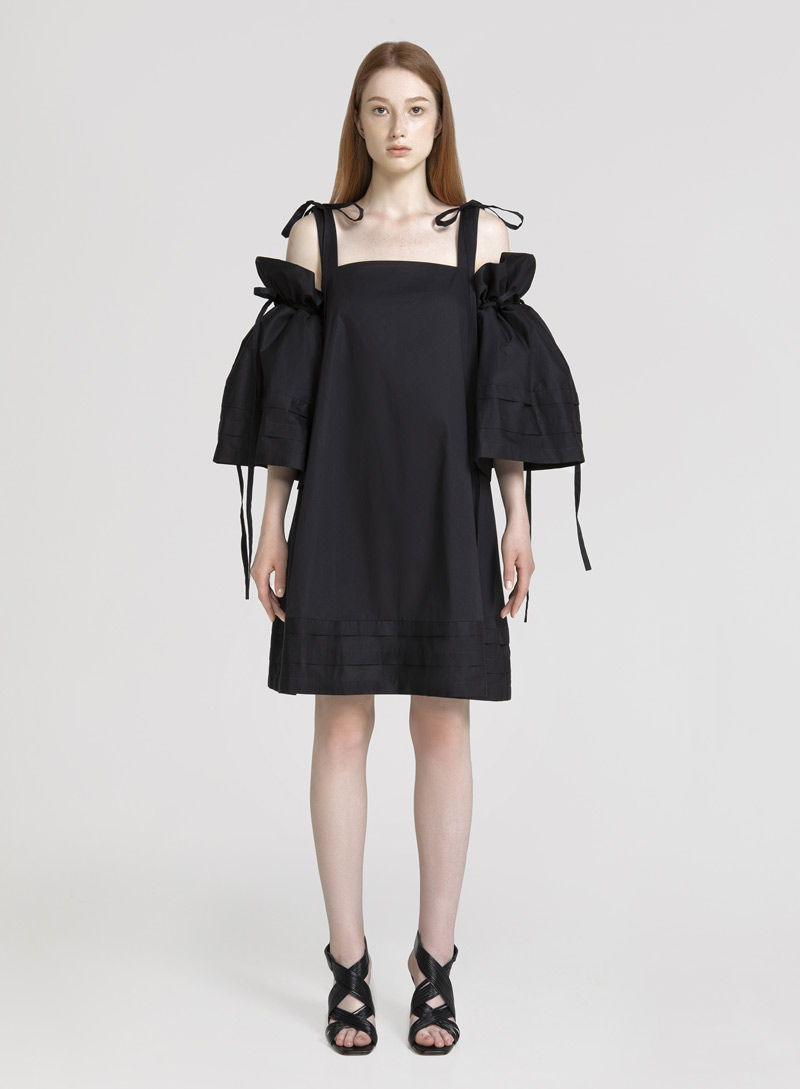 BLANC (Moscow)
Designer: Nina Kotsurenko
The main value of Moscow's BLANC brand is the designer's love for art and creativity in all manifestations. Through careful work with form and detail, the brand's designers strived to create ideal proportions that can highlight individuality, femininity and beauty of the female form. Keeping with the theme of the day, the brand only uses natural fabrics and recycled materials. BLANC is another brand that has completely stopped using polyethylene for packaging, and their garments are only sent out in paper or cloth bags. They also have a zero-waste approach: all leftover fabrics are used for the production of accessories and decorative elements.

Their gentle, elegant, and artful video presentation showcased their classic black dresses - some simple and timeless, others with ribbons and playfully puffy sleeves – in the environments familiar to any young Russian woman: a ballet studio; a concert hall, an art gallery, a workshop, a library.
These beautiful dresses, appropriately enough, were also classically Russian, taking us back to the great female poets of the early 20th century - Akhmatova and Tsvetaeva. 
BRAND'S LOOKBOOK: https://tinyurl.com/yy67kaem
BRAND'S VIDEO PRESENTATION: https://tinyurl.com/y4g5npat ; https://www.youtube.com/watch?v=atzHwF5HeIo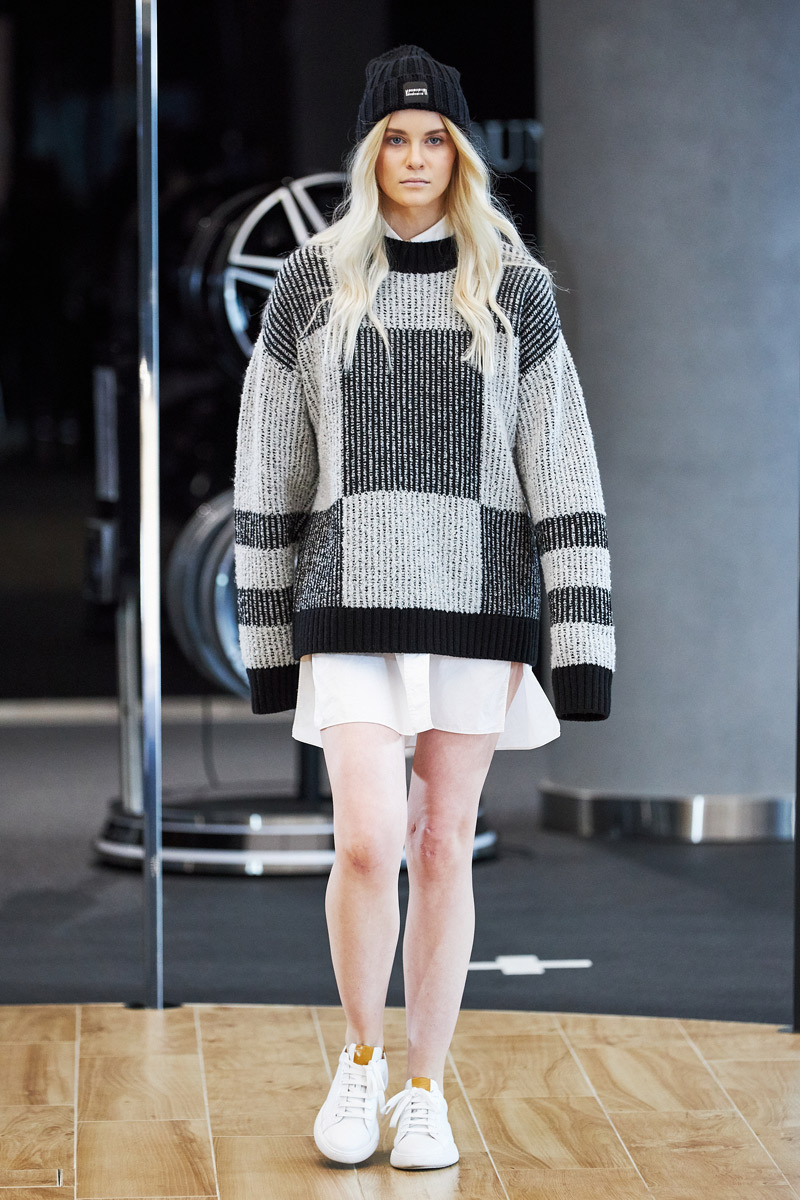 SL1P (Moscow)

LIVE STREAM
Designers: Vyacheslav Abdenov and Vladislav Ivanov
Instead of traditional seasonal collections, the SL1P team produces small capsules, inspired by their own like-minded heroes: artists, graphic designers, and architects. Each capsule is produced in a limited volume. In addition, designers use recycled materials in their production to support the responsible fashion ideas of this event.

This live collection showed us streetwear with a difference – geometric shapes of the longsleeve hoodies (all unisex and oversized, in various combinations of black, white, grey and red) were coupled with beanie hats but also with stylish black blazers. Knee-high socks, pre-distressed knit cardigans and slacker pants all brought a grunge vibe to this collection. One imagines this is what Cobain would've worn in 2020 - a somewhat drier and more conforming take on the grunge fashion, with a definite edge and a sustainable concept.
CATWALK: https://tinyurl.com/yya3r5x2
LIVE STREAM: https://tinyurl.com/yykzll2t ; https://www.youtube.com/watch?v=GOruqNiJMcY

KREMLYAKOVA (Moscow)

Designer: Olga Kremlyakova
Olga Kremlyakova was inspired to found her own brand when she tried creating a dress for an advertising project. It turned out that her unique approach to fashion is in demand. Each product of the brand is created through a rigorous selection of fabrics. The brand utilizes stock materials from Italy and France.

In the summer of 2020, Kremlyakova launched an entirely new fashion line using vintage hand-embroidered silk mixed with stock fabrics. This is not a mass-product, as it is essential for Olga to maintain an individual approach and create an out-of-season and fashion look.

A soft and summery collection of gorgeous kaftans, printed trousers and beautiful patchwork dress shirts, as if made specifically for the Fanning sisters. Presented in a sunlit rye field, the collection showed a mind towards the cottagecore fashion trend so prevalent this summer. This home-made patchwork aspect of the collection is sure to attract any NYC escapee this Fall, seeing as the tailoring in the collection seemed to be top-notch: ribbons, frilly glittery fringes, traditional Slavic patterns with an influence from brands like Batsheva – all geared towards a boho-but-chic approach.
BRAND'S LOOKBOOK: https://tinyurl.com/y6h2hlvz
BRAND'S VIDEO PRESENTATION: https://tinyurl.com/y59uj5nl ; https://www.youtube.com/watch?v=1osr6XMzQsM

RCP 4.5 (Moscow)

LIVE STREAM
Designers: Elizaveta Pichugina and Inna Golubeva
The designers of RCP 4.5 are confident that sustainable fashion does not equal an ascetic lifestyle, but only a rational approach to consumption.

RCP 4.5 is designed in such a way that it can attract the audience to conscious consumption without sacrificing style.

The brand aims to contribute to sustainable development of the fashion industry by combining modern silhouetting with eco-friendly fabrics, a mix of hand and machine prints, and unusual detachable elements.

These simple utilitarian trousers, dresses and shirts brought to mind the styles of Mayakovsky and Rodchenko – robes of bright yellow, trench coats of simple beige, and jackets of recycled corduroy all collided into a collection that wouldn't seem out of place at a public reading of Soviet poetry in the 1920s.
CATWALK: https://tinyurl.com/y3q4p47b
LIVE STREAM: https://tinyurl.com/y2jg5e8g ;   https://www.youtube.com/watch?v=IU_56ERf6GM

HOLY MHPI* by MOSCOW ART INDUSTRIAL INSTITUTE (Moscow)

The HOLY MHPI* by MOSCOW ART INDUSTRIAL INSTITUTE collection can not only be attributed to the segment of sustainable fashion from the point of view of the clothes itself. This is definitely sustainable fashion, because the students prepared their collections mostly from cotton and other "ecru" materials - that is not subject to dyeing, or from items of secondary consumption – jeans, shirts and other products that were used to create new things. Also, some of the products are unique avant-garde creations, altered from vintage clothing. Sustainable fashion is not only about the desire to get closer to zero waste, but also to represent people of different races, nationalities, and creeds.

Presented by a virtual model named Ruby, this student collection included looks of bright and airy crimped and folded fabrics, all accessorized with youthful golden necklaces and earrings. Some dresses sported hand-sewn texts by Anton Chekhov, while others were sewn with in-built felt corsets.

A summary and light offering from the Moscow Art Industrial Institute rounded up this day perfectly.
BRAND'S VIDEO PRESENTATION: https://tinyurl.com/y5slknkr ; https://www.youtube.com/watch?v=thWIyskRDnE


Hits: 11121 | Leave a comment