Guest Nation - China at Pitti Uomo 96
The most promising names on the new creative Chinese scene will be the protagonists in Florence with the GUEST NATION special project, promoted by the Fondazione Pitti Immagine Discovery in collaboration with Shanghai Fashion Week on the occasion of Pitti Immagine Uomo 96.
10 designers will be the protagonists selected to present their collections with a showcase at the Fortezza da Basso – in the location of the Grotte, accompanied by a series of events and special projects.
GUEST NATION CHINA, a project curated by Labelhood, the fashion incubator of emerging designers and one of the most innovative retailers in China, and organized in collaboration with V/Collective, is powered by TMALL, and supported by Converse, Florentia Village, GXG, Huili, Hong Mian, Neos (sponsor).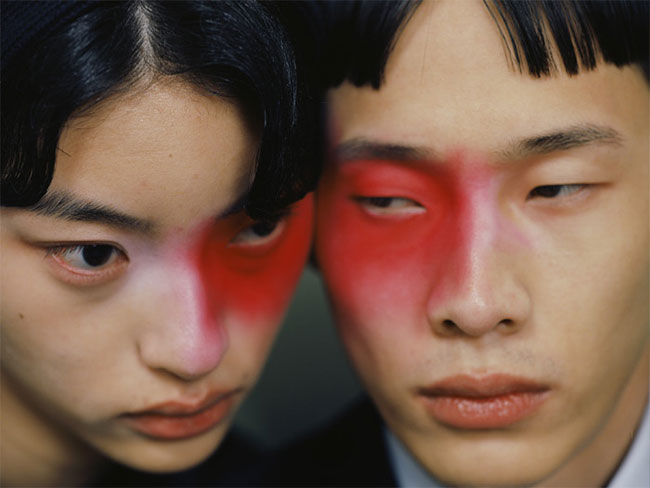 The leading names of GUEST NATION CHINA are: 8ON8, DANSHAN, FFIXXED STUDIOS, PERCY LAU, PRIVATE POLICY, PRONOUNCE, SAMUEL Gui YANG, THE FLOCKS, STAFFONLY and untitlab ®.
The project will culminate with a fashion show by PRONOUNCE, the designer brand established by Yushan Li and Jun Zhou, who will feature deconstructed Converse Jack Purcell shoes on the runway - and with the photography exhibition of Leslie Zhang, one of the most acclaimed photographers of Chinese fashion, curated by Dan Cui (at Spazio Grotte).
"Guest Nation is one of the leading initiatives of Fondazione Pitti Immagine Discovery for exploring new scenarios in today's fashion with a high creative coefficient. - says Lapo Cianchi, Secretary General of the Fondazione and Director of Communications and Special Projects at Pitti Immagine – China has become one of the most fertile and dynamic territories on a global level for fashion experimentation: that's why we decided, together with the prestigious partners accompanying us in this project, to present eleven of the most innovative Chinese brands to buyers and the international press. In the selection, which will be the exclusive protagonist at Pitti Uomo, are included young designers next to already established brands that are all capable of developing their very own strong contemporary creative vision, often with an openness to contamination between East and West. Guest Nation China will be a multifaceted initiative and an experience rich in fashion and art highlights, also thanks to the photographic exhibition of a leading name like Leslie Zhang and the special fashion show by PRONOUNCE, a brand we know for its participations in Florence and for its unmistakable style. And it will be the first catwalk ever for a Chinese brand at Pitti Uomo".
In light of GUEST NATION CHINA's presence at the next edition of Pitti Uomo, Pitti Immagine and Shanghai Fashion Week have signed an agreement of collaboration.
8ON8
With the studies at the London Fashion Institute, the designer Gong Li received the Grand Prix LVMH Scholarship. During London Fashion Week his AW17 collection received the unanimous appreciation of names such as Sarah Mower and magazines such as BoF. He also won Lane Crawford's 2017 design award and began selling in Lane Crawford's Hong Kong, Shanghai, Chengdu and online stores. In 2017, Gong Li launched the menswear brand 8ON8, based on a passion for tailoring with a great tradition combined with a personal vision and youth culture. The brand skillfully combines craftsmanship and modern interpretation, in a continuous interweaving of classic menswear, everyday streetwear and outdoor clothing.
DANSHAN
Danshan is an emerging menswear brand that takes its name from the Chinese designer Dan and the Hong Kong designer Shan. After graduating from Central Saint Martins in 2012, the duo worked for some time in the fashion industry before launching their own brand. Danshan presents himself as a personal exploration of the evolution of gender dynamics and their relationship with fashion.
FFIXXED STUDIOS
Ffixxed Studios was founded in 2010 by creative directors Fiona Lau and Kain Picken. The brand makes clothing and objects that respond, adapt to, and inspire changing conditions for contemporary living. The Ready-to-Wear label evolves seasonally alongside a variety of other projects and collaborations that inform the evolution of the brand. Prioritising movement and openness both conceptually and in material and functional terms, Ffixxed Studios propose a lain back simplicity, emphasized by modern cutting and a fluid, eclectic aesthetic. The collections are shown during Tokyo, Paris and Shanghai fashion week and are available through select retailers internationally.
PERCY LAU
Percy Lau breaks through the boundaries of the nature of eyewear. The brand was founded in Hong Kong in 2013. The founder Percy Lau was the youngest winner of International Talent Support YKK Award 2013. Percy Lau supera i confini della natura dell'eyewear. Il marchio viene fondato a Hong Kong nel 2013 dalla piu giovane vincitrice dell'International Talent Support YKK Award 2013. Percy Lau's glasses are not just accessories, they invite you to explore the world from an unusual perspective, to develop new ways in understanding our personality. With the idea that creation is tangible proof of the beauty that exists before us and after us. Inspiration looks at the existence of things and invention is simply an accumulation of what is already in creation.
PRIVATE POLICY
Founded in New York by Haoran Li and Siying Qu, the brand incorporates NYC youth culture into its DNA and is inspired by contemporary events: from social and political phenomena to environmental issues. Research on design is oriented towards a newspaper style. Social themes are present and masterfully debated in every part of the collections: shapes, fabrics, details, campaigns, show design. Fashion is therefore given the role of activating exchanges and reflections of people on current affairs. Private Policy is designed for those who love fashion and take care of the world. In this way, the boundaries of the fashion system are courageously broken: between men and women, between high fashion and streetwear, but also between fashion and the world.
PRONOUNCE
PRONOUNCE is a designer brand established in 2016 by Yushan Li and Jun Zhou who based in Milan and Shanghai. Yushan graduated from MA Fashion of Central Saint Martins in 2015 and worked in YEEZY after graduate. Jun has trained himself in Ermenegildo Zegna before graduated from London College of Fashion and Istituto Marangoni, both MA Menswear. Yushan and Jun share the same aesthetics, focusing on developing hand crafted heritage reflecting on modern wardrobe, combining east and west. Inspired by different male and female stereotypes, two designers keep pushing the boundaries of 'Gender Sharing' concept. PRONOUNCE was the nominee of Woolmark Prize International of 2017, "GQ Presents" finalist in 2017 and the winner of "The Latest Fashion Buzz" in Pitti Uomo 91. Both founders are also in Forbes "30 UNDER 30" 2017 and 2018 final list. They are showing their new collections on London Fashion Week Men's official schedule.

SAMUEL Gui YANG
Yang grew up in Shenzhen, China, before moving to the UK in 2006. He began studying at Central Saint Martins in 2009 and received an MA in Fashion in April 2015. His interest, developed from a background in fine arts, is strongly catalysed by the human form. His passion for fashion focuses on the ways in which he allows contact or closeness to the body, more evident than other artistic media. Yang has created a multidisciplinary design studio based in London. Through this workshop he explores, expresses and proposes ideas using different tools: clothing, objects and prints.

STAFFONLY
Shimo Zhou and Une Yea founded the Staffonly brand after graduating in 2015. Staffonly's target is always curious and full of humour, but above all he is not afraid to cross borders and explore the unknown part of the world. The brand is committed to creating collections based on sharp concepts and innovative materials. The designers aim to bring together new geek and poetic atmospheres, to arrive at a new attitude and a revolution in traditional menswear.
THE FLOCKS
The Flocks was founded in 2016 by Chinese designer and design promoter Nan Lang. It gathered a group of young people who pursue simple and pure life to design daily dressing, accessories and objects for people just like themselves. Each season of The Flocks' design inspiration is from young people's attitude towards life and involve more designers from the young generation. The Flocks also organized design experience project and recorded the process by photos, videos and magazines, which represented the youth image.
untitlab ®
untitlab® is a creative platform dedicated to footwear and fashion accessories founded by shoe designer Sans in collaboration with visual arts designer Tian Cai and commercial operations director Justin Zen. With a core design concept drawn from the background and sensibility of the founder, the brand looks to the intermediate stages of the creative process, overcoming boundaries and achieving organic unity through the experimentation of materials and silhouettes. All this with the idea of offering new possibilities in the context between fashion and consumption options. untitlab ® takes its name from artists who do not give a title to their works and invites the public to actively participate in the definition of individual use scenarios. untitlab® is dedicated to providing an organic and versatile use reference through the practice of design.


Hits: 5832 | Leave a comment