Dress for Success at Your First Trade Show
Trade shows are a perfect outlet for expanding brand awareness of your brick-and-mortar business. Communities often rally in support of small local companies, but they have to know who you are and what you stand for.
For many potential customers, your trade-show appearance will be their first interaction with you, and we all know first impressions are paramount. Typically, a person's initial response to an individual forms within the first 15 seconds of meeting that person.
For a company, the time frame is even shorter. Typically, you have just seven seconds to prove to a prospective customer that you're a competent business professional with a thriving company. After that initial look, it can be a substantial challenge to get people to see you differently.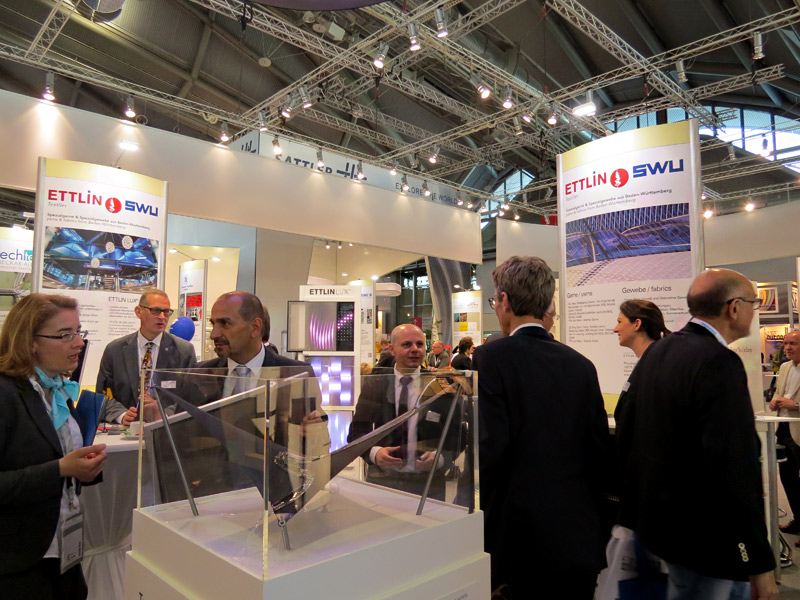 According to Dr. Marcia Sirota, it's basic human nature to judge others this way. "It's no problem for us to imagine that we understand why a person has taken a particular course of action," she says.
"We don't really know; we make a guess based on our imagination, past experiences or wishful thinking." Sirota adds that the way you speak and the words you say constitute a big part of making that first impression, but your physical appearance is the most prominent factor.
Start with the appearance of your booth. You should have a canopy or flag with custom graphics or a neon sign that feature your brand and logo. This can make your company look much more professional and spread brand awareness to trade show attendees.
Dressing for success at your first trade show will also improve your target consumers' overall impression of your brand. If you're anxious from the pressure to dress effectively for your first trade show, use the tips below to narrow your options.
Consider the Nature of the Event
Customers and clients are typically attracted to people who resemble them. So if you're at a high-profile business conference or awards ceremony, evening wear is the best choice.
According to Eric Dyson of Nimlok, a publication that specializes in trade show marketing, this doesn't happen often. "On the trade show floor, you will rarely need to dress in business formal attire, however, for evening events and award ceremonies associated with the show, you may need to spruce things up," he says.
Most of the time, you'll be fine with business or business casual attire, Dyson says. If you're attending something like a travel trade show, a simple polo or T-shirt with your logo will do the trick. If you're marketing to business professionals, wear a suit or crisp shirt and tie.
Pay Attention to Shoes
Some business professionals put a lot of time and effort into choosing their tops and bottoms, but they neglect accessories such as shoes. The right shoes can make a business ensemble into a slam dunk, while the wrong ones could tank your entire outfit.
Before you go to the show, try out several pairs of shoes to see which works best. Avoid footwear that's scuffed or shows any other signs of wear, because that will instantly cheapen your look.
If you have to, go out and purchase new shoes, but do so a few weeks ahead of the event so you can break them in. "New shoes must be avoided at all costs, and there are two reasons for this," warns an Australian marketing firm.
"First, the shoe will hurt and cause you to lose focus on securing a deal at the show. Second, they might make that terrible new show sound which is certain to be a distraction." Give yourself at least two weeks with a new pair of shoes to avoid these problems.
Wear What Fits
If you reach into your closet for an outfit you haven't worn in a year or more, it might not fit the way it did in the past. "We all pretend we haven't gained weight. But we have," says Mel White of Classic Exhibits.

"Don't wait until 7 am on the first day of the show to discover your pants don't fit or they have that telltale 'V' pucker between the waist and zipper. Unless I missed something important in Biology class, blood flow is important."

Aside from that, a tight fit makes your clothing look cheap and less professional. You'll have a similar problem if you wear clothes that are too large for your current frame.

Wearing fitted clothing involves more than just acknowledging a weight change, though. To make the ultimate positive impression, you should wear an ensemble that has been tailored to accentuate the best parts of your body. These outfits are superbly flattering and make the wearer look utterly professional.

Don't ruin your chance to make a great first impression on potential customers and clientele! Taking the necessary time beforehand to plan your appearance will make for smooth sailing and more conversions on the day of the big event.


Hits: 10329 | Leave a comment