What is a British Style Suit and will it work for me
British Suits
England, the home of bespoke tailoring and the biggest contributor to men's tailored clothing over the course of history. In some ways, suits can be compared to wines and cheese as every country makes them to have its own style.
What Makes A British Suit British?
Two-button, single-breasted jacket with side vents, tapered waist with a flared skirt, high armholes, lightly padded shoulders, draped chest, an inch of extra material in chest and blades, and a muscular, military-like appearance.
English Vs American Cut Suits
While both suits provide softness and comfort, the Brits have the Yanks beat when it comes to shape. English suits are defined for their waist suppression, whereas American suits lack it. Another thing America does differently is suits with three-button stances.
British Suit Vs Italian Suit
British and Italian suit jackets are both shaped at the waist. As the Italians are obsessed with slimness and cleanliness, jackets are shorter, gorges are higher, overall fits are slimmer, and pocket flaps don't exist. British suits are steeped in the military sartorial tradition. Italian suits offer a sexier take on that aesthetic.
Drape
This athletic aesthetic is also known as the London Cut and has excess fabric across the chest and top of the back, putting drapes in the cut. When looking at different national silhouettes for suits, the word "drape" is uniquely associated with British suits. A British suit's drape suits are the king of suit silhouettes because their construction is soft but it's still shaped at the waist.
Excess Cloth
Traditional British Drape suits are cut with an inch or so of extra cloth in the chest and across the shoulder blades. The material drapes naturally on the shoulders as opposed to being stitched to a layer of padding of canvas, offering a military-like appearance with the strategically draped top in contrast to the tapered waist. The excess cloth also allows more freedom of movement, as it is roomier.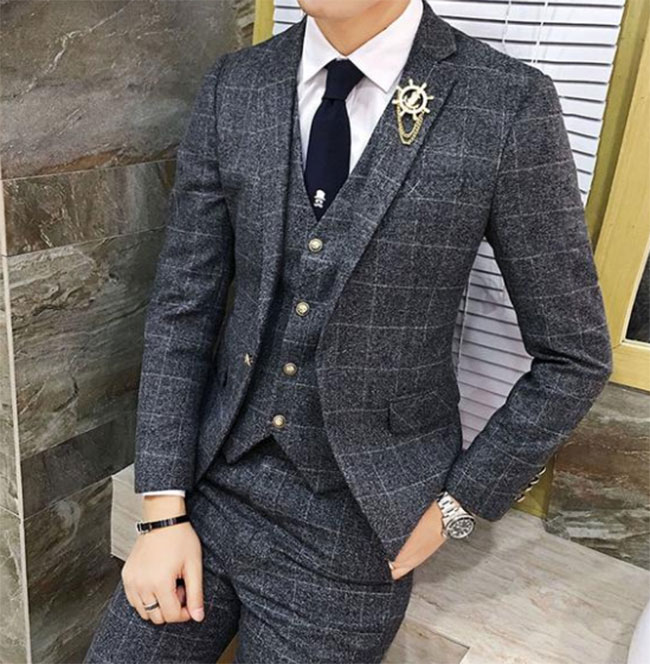 Will A British Suit Fit My Body Type?
Generally, yes, because British suits in the classic Drape style are good at accentuating your best features and minimizing less flattering features, working beautifully on most body types. The only exception would be more heavyset men due to the excess fabric, which may further accentuate a larger man's size. Here is the body type guide for these suits:

Average
Average men, in most cases, will look good in anything, and an English cut suit will make you look your best.

Heavyset
Heavyset men benefit from the extra cloth that allows the garments to drape as beautifully as they do, and the waist cinch will go for a slimming look.

Thin
Skinny men will have their appearance transformed in a British suit. They will look a bit more muscular, which will draw the attention away from their thinness. Note that the fit must be exact for this body type or they will look like they're drowning in their clothes.

Tall
Tall men do remarkably in English suits as the longer coat suits tall men and the waist cinch will suit them well.

Big and Tall
Guys who are big all around look great in British suits as the drape will not be overly tight and will be very comfortable for big, tall men.

Tall & Thin
Skinny, tall men don't have it easy with clothes, but a British suit will work wonders for him as long as it is tailored for his figure.

Short
Short men can benefit from a British suit because it will not appear to make them any shorter, although an Italian suit will make a shorter man appear taller.

Short & Heavyset
Short and more heavyset men will do well with British suits due to the drape enabling comfort but the cut not interfering with his figure.

Short & Thin
British suits will work for short, thin men. However, this particular body type is more suitable in Italian suits so they should be considered as well.

Park Lane Tailors is based in Bangkok, Thailand. If you're looking for a British suit in Bangkok - come visit today!


Hits: 18764 | Leave a comment