Marton Mills received the 303 Tuscans Ethical Fashion award
As a family owned and managed business - Marton Mills, pride and care is taken with every order to ensure the highest quality fabric is produced.
Marton mills has a workforce of highly skilled craftspeople, many of which have spent their lives in the textile industry, and is incredible proud of its loyal longstanding employees.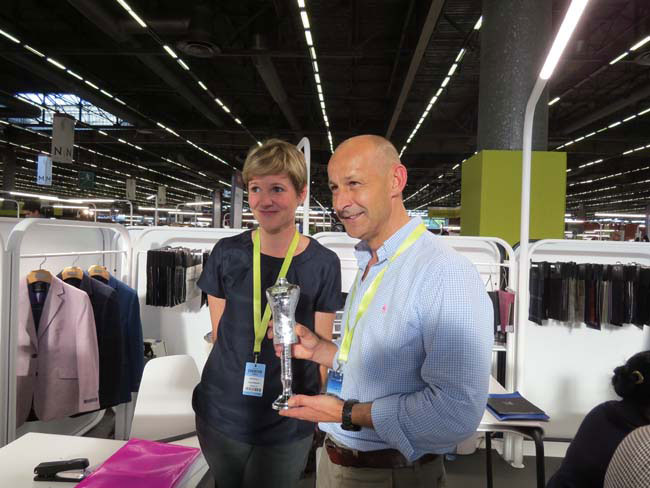 There are many complex processes involved in creating woven cloth, below is a brief explanation of each area of the mill and its processes:

Yarn Store
They hold a wide range of yarns in stock in a variety of compositions from pure wools to polyester/ viscose and in a variety of counts. They import several tonnes of top dyed yarn (fibres are dyed before being twisted into yarn) each month and package dyed yarn (yarn is dyed once in yarn state). Yarn is checked for quality and continuity of shade before it is used.

Warping
The yarn is prepared for loom by creating a warp (the threads that run from the front to the back of the loom). They have two warping machines, the Karl Mayer machine allows us to create small sample warps and short lengths and the VTA is capable of creating warps up to 1800m long for their larger bulk orders. To create a warp the threads for a single pattern repeat are arranged and checked on the creel by their skilled warpers. The threads are then wound onto the warping machine to the desired length, cut and tied up, the machine is then moved along and the threads are re-tied next to the first section, the process is repeated until the full warp has been created in this way. A warp can take anything from 2 to 11 hours to produce depending on its complexity.

Twisting
Once a warp has been created it needs to be readied for loom, there are two ways this can be done. Firstly, if this new warp is the same sett as a job that is already weaving in loom then the Twisters can knot the new warp to the end of the old warp, pull it through and it will be ready to weave again. This is the quickest way to get a warp into loom. However, if the warp is a new sett then a gear will need to be made for it and from this they use a Super Vega machine. The machine is programmed with the sett details for the job and it then threads each end through its correct shaft, reed gap and dropper. This can be a very time consuming job as some of their setts have over 7000 ends.

Weaving
Once the warp is prepared it is put into loom and this is where the fabric is created. Weaving is the process of lifting and lowering the shafts (and attached warp threads) in a given sequence to create a gap through which the weft thread is then placed. The simplest weave structure is plain weave where the weft threads go over and under alternating warp threads.

They have 20 looms including Dorniers, G6200 and G6300's which are operated 24 hours a day 6 days a week and allow us to produce over 20,000 metres of cloth a week.

Mending
Once the fabric is woven it is then inspected for faults and passed through to the Burlers and Menders who rectify any faults or remove any contamination.

Finishing
They are joint owners of Roberts Dyers and Finishers. There are a variety of wet and dry processes that will transform the cloth from its greasy state into beautiful finished cloth. Some cloths require a lot of work in order to transform them from loosely woven cloths into fully covered meltons and others just need a wash to remove natural oils and machine grease.

Warehouse
The cloth is then returned to us for a finished inspection, the cloth is then either shipped straight out to a customer or rolled and held in stock by us for customers to buy in short lengths. They hold significant stocks of over 1000 different designs and offer next day dispatch.

Quality Control
Throughout every part of the manufacturing process quality is checked. This includes checking yarn shades, pattern repeat sizes, usable widths and weights of finished cloths and performing pilling tests to make sure the cloth lives up to expectations. Producing high quality fabric is their priority and the team work hard to continually improve their processes to ensure they produce the best cloth possible. They adhere to ISO9001:2008 standards.

Marton Mills received the 303 Tuscans Ethical Fashion Award in Paris in September 2018.


Hits: 7723 | Leave a comment

We are looking for men's suit tailors, fashion designers, managers, fashion consultants who want to share their knowledge and tips in an article or video and contribute to the site! Please email us at contributor@bgfashion.net Don't miss the opportunity as this will be a free advertisement for yourself and your menswear brand!